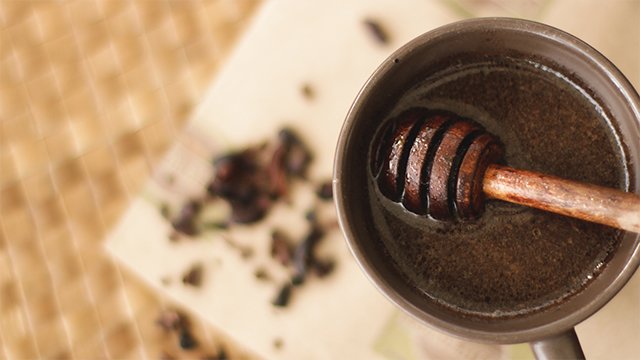 You get only the best feelings from sipping a hot cup of tsokolate de batirol: you feel warm, fuzzy, and calm. Tsokolate de batirol is hot cocoa made from tablea, or blocks of ground and roasted local cacao beans. 
Tsokolate is traditionally served in silver pots with a batirol that is used to mix the drink. A batirol is a traditional wooden tool used to mix the drink before serving, as bits of tablea may sink to the bottom of the pot. A batirol is used by holding the handle between the palms of one's hands, then rubbing one's palms together. This method mixes the drink thoroughly and creates a light froth on top.
The ingredients in making tsokolate de batirol are simple: blocks of tablea, sweet condensed milk, thick evaporated milk, and water. All you have to do is let everything come together in a pot over a light to medium fire. It may take a while for the tablea to melt, so keep an eye on your pot as it gently simmers away. If you're going for a smoother drink, gently simmer your tsokolate for at least 30 minutes, stirring or whisking occasionally in case bits of tablea get stuck to the bottom of the pan.
*Filmed on location at Tsokolateria, Tagaytay. 
ALSO READ: