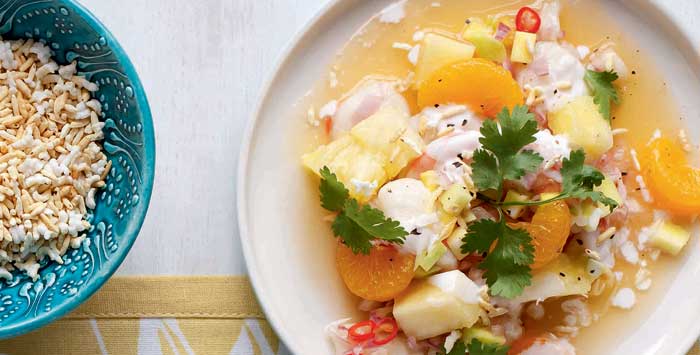 There is something absolutely magical about kinilaw, the Filipino dish made of fresh raw fish cured in vinegar or citrus juices. All it takes is a handful of ingredients, a quick toss in a bowl and a spell in the fridge to make it, but the end result, when done right, is something to behold.
This may explain why kinilaw is fast becoming the new poster child of Filipino food. Even if the quintessentially Pinoy fish dish has been around for centuries, its clear, balanced flavors and acerbic tang seem absurdly of the moment.
Hop on the kinilaw bandwagon and learn a few tips and tricks that'll get you quick pickling fish like a pro.
1 Cooking without fire
People who are squeamish around raw fish may find kinilaw a little bit easier to swallow. The dish is made by letting raw, meaty fish such as tuna marinate in a sharp blend of acid, herbs and seasonings. Even without the introduction of heat, the acid denatures the fish, making it seem as if it's been cooked.
2 The quicker, the better
While the "cooking process" involves no heat whatsoever, if you're going to make kinilaw, do make sure that you don't leave things lying around for too long. Much like when you're cooking with heat, marinating fish in acid for longer than a certain amount of time will cause the flesh to seize and become rubbery. It's best to keep the fish in the marinade between 10 and 20 minutes before serving it.
3 Keep it fresh
Like with most seafood recipes, it's best to make sure that the fish that you use, be it tuna, salmon or even shrimp, is as fresh as possible. Since it isn't cooked over heat, kinilaw is the purest expression of a fish's flavor. The less fresh the fish, the fishier your kinilaw will taste (and smell!). Fresh fish is also much, much safer to eat.
4 Recipe schmecipe
Traditional as kinilaw is, you aren't obliged to follow any strict recipes. Feel free to play around with your favorite ingredients, just as long as you keep the acid in the marinade and the flavors match with the fish (tuna with sesame, salmon with coriander). That being said…
5 Balance is everything
Admittedly, the most difficult thing about making kinilaw is getting the balance of flavors absolutely right. Sometimes it can get too acidic, while other times, it can be too bland. The best rule of thumb is keep tasting as you go. Make sure to have a decent balance of sour, salty, spicy and bitter. As long as you like the balance of flavors in your kinilaw, you're set up for spectacular seafood success.
Why not try these kinilaw (or kinilaw-inspired) recipes?
Seafood Ceviche with Fruits and Coconut Cream
Kilawin of Marlin with Thai Red Curry
Kinilaw na Tanigue with Green Mangoes