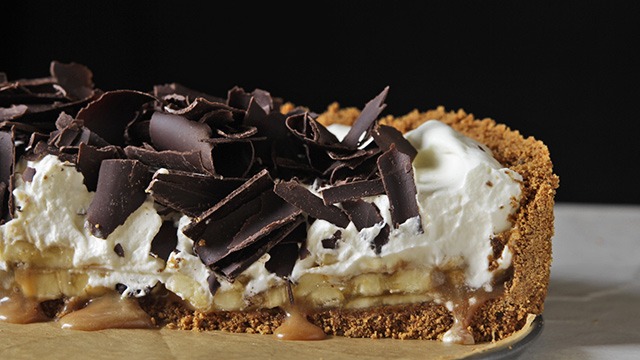 Whoever said that making banoffee pie is complicated and time-consuming, obviously hasn't tried this recipe. Give it a go and treat yourself to this indulgent no-bake dessert.
Banoffee Pie Recipe  
1 1/2 cup crushed graham crackers
1/2 cup butter, melted
1/3 cup muscovado or brown sugar
5-6 bananas, sliced
1/2 cup dulce de leche
1 cup heavy cream, whipped
shaved chocolate for garnish
How To Make Banoffee Pie Recipe 
1 Mix the crushed graham crackers, butter, and muscovado until it's well-combined. Transfer into a lined pan and press into the bottom and up the sides. Set aside.
2 Layer bananas, dulce de leche, whipped heavy cream.
3 Top with shaved chocolate. 
4 Chill in the refrigerator for 3 hours or overnight.
CLICK HERE for more NO-BAKE DESSERT RECIPES