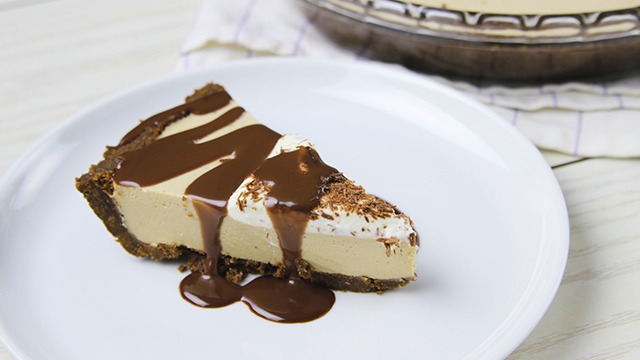 This easy no-bake cheesecake recipe is perfect for fans of coffee-flavored desserts!
1 and 1/2 cups graham cracker crumbs
3 tablespoons unsweetened cocoa, sifted
1 tablespoon instant coffee
1 and 1/2 tablespoons unflavored gelatin
1 cup heavy cream, whipped
1
Combine graham crumbs, sugar, and cocoa in a mixing bowl. Stir in butter and mix until evenly distributed.
2
Press into sides and bottom of a 9-inch pie plate. Freeze for 30 minutes.
3
Prepare the filling: In saucepot, whisk together egg yolks and sugar over low heat. Gradually pour in milk and coffee. Cook until thick. Add cinnamon and vanilla.
4
Pour dissolved gelatin into egg mixture. Set aside.
5
In a mixing bowl, beat cream cheese until light and fluffy. Pour in egg mixture and beat until combined.
6
Fold whipped heavy cream into cold egg mixture. Pour into crust-lined pan. Freeze cheesecake for a few minutes then keep chilled until set.
7
Top with whipped cream and shaved chocolate.