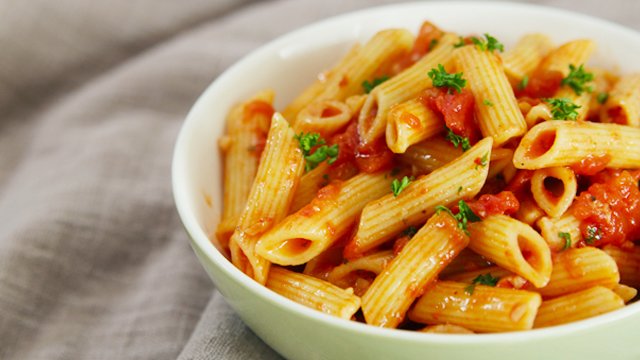 This pasta recipe is for those who like their sauces spicy! The sauce can also be used for any type of pasta! We used this spicy tomato sauce with penne that had ridges all over to help catch the sauce, but whatever pasta you have on hand will work just fine.
Pasta Arrabiata
Takes 30 minutes
Makes 4 servings
200 grams dried penne rigati
1/4 cup olive oil
6 cloves garlic, peeled, chopped
1 teaspoon dried chili flakes, or to taste
2 cups diced tomatoes
1/4 cup fresh parsley, chopped, more for garnish
Salt, to taste
Ground black pepper, to taste
Water, for boiling
1 Bring a pot of water to a boil. Season with salt and add penne. Stir then let cook 8 minutes. Drain, reserving about 1/4 cup pasta water.
2 Meanwhile, in a large pan over low heat, heat oil and add garlic. Gently simmer garlic until it begins to turn golden. Add chili flakes and cook until aromatic. Add tomatoes and cook until sauce comes to a boil. Lower heat to a simmer to let reduce slightly. Season to taste with salt and ground black pepper. Stir in the parsley, reserving about 1 tablespoon for garnish.
3 Add cooked penne to the pan and toss to coat. Adjust seasoning as needed. Serve immediately, topped with more parsley.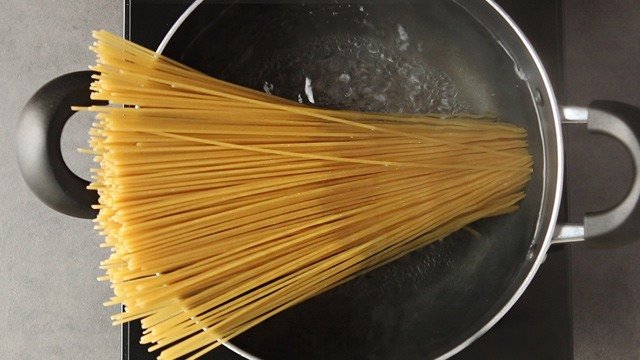 WATCH: Top Tips for Cooking Pasta
Posted in:
Cooking