Beat the sizzling summer heat and tantalize your taste buds by whipping up gulaman– or jelly-based desserts and thirst quenchers that will help you stay cool and refreshed all day long.
From the samalamig gulaman ice-cold drink you love since childhood to colorful and homey gulaman snacks and desserts you always go back to, the recipes you can make using Mr. Hat Gulaman's unique flavors will make many memorable "summeryenda" moments. Plus, making them won't make anyone sweat as gulaman recipes are easy and fun to do. They'll even make for enjoyable bonding moments with friends and family.
What Is Mr. Hat Gulaman?
Mr. Hat Gulaman is a proudly Filipino brand. It is made by the food and beverage company Seanluc, Inc. and is made out of high-quality natural seaweed extract. It comes in jelly powder, which contains a mixture of carrageenan, sugar, flavoring, and coloring.
Carrageenan is a type of seaweed-derived ingredient that is commonly used as a gelling agent in food products. Sugar is added for sweetness and additional ingredients, such as fruit flavors and food coloring, are added to create unique flavors and colors.
What Flavors and Colors of Mr. Hat Gulaman Are Available?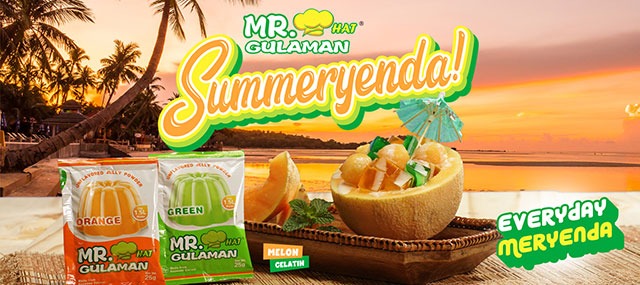 Mr. Hat Gulaman comes in a range of delicious flavors, including Filipino favorites mango and buko pandan. Some noteworthy flavors include orange, lychee, strawberry, grape, and even coffee. There's also unflavored gulaman available, which comes in black, orange, yellow, white, red, and green colors.
Gulaman can be prepared quickly and easily, making it a convenient option for those who want to whip up desserts or drinks in a jiffy.
How to Use Mr. Hat Gulaman to Make Summer Treats and Drinks?
Mr. Hat Gulaman is so versatile and affordable that you can make gulaman desserts and drinks in multiple ways all through summer and not get tired of it. And as a bonus, you can even entertain in style with the help of Mr. Hat Gulaman! Here are some ideas:
1. Make ice-cold refreshing drinks and mix in gulaman and chopped fruit. By doing this, you can actually mix and match different flavors.
2. Want to create a beachy vibe at home? Whip up gulaman drinks or treats with flavors like mango, lychee, and orange, which remind you of endless days of swimming at the beach or lazing on white sand.
3. To re-energize the family during a sleepy afternoon, make coffee jelly for yourself and the adults and grape-flavored jelly drinks for the kids.
4. Thinking of visiting your parents or grandparents? Surprise them with buko pandan-flavored jelly or choose the mango flavor and add it to mango sago.
5. You can also celebrate summer birthdays, Mother's Day, and get-togethers with colorful gulaman desserts bursting with your favorite flavors. Try strawberry jelly, which is not just sweet but also adds cheer to a party spread.
6. Another idea is to make your own gummies using Mr. Hat Gulaman's tropical flavors. These will be amazing as party favors!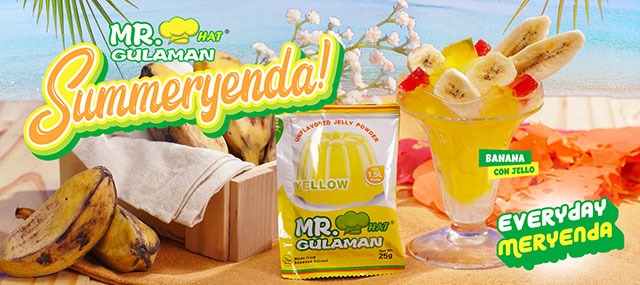 So many possibilities, right? Before you know it, the seemingly endless hot summer days are over, and all you remember are the cool and refreshing days spent with loved ones and the delicious gulaman drinks and treats you enjoyed with them. Have a great summer!
Stock up on Mr. Hat Gulaman flavors to stay cool and refreshed this summer! Get all flavors and colors of Mr. Hat Gulaman on Lazada, Shopee, and in other retail stores nationwide. For more updates and details, visit the official Mr. Hat Gulaman website. Follow Mr. Hat Gulaman on TikTok and Facebook.