Some ingredients are so versatile that you can use them in a lot of recipes and they'll work every time. You probably don't think mayonnaise is one of them, but you'll be surprised to know that it is, in fact, a very handy condiment to have in the kitchen.
Trust us, a high-quality mayo such as Heinz Seriously Good Mayonnaise will not let you down when you're making meals for your family.
First, Heinz Seriously Good Mayonnaise is made from free-range eggs, making it pretty nutritious. In case you haven't heard, free-range eggs are packed with vitamins and minerals and tend to have less cholesterol. Second, its richness and creaminess are thanks to its high-quality ingredients, meaning it doesn't have artificial flavors, colors, or thickeners.
Finally, you can use it in so many recipes. Curious to know how? Check them out below.
1. Use it to make sandwiches flavorful
Heinz Seriously Good Mayonnaise as palaman is a no-brainer. It adds a sweet and creamy flavor to sandwiches, particularly to those with "dry" savory filling like ham, chicken breast, or even cheese slices. Try this Mayo Chicken Sandwich recipe, which you can whip up using chicken, avocado, lettuce, and tomatoes.
Heinz Seriously Good Mayonnaise is also a good starting point when making your mayo-based sandwich spreads. How about mixing in tuna flakes, pineapple tidbits, and chili flakes to make a sweet and spicy tuna mayo spread?
2. Turn it into a delicious dip
A good dipping sauce can make or break certain dishes, and Heinz Seriously Good Mayonnaise is a delicious option for fried food. For merienda or as a late-night snack, how about making Mayo Sweet Potato Fries or Tuna Mayo Croquettes? Then squeeze as much Heinz Seriously Good Mayonnaise as you want onto a saucer for your dip. You can even mix in other ingredients — like chili flakes or grated cheese — and come up with all sorts of sauces.
3. Add it to cake or muffin batter
Did you know that mayo works some kind of magic to keep baked goods delightfully moist? Don't believe us? Try it by doing this Gourmet Carrot Cake recipe or this Banana Mayo Muffin recipe. As a matter of fact, a dollop of mayo may even do wonders for your family's favorite pancakes!
4. Put it on fried or grilled food for a crisp crust
Believe it or not, brushing a layer of mayo on grilled cheese sandwiches before frying actually gives them a golden, crunchy crust — maybe even more than butter. You can also use it on meat or fish before searing or grilling. This helps prevent the food from sticking to the pan or the grill, all while giving it a nice, crisp sear.
5. Use as an alternative to egg when breading
The next time you're making crispy chicken or fish fillet or breaded pork chop, substitute the egg wash for Heinz Seriously Good Mayonnaise. Brush a layer of mayo on your prepped protein, then coat it in breadcrumbs or breading mix. Doing this will help the breading stick to the meat instantly!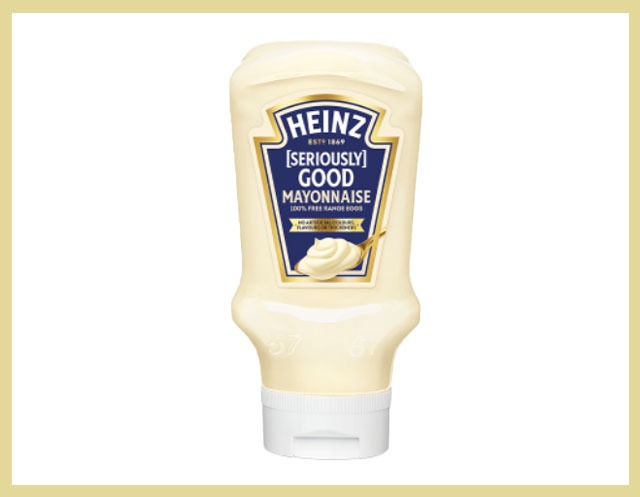 Heinz Seriously Good Mayonnaise is available online on Lazada and Shopee and in supermarkets and grocery stores near you. Follow Heinz ASEAN on Facebook for updates.