Thanks to the influx of samgyupsal restaurants that have set up shop all over the country—not to mention, the ease of buying ingredients from Korean marts for an at-home experience—getting a fix of this popular Korean staple is now a breeze.
Traditionally, samgyupsal is often enjoyed by Koreans as anju—or, in Filipino, pulutan—along with a few shots of another Korean staple, soju. Pinoys, like Koreans, enjoy drinking as a social activity, so it's no surprise that we enjoy this pairing, too!
But if you feel like switching samgyupsal up for something more familiar, we got you covered. Check out these Filipino pulutan dishes you can make at home for your next e-numan session, as well as Jinro Soju suggestions to go with them!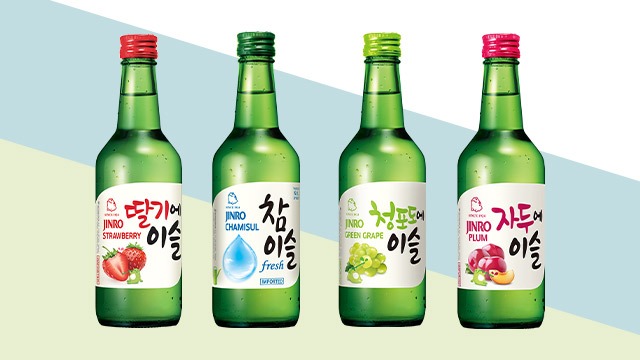 Pork Sisig
Packed with grilled pork meat that includes jowl, ear, and belly, this classic pulutan does sit heavily on the gut—especially when it's drenched in mayonnaise.
Match this rich dish with a light soju: Jinro Chamisul Fresh, which goes well with pork sisig or whatever dish you're eating this with.
Inihaw na Liempo
Inihaw na liempo is probably the closest thing we have to match samgyupsal. But instead of dipping it in gochujang and ssamjang and wrapping them in leafy greens, you get to enhance its flavor with Pinoy-style dipping sauces like soy sauce with chili and calamansi, or even a bold peanut-bagoong dip!
Pair inihaw na liempo with the full-bodied Jinro Chamisul Original for a classic Filipino-Korean match. It's great for those looking for something strong, too.
Dynamite Lumpia
One bite of the spicy, meaty, and cheesy dynamite lumpia will have you reaching for seconds (or more)! Balance out its burst of strong flavors with a fruity drink. How about the refreshing Jinro Grapefruit?
Tokwa't Baboy
Unlike pork sisig, tokwa't baboy makes for a lighter fare with only cubes of pork meat and tofu making it up and flavored with soy sauce and vinegar. Amp up your drinking experience with the Jinro Green Grape, whose sweet flavor profile marries well with tokwa't baboy's tangy and savory taste.
Kinilaw na Tuna
For an even lighter pulutan, whip up this Pinoy-style ceviche with fresh tuna slices and flavored vinegar! Balance out the kinilaw's sharp kick by downing it with the sweet and refreshing Jinro Strawberry or Jinro Plum.
Jinro Soju is available on The Booze Shop, Liquor.PH, Boozy.ph, Clink.PH, Lazada, and Shopee.
For more information, visit HITEJINRO's official website and follow Jinro Philippines on Facebook, Instagram, and YouTube.
Drink responsibly.