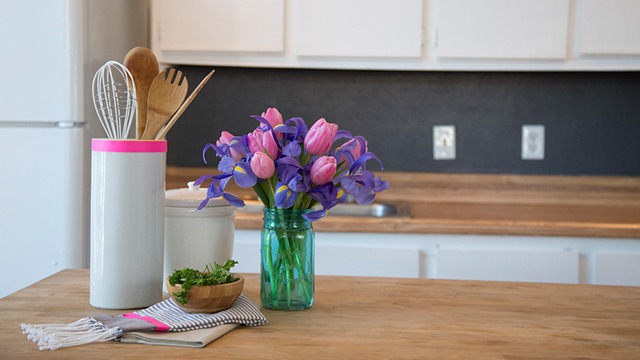 Do your part in keeping a clean and green kitchen: these tips not only make cleaning efficient, but will make every home cook conscious of eco-friendly cooking habits.

1 Make a D-I-Y disinfectant.
Dilute white distilled vinegar in water to wipe down your countertops. If you decide to buy your own home-cleaning products instead of making one, choose an eco-friendly line over commercial chemical-laden ones.
2 Use smarter storage solutions.
Re-use empty jam and peanut butter jars for storing condiments, dried herbs, coffee granules, and sugar packets. Recycling old jars gives you an opportunity to clear up counter clutter.
3 Keep a countertop composting bucket.
Food waste like rind, egg shells, seeds, and the like can be turned into compost that can be used in a garden. Plus, it makes trash segregation much easier!
4 Say goodbye to plastic.
Use glass containers instead of plastic ones. They are safer for storing food and are see through, which makes for easier cooking when you need to grab an ingredient from the fridge.
5 Use a water basin for washing dishes.
Soak your dishes in soapy water instead of washing them under running water. Rinsing is more efficient and will save you more time, effort, and money.
Main image courtesy of Flickr.