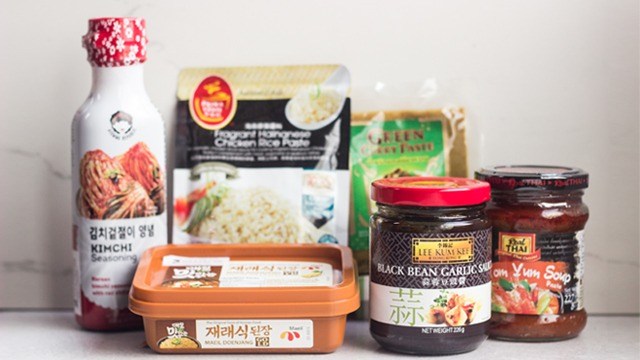 You don't have to go out of your way to get these Asian flavors onto your plate. Robinson's Supermarket's Asian aisle will provide you with a variety of flavorful supermarket finds that can transform your meats, fried rice, stir-fry dishes, sandwiches, and more. From sweet and salty, sour and spicy, you can make dishes you've grown tired of suddenly new. These tasty seasonings are also great if you're transforming leftover rice, marinating meats, or making sauces to glaze your fried chicken. Take advantage of these flavor powerhouses and cut prepping time: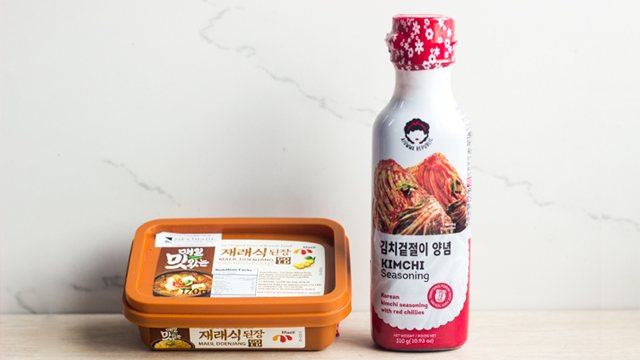 1 Kimchi Seasoning
Koreans love kimchi for a very good reason. Apart from the salty, spicy and sour flavors, it's teeming with healthy probiotics. Use this Kimchi seasoning for your kimchi rice, marinating your meats or turning a regular bowl of instant ramen into kimchi ramen.
2 Maeil Doenjang (Soybean paste)
Maeil Doenjang is a staple Korean spice made of fermented soybeans often used in broths. It's very similar to soy sauce but has a richer, nuttier pronounced taste to it. You can also mix it with honey or syrup to turn it into a glaze. It's traditionally made into doenjang jjigae, a soup that's similar to Japanese miso soup.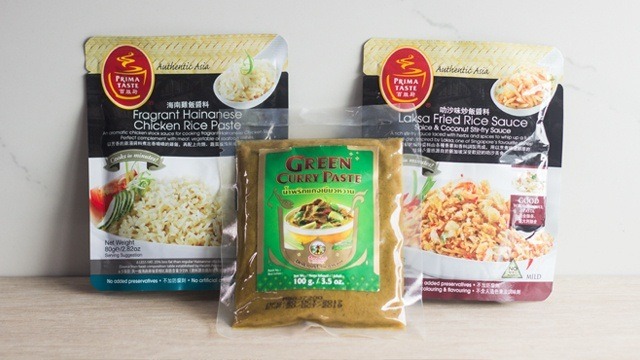 3 Fragrant Hainanese Chicken Rice Paste
One of Singapore's national dishes, Hainanese chicken rice has gone on to be popular in many southeast Asian countries. Traditionally, Hainanese chicken rice is made by poaching a whole chicken and skimming off the fat. Rice is then cooked in its delicious, flavor-packed oil. Good news is that you don't need to do that to get the authentic flavors with this mix.
4 Laksa Fried Rice
Laksa is a hot, spicy, seafood noodle soup that can be made creamy with coconut milk curry or evaporated milk. It has layers and layers of flavors from the broth, tamarind, lime leaves, lemongrass, tomatoes, chilies, and coriander. You don't need to go to all the trouble of gathering those ingredients though with this delicious paste. Don't just use it on rice! Use it to enhance soups, and meats as well. For your laksa fried rice, we recommend you mix in shredded Kani or fishballs to your laksa fried rice to give it some added texture.
5 Green Curry Paste
This Thai Curry bursts with flavor and heat. Used mainly with curries and stews, it can also be added to pad thai or used as a marinade for your grilled meats. To use it as a curry, gently cook with a little bit of oil. When it's warm enough, add your meats without turning up the heat. The key to curries is to not kill the flavors with high heat.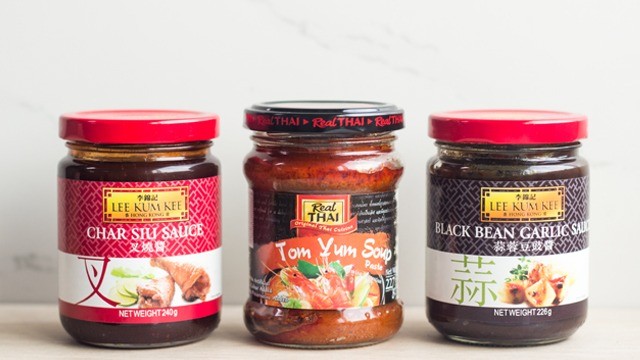 6 Blackbean Garlic Sauce
A little goes a long way with this dark black paste. Upon opening the jar, you might notice that it smells like instant yakisoba noodles. Notice how little is actually used in those noodles. This sauce is chock full of umami so it gives a really rich flavor—which is a good thing, but you just need to be careful with the amount you put in. Use it as a marinade or add it to your stir-fry.
7 Tom Yum Soup Paste
If you've ever searched "how to make tom yum" and got overwhelmed by the number of ingredients—this is the answer to your problem. Get all the richness of tom yum soup and hit all those complex flavor notes with this handy jar. Apart from that, use it as a spice rub, make tom yum fried rice, tom yum lugaw, or add it into your sinigang.
8 Char Siu Sauce
This "Asian barbecue sauce" is aromatic, sweet, salty and ready to go as is. Use it as a dip, a marinade, dredge your shredded meat in it, drizzle it on your rice, coat your chicken wings or toss it in with your stir-fry. The sky is the limit with this delicious sauce.
These ingredients will not only inspire you to make new dishes come to life, but you can also use them to transform leftover rice all the time. Shortcuts don't have to mean skimping on flavor when half the job is done. Here are other recipes you may use them with:
ALSO READ: