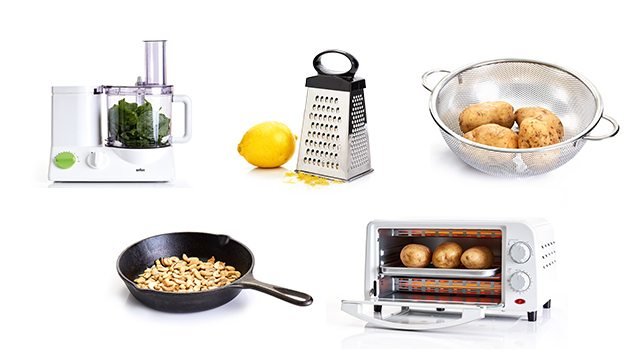 When it comes to building your own kitchen, one must pick out which kitchen tools and gadgets are worth the investment. Of course, sticking the basics is best. These 10 kitchen tools are versatile and can be used in the most unconventional ways!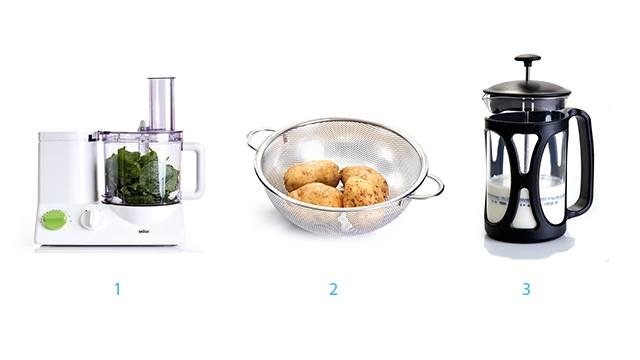 1 Food processor
Don't be intimidated by a food processor. With its many functions, this appliance should be your new best friend. Use it to make peanut butter, ice cream, breadcrumbs, pesto, pasta dough, dressings, and salsa. You can also use it to grind meat, cut butter into flour when making pastry dough, and shred cheese in bulk.
2 Colander
A colander isn't just an ordinary strainer. This one's extra handy when washing produce, draining canned food, and even steaming veggies. You can also use it to strain soft cheese, make Greek yogurt, and mash avocados and potatoes. Expert tip: Invert the colander and use it as a cover when frying!
3 Coffee press
This cool tool isn't just made for your morning cup of joe. Try using a coffee press to prepare tea, whether loose or in bags; rinsing grains like rice and quinoa; whipping up cream and frothing milk; rehydrating dried foods; straining stock; and infusing oils and liquors.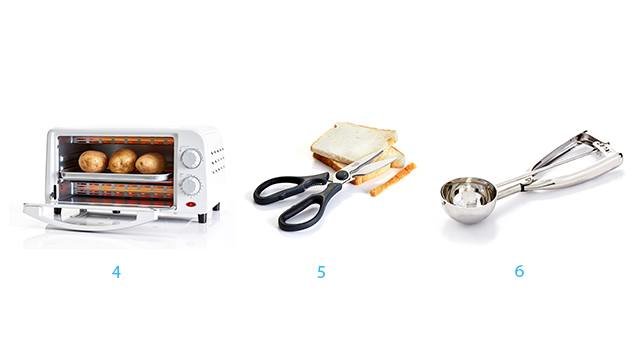 4 Toaster oven
Want to get into baking? Invest in a toaster oven first. Aside from baking small batches of pastries, this mini oven can also be used to cook bacon, roast potatoes, toast nuts, and even roast meats. Use it to crisp up leftover fried food, defrost frozen items, broil, and even warm plates before serving.
5 Kitchen shears
Kitchen shears can help you breeze through kitchen prep more than you expect. With it, you can cut bacon easily, trim fat off meats, remove crust from bread slices, separate broccoli into florets, cut marshmallows, and section grapes. Here's a nifty trick: Chop up tomatoes right in the can with this tool.
6 Ice cream scoop
An ice cream scooper isn't just for ice cream. Use this tool to portion cookie dough and cupcake batter, divide and form burger patties and pancakes, and stuff snacks like dumplings. You can also use it to make melon balls, chocolate truffles, and meatballs.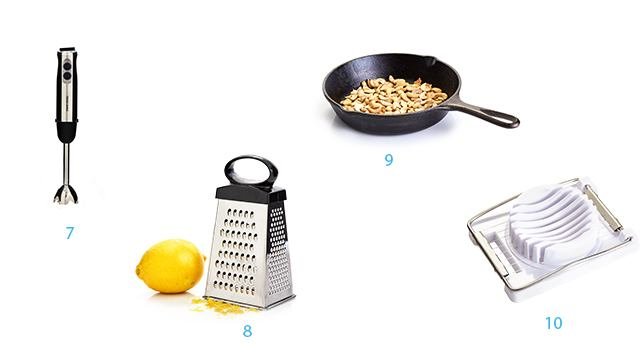 7 Immersion blender
More economical and space-saving, a hand (or immersion) blender can help you beat eggs, purée soup, and whip cream. With it, you can also make mayonnaise and hollandaise sauce, mashed potatoes, guacamole, hummus, and even chocolate mousse! Cleanup is also a breeze with this handy gadget.
8 Box grater
A box grater already has four functions: shredding, slicing, fine shredding, and grating. But aside from these, this terrific tool can also be used to make breadcrumbs out of toast, remove burnt parts of bread, mince garlic, zest citrus fruits, and grate nuts. With it, you can also grate butter to help it soften quicker.
ADVERTISEMENT - CONTINUE READING BELOW
Recommended Videos
9 Cast iron skillet
If there's one pan you'll use for the rest of your life, it's a cast iron skillet. The possibilities are endless with this one! You can make lasagna, s'mores, and even bibimbap with it. Use it for deep-frying, grilling, toasting, and baking. It can also be used as a serving dish––straight to the table from the stove or oven.
10 Egg slicer
Although its name suggests that you can only use it for eggs, an egg slicer is also good for cutting strawberries, mushrooms, kiwis, bananas, olives, hotdogs, and even butter. Easily make a handsome caprese salad by using it to slice fresh mozzarella and tomatoes!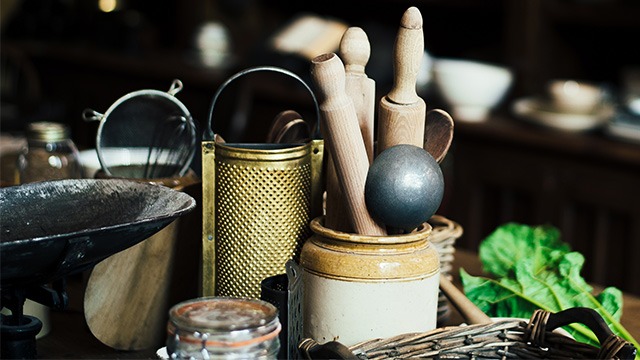 Save vs. Splurge: Basic Kitchen Tools
Posted in:
Prepping
This story was originally published in the March 2017 issue of Yummy magazine.