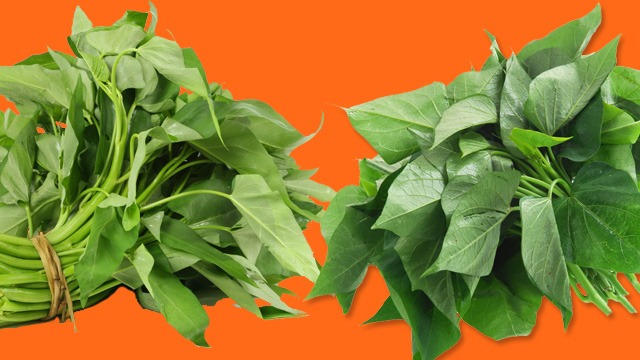 These two vegetable greens, kangkong and talbos ng kamote, are easy to cook but hard to tell which is which. Both leaves are best cooked so their raw bitterness can be reduced. Their leaves also become more tender and more subtle in flavor, making it easy to add to many dishes.
Here's how to tell kangkong and talbos ng kamote apart when it's not labeled and there's no one to ask: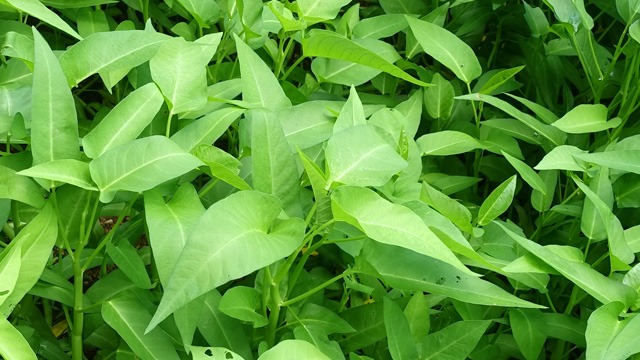 1 Kangkong have narrow, arrow-shaped leaves. Talbos ng kamote have fatter, heart-shaped leaves. 
Kangkong, also known as water spinach or swamp spinach, have leaves that look like arrows. It slightly flares from the pointed tips of the leaves towards the stem where it curls almost around the part where the stem meets the leaf, creating a narrow arrow shape.    
Talbos ng kamote or sweet potato leaves have similar shaped leaves as the kangkong but it's much bigger. Its leaves are wider near the base of the leaf making a heart shape instead of a narrow arrow. 
2 Talbos ng kamote needs to be grown in soil. Kangkong can grow entirely in water or hydroponics. 
Since the tubers are usually the main reason that talbos ng kamote is available, the sweet potatoes need to be grown in soil so the sweet potatoes can get the nutrients it needs to grow. The kangkong, meanwhile, can be grown entirely in water and is grown for its leaves.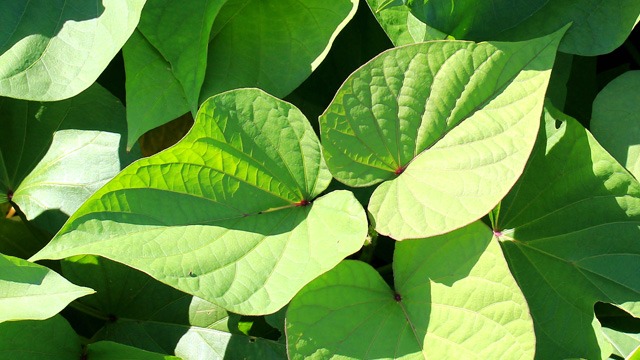 3 Kangkong stalks are hollow. Talbos ng kamote is a creeping vine.  
The English name for the kangkong, water spinach, describes why the stalks of these greens are hollow. It grows readily in water and the hollow stalks make it easy for the water to travel from the roots to the leaves. The tubers grow in soil so it needs to be grown in soil. The leaves form a creeping vine, so it needs space to crawl. 
ADVERTISEMENT - CONTINUE READING BELOW
Recommended Videos
4 Talbos ng kamote can be purple or green. Kangkong is bright green. 
Depending on the kind of kamote that is being grown the levels can be purple or green. Kangkong leaves are always green. 
***
Thinking about what to cook next? Join our Facebook group, Yummy Pinoy Cooking Club, to get more recipe ideas, share your own dishes, and find out what the rest of the community are making and eating!
Got your own version of the classic dishes? Pa-share naman! Get your recipe published on Yummy.ph by submitting your recipe here.