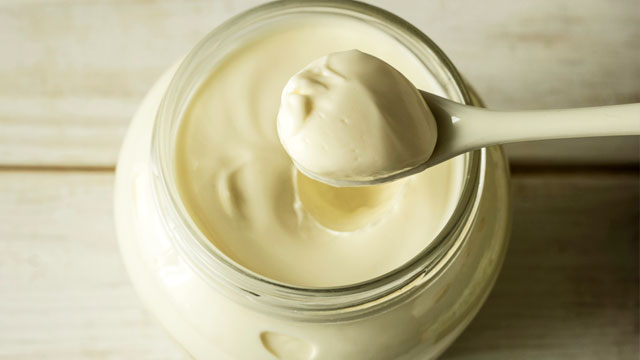 How do you store your mayonnaise? Is it in the kitchen where the rest of the ingredients that don't expire or with the condiments in the refrigerator? We don't blame you if you store the mayonnaise in the kitchen. 
We know that you usually find the mayonnaise in the aisles of the supermarket, so it's safe to say that it can be stored in the kitchen on your countertop. That is until it's opened. 
Once opened, mayonnaise becomes perishable enough that it does need to be refrigerated. Why? There are ingredients in mayonnaise that need to be refrigerated once it's out of the storage vacuum. Here's what you should know: 
1 Homemade mayonnaise contains ingredients that can spoil.
Take a look at a basic mayonnaise recipe, it has these ingredients: eggs, oil, vinegar or lemon juice, and salt. Some may contain prepared mustard which contributes color as well as flavor. The vinegar and lemon juice are both for flavor which explains the tang that you detect in mayonnaise. 
Mayonnaise is actually very similar to an easy hollandaise sauce in flavor and the big differences are ingredients and the temperature that it's commonly served. (Hollandaise is always served warm since it must be served almost immediately to preserve its emulsion.) Just like hollandaise, it usually only contains egg yolks, not the whole egg, but it can be made with the egg white.
The kind of oil that is used can also differ: any vegetable oil can be used for a mayonnaise recipe but some may use melted butter for even more flavor.  
Both of these ingredients however have a shelf life, and it's a rather short one without a means to preserve it. This is where vinegar, lemon juice, and salt come in. While it makes food delicious and more flavorful, salt is also a preservative as well as a flavor enhancer. Vinegar and lemon juice meanwhile are both acidic ingredients that slow the growth of bacteria, so it keeps your mayonnaise from spoiling earlier than usual. 
2 Commercial mayonnaise is preserved in a sterilized vacuum until broken. 
Another reason why mayonnaise needs to be refrigerated especially after it's been opened is the fact that the containers are usually vacuum sealed. It's also been sterilized. This means that any air that the mayo is exposed to once opened contaminates the mayo and can lead to it starting to spoil. 
The spoiling can be exasperated or made worse if someone uses a dirty utensil. 
The good news is that commercial mayonnaise is more resilient against spoiling than the homemade version. While still unopened, mayonnaise can about last as long as the printed expiration date. Once opened, however, mayonnaise needs to be refrigerated, and this should last about 1 month or 30 days. 
Read on to learn more about mayonnaise and how you can make dishes more delicious using it: 
*** 
ADVERTISEMENT - CONTINUE READING BELOW
Recommended Videos