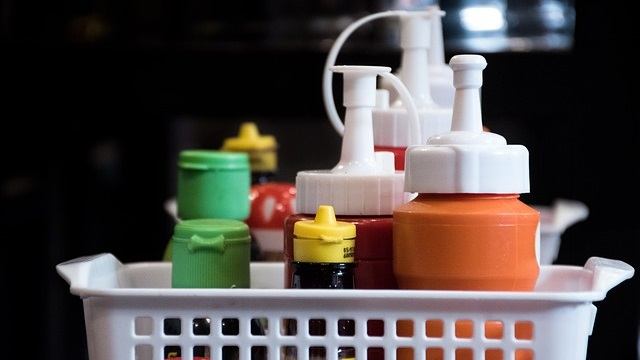 It's an Asian thing: we love the multitude of fermented condiments and sauces we readily have available and that's what makes our cuisine an intensely flavorful food. We drizzle this and that and while some may balk at the indiscriminate use, it's ingrained in our culture. It's on the table, front and center, and we love to enhance flavors, no matter what flavors the dish may already have.
In fact, in our culture, it's never an insult to ask to pass the soy sauce or the vinegar because that's just the way we are. We will make a sauce tableside despite the fact it's already a saucy or soupy dish. Pinoys inherently love flavor, and when something is too bland for our palate, we dress it up with the many bottles and containers of flavor-packed liquids and sauces we store in the kitchen. Our motto can be, "As long as it tastes good, add it to the dish".
If you're a certified true Pinoy, you already know that these are the condiments and sauces that you are never without: 
Soy Sauce (Toyo)
No Pinoy kitchen is without this deep dark flavored liquid. It's a favorite seasoning that packs a powerful flavor in each drop, whether as an ingredient in a dish or the base of a dip. As is, soy sauce is extremely salty so it's used sparingly, but it helps that the sauce pairs well with a variety of ingredients.
From the sweetness of the soy sauce- and sugar-based teriyaki or barbecue sauces, to the sour notes of vinegar that creates your version of the classic adobo or the equally classic bistek which marries the citrus calamansi with the salty soy sauce to balance its flavors into a mouth-watering dish, soy sauce is indispensable in Pinoy cooking.
Vinegar (Suka)
Whether it's pinakurat, white wine vinegar, or just plain coconut vinegar, we drizzle this sour liquid into our favorite dishes. The adobo is the ultimate vinegar-based dish. Its salty-sour flavor is boosted by the aromatics added that make it (arguably) the proud bearer of the title of our national dish. It cemented its status as indispensable together with soy sauce in any Pinoy kitchen because of the adobo, so it's best to never be without this duo.
Fish Sauce (Patis)
The other salty condiment in many Pinoy kitchens, the fish sauce is different from soy sauce in both color and flavor profile. While it's just as salty as the darker seasoning liquid, it's flavor is more than just its taste: it's definitely fishy. It tastes as well as smells fishy, and it's this brine-like quality that makes it important in Pinoy cuisine.
Shrimp Paste (Bagoong)
Balikbayans have become notorious for trying to find ways to smuggle bagoong and other smelly local ingredients abroad. It's no wonder: it's delicious despite its smell. It's essential in many dishes and while there are less smelly substitutes, it's just not the same when you're eating kare kare, Bicol express, or a binagoongan of any kind. 
Liquid Seasoning
There is soy sauce and there is liquid seasoning. For anyone who has ever grown up with the iconic bottle available, they know that this is what made every meal more flavorful. It's also an important ingredient in sisig as well as many other Pinoy dishes made with the umami-packed seasoning. The great thing with liquid seasoning is that even though it seems incredibly salty, it's not as salty as it smells and, yet has a flavor that's incomparable.
Lechon Sauce
No other sauce is quite like it. While you can certainly make a homemade version using the freshest ingredients, the real thing is still quite unbeatable in flavor and texture. The most telling aspect of how popular this sauce is is that no lechon can be served without it. The lechon kawali meanwhile is not the same eaten without it, and no lechon paksiw can be made without it. 
Banana Ketchup
The tomato version is delicious, but no Western condiment can replace the banana ketchup in Pinoy cuisine. We grew up with the stuff, and we slathered this bright, almost neon red sauce, onto tortang talong, scrambled eggs, and even lechon kawali when we suddenly run out of lechon sauce. It's made from bananas and while it's sweet, it's also got a slight tang and a kick that makes it the perfect dipping sauce for flavor-loving Asians such as the Pinoy.
Are there any other ingredients in the Pinoy kitchen more common as these? While there are a few that may also have its place, these are the most popular and well loved of ingredients that can make anyone homesick for some good Pinoy food made and served with these condiments and sauces.