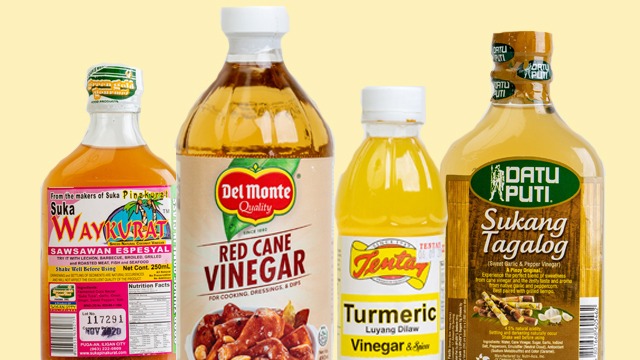 Acid—it's a taste all Filipinos are well acquainted with but also take for granted. No Filipino kitchen cupboard can exist without vinegar. Adobo is only possible through the magical properties of vinegar. Vinegar, because of its acidity, livens up the flavor, disrupts cloying sweetness, cuts through fat, and may even tenderize meats. Vinegar plays such a big role in our cooking that it's criminal how we don't take advantage of the wide variety of kinds of vinegar around the Philippines.
The Philippines, after all, is home to so many diverse fruits and spices. Combine that with innovative, industrious hands and you get all sorts of vinegar that are miles better than your simple, distilled white vinegar. In fact, many of our types of suka or vinegar can compete with the famed balsamic vinegar of Italy, apple cider vinegar of America, or the black vinegar of China. The only problem is, we don't know where and how to get them!
Level up every single dish that needs acidity when you use one of these delicious, locally-produced vinegar that don't stop at just being sour. They're aromatic, spicy, sweet, caramelly—all sorts of pleasures you didn't know that vinegar can deliver. Along with our recommendations, we're also giving you tips on ways you can best use your vinegar.
Here are different Filipino vinegars and tips on how to use them:
UPDATE: As of November 16, 2022, edits have been made to reflect the current prices of the vinegars in this list.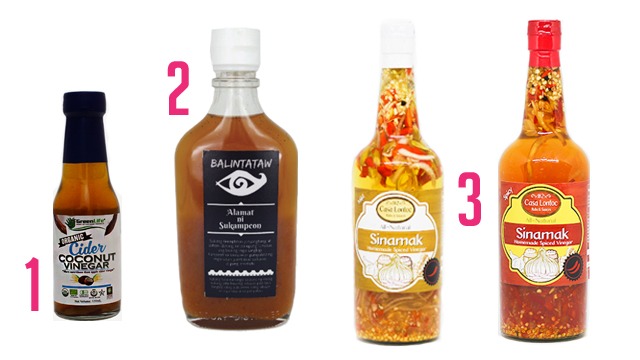 1 Organic Coconut Cider Vinegar (150 ml), P70
This coconut sap vinegar, also known as sukang tuba, is made with the unopened flower of a coconut tree. This all-natural cider doesn't have any artificial preservatives and was naturally fermented for almost 2 months. What comes out is a vitamin-rich, low-glycemic, vinegar.
TIP: Sweet vinegar, such as this coconut cider vinegar or honey vinegar, do well as the component to your vinaigrette. Vinaigrettes are flavorful, low-calorie salad dressings that will give your meal the zing it needs.
This organic coconut cider vinegar is available at karton.ph.
2 Balintataw Alamat ni Sukampeon (250 ml), P120
This vinegar is sour and slightly sweet, with just the right amount of heat. Made from a blend of pineapple vinegar and coconuts, it's then simmered for a long time so it can get all the goodness of spices, blue ginger, lemongrass, chili, ginger, tomato, onion, garlic, sweet pepper, laurel, and more.
TIP: One of everybody's favorite use of Filipino vinegar is as a dip for all your fried goods. Think chicharon, fried fish, crunchy bagnet, lechon kawali, crispy pata, and more! The acidity cuts through the fat, letting the flavor shine through.
The Balintataw Alamat ni Sukampeon is available at karton.ph.
3 Casa Lontoc Sinamak (750 ml) in Mild, P150 and Spicy, P200
Sinamak is an Ilonggo vinegar that is cane vinegar with different spices soaked in. This specialized, flavorful vinegar is one of the key ingredients that give chicken inasal its distinct flavor. Hence, trying it out for other meats will give a dash of inasal-like flavor. Those who love their vinegar with some heat will appreciate the spicy version, too!
TIP: Go beyond just chicken inasal. The sky is the limit.
Casa Lontok Sinamak in Mild and Casa Lontok Sinamak in Spicy are available at karton.ph.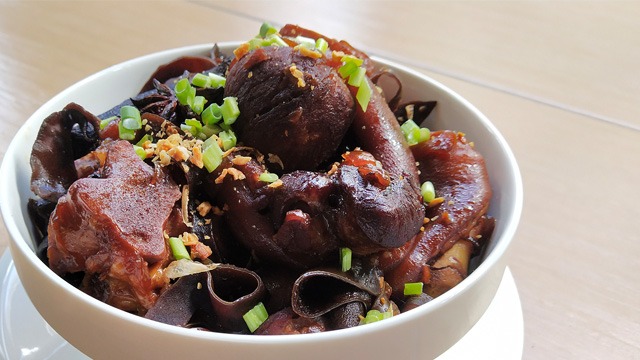 Pork Adobo Recipe With Sinamak
Posted in:
Recipe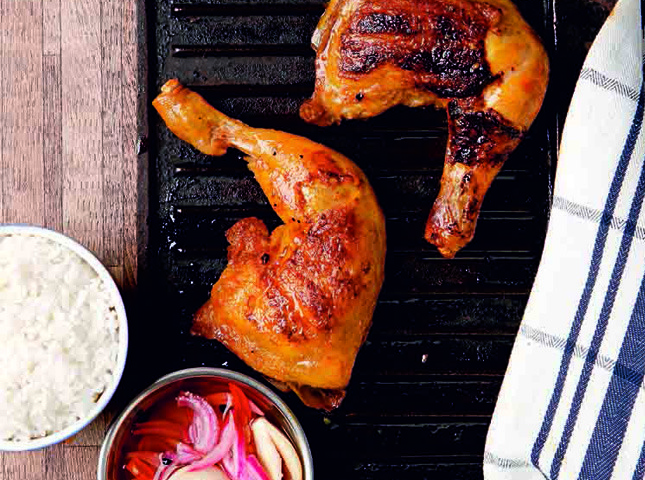 Grilled Chicken with Sinamak Sauce
Posted in:
Recipe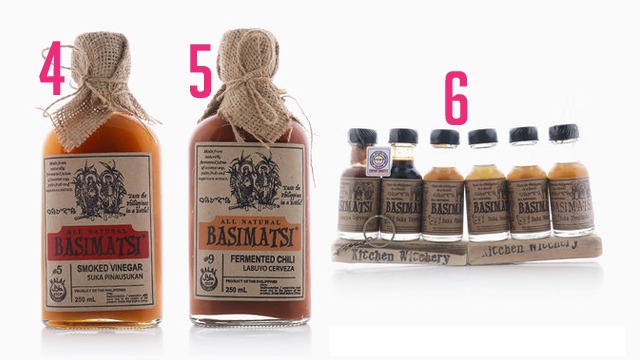 4 Basimatsi Suka Pinausukan (250 ml), starts at P107.50
Our favorite of the Basimatsi (bawang, sibuyas, kamatis, sili) series, is this delicious, one-of-a-kind smoked vinegar. It's like that extremely expensive liquid smoke from the supermarket only made better. You get the distinct, smoky, roasted aroma and taste without having to break out your grill.
TIP: Are you craving for sisig or dinakdakan but don't want to take out your grill? Use this vinegar for that smoky flavor.
Basimatsi Suka Pinausukan is available for P107.50 at Unimart Capitol Commons and for P114.75 at Landers.
5 Basimatsi Labuyo Cervesa (250 ml), starts at P160
This vinegar is as spicy as vinegar can get. Made similarly to how ale is made, they brewed, aged, and fermented hot, hot chilies to churn out this vinegar, and then added even more fresh chilies to finish it off. If you've always felt your vinegar lacked in the heat department, give this vinegar a go.
ADVERTISEMENT - CONTINUE READING BELOW
Recommended Videos
TIP: If you love spicy food, using spicy vinegar for cooking or as a dip will hit two birds with one stone. You get all the benefits of vinegar, the tenderness, the zesty vibrancy of flavor, all the while getting that heat that you love.
Basimatsi Labuyo Cervesa is available at Gourdo's via Shopee.
6 Basimatsi Sampler (6 35-ml bottles)
Can't decide among Basimatsi's different flavors? Buy their sampler which will let you taste six of their exciting flavors in their own 35-ml bottles. On top of Labuyo Cervesa, and Suka Pinausukan, you'll also get Suka Sinalabat, which is strongly ginger-infused; Suka Toyomansi, which contains the essences of soy sauce and native calamansi; Suka Timplado, which mixes up essential Pinoy spices; and Suka Minatamis, which has that mild sweetness perfect for the Filipino palate.
TIP: You can use vinegar to make delicious ceviche or kinilaw or kilawin. Fresh fish is "cooked" in the vinegar's acidic environment, giving you a juicy, flavorful bite that makes the best use of the freshness of fish.
Basimatsi can individually be found at select Landers, Gourdo's, and Unimart supermarket branches.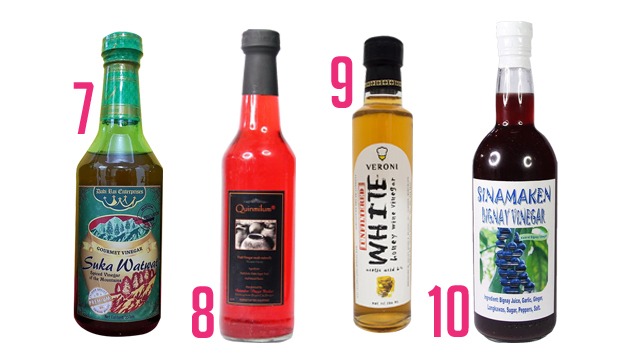 7 Sukang Watwat (360 ml)
Baguio, home to an abundance of produce, produces its own, gourmet vinegar. The best ingredients of our famous highlands combine to bring about vinegar that has a complex fruity sweetness, a mild sweetness, and a sourness that hits the spot.
This vinegar embodies its namesake, the Cordilleran practice of wat-wat, a bountiful feast of sharing delicious grilled meats in honor of luck and thanksgiving.
TIP: We all know it but we just have to say it, grilled goods are brilliant with vinegar. The bitter and smoky notes left by the charring on any kind of meat are elevated by a good vinegar dip. If the grill is out, the vinegar should be ready.
8 Quinmilum's Strawberry Vinegar (350 ml)
Baguio's surplus for strawberries doesn't go to waste. Strawberries and white wine are fermented together to turn into this famous, delicious, tart, sweet, fruity, bright red vinegar.
TIP: Be adventurous with vinegar! You can drizzle fruit-based kinds of vinegar on fruits and cheeses. The sweet acidity will enhance your fruit's flavor while breaking the saltiness and heightening the tang of cheeses.
9 Veroni's White Honey Wine Vinegar (250 ml)
This vinegar has a deep note of honey. If you're looking for sweet vinegar that will go great with salads, and maybe even to zest up a dessert, then you should definitely try this vinegar.
TIP: Does a recipe call for deglazing with white wine? A non-alcoholic option to deglaze your pan is to use white wine vinegar instead. What deglazing does is it dissolves all that roasted flavor on your pan so that it incorporates into your sauce.
10 Sinamaken Bignay Vinegar (250 ml)
Did you know that the Philippines has its own cherries? They're called bignay, and they're sweet and sour just like red cherries. This fruity flavor profile will give your dishes another interesting flavor note. Don't just stick with the obvious salad dressing and try it in your ulam dishes!
TIP: One of adobo's main ingredients is vinegar. It's what helps preserve it and gives it that distinct flavor. Add another complex flavor note when you switch the vinegar you use. Using this bignay vinegar, for example, would affect it in a similar way that balsamic vinegar would—giving that fruity, sweet, note that makes a delicious difference.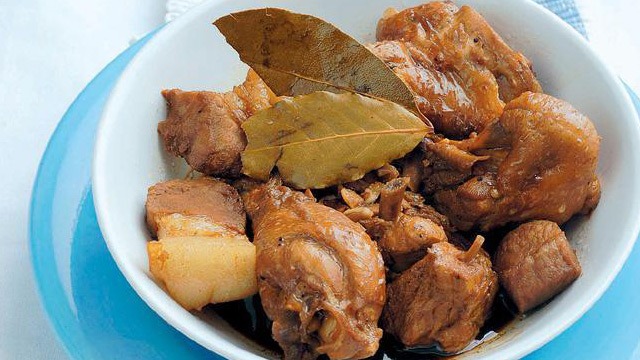 5 Secrets to Tasty Adobo
Posted in:
Cooking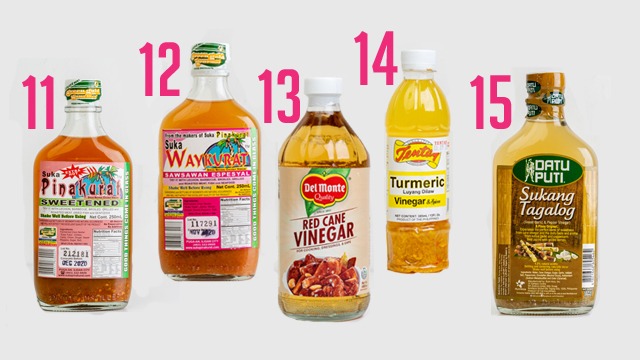 11 Pinakurat Extra Hot (250 ml), P64
There's just no vinegar as delicious as this. Made with sukang tuba, it is made complex with a brew of spices. Ginger, chilies, garlic, onion, sweet peppers, sugar, and salt may sound like the typical brew—but it's the perfect ratio that makes this the perfect vinegar. There'a reason why Cebu Lechon, famed for its deliciousness, fares so well with this vinegar.
TIP: Roasted meats, especially lechon, go great with a little vinegar.
Pinakurat Extra Hot is available at Robinsons Supermarket and other leading supermarkets.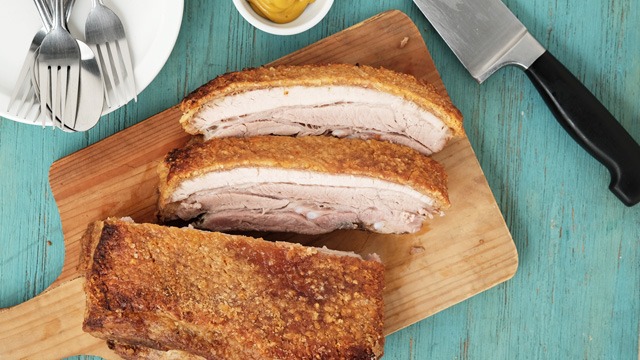 Lechon Macau Recipe
Posted in:
Recipe
12 Sukang Waykurat (250 ml), P65
From the same creators as Pinakurat, is this similarly flavored vinegar, coconut vinegar. So, if you're crazy about Pinakurat but can't handle the heat, go for this one!
TIP: Preserve and zest up the flavor of your fresh veggies with vinegar. You can pickle papaya to make atsara or cucumbers for some relish.
Sukang Waykurat is available at Robinsons Supermarket and other leading supermarkets.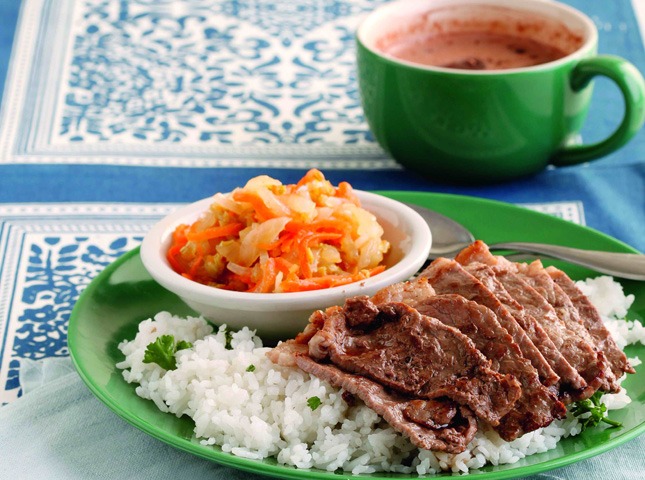 Beef Steaks with Coleslaw Atsara Recipe
Posted in:
Recipe
13 Del Monte's Red Cane Vinegar (473 ml), P54
If you're looking for vinegar that's a little sweeter, a little less sour, and somewhat similar to apple cider vinegar, try red cane vinegar. Because the flavor is next to neutral, you can replace most if not all distilled white vinegar indicated in your recipes.
TIP: Take care of your vinegar well. First off, take note of the expiry which is usually two years from the date it's made. Then, store at room temperature, away from direct sunlight. As ingredients settle, make sure to shake well before using.
Del Monte Red Cane Vinegar is available at Robinsons Supermarket and other leading supermarkets
14 Tentay's Turmeric Vinegar (385 ml)
Turmeric's earthy, bright, distinct flavor and golden hue take over this special vinegar. Change up your typical vinegar-rich viand with this vinegar to quickly add that distinct yellow ginger flavor. This vinegar is exclusively found at SM Megamall in Metro Manila.
TIP: You can use vinegar in your marinades to both tenderize and flavor. Make sure, however, that you don't over marinate. Water-based marinades will also generally be absorbed better. The bright, zesty flavor of vinegar also makes sure that your marinade makes quite an impact.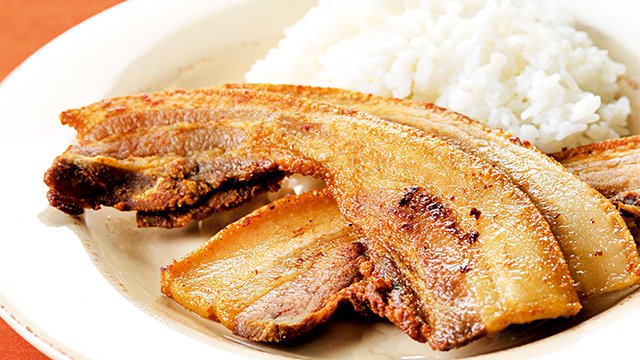 Bacon Liempo Recipe
Posted in:
Recipe
15 Datu Puti's Sukang Tagalog (250 ml)
If you don't like fruity kinds of vinegar and are craving for garlicky, peppery notes—this is the vinegar for you. Widely different from Pinakurat, this vinegar offers a more sour and earthy flavor profile that makes it the perfect combo for all your grilled goods and delicious addition to paksiw.
TIP: Give your paksiw more flavor with a different vinegar. If you're worried that these special kinds of vinegar are more expensive than distilled white, then do this trick. Still, use distilled white for the bulk of the recipe, but toward the end, add your special vinegar. This will also make sure that the vinegar's complex flavors aren't lost in the heat.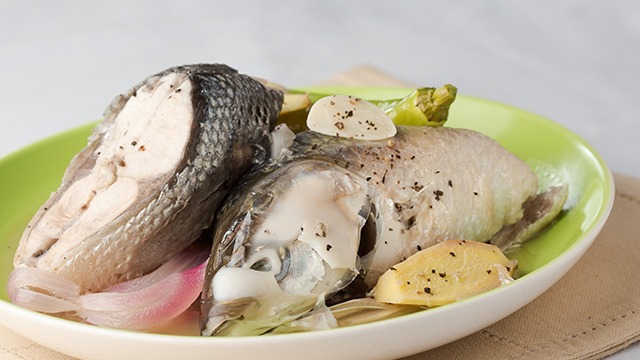 Paksiw na Isda Recipe (Fish in Vinegar)
Posted in:
Recipe
ALSO READ: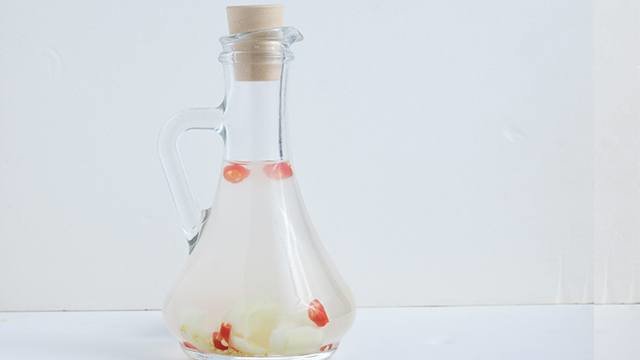 Garlic and Chili Vinegar Recipe
Posted in:
Recipe