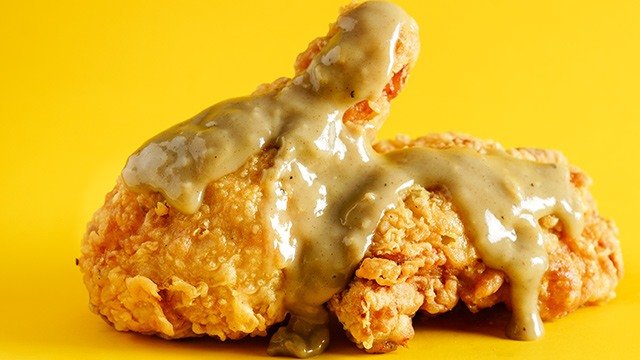 Making fried chicken will always be a delicious way to make anyone hungry. The chicken skin is made even tastier and more appetizing with its crispy breading and the chicken meat hiding behind it is succulent and perfectly juicy, especially when it comes straight from the fryer. 
There are any number of ways to make the perfect fried chicken recipe but there is one way to make that chicken skin super crisp and delicious: the breading. The breading is the key to that unmistakable crunch that you make when you bite or tear into fried chicken.  
All-purpose flour is becoming a hard-to-find ingredient during this new normal. If you are finding it hard to source or just conserving your stash for your baking or any other flour-related needs, you can use an alternative flour instead for your fried chicken. 
One ingredient you can add to your fried chicken flour mix or even use as a substitute if you can't find all-purpose flour is cornstarch. Cornstarch is a fast-acting ingredient that Asians love to use in their cooking. In fact, it's an essential ingredient in Chinese cooking. From frying to making thick and luscious soups, cornstarch plays a part in the overall process of making many of their dishes. 
Did you know that their crispy fried food also use cornstarch? In fact, it's not just the Chinese who do it, too. Even the Japanese and Koreans use cornstarch, not flour, to dredge their fried chicken. 
Here's why and how it works well, too.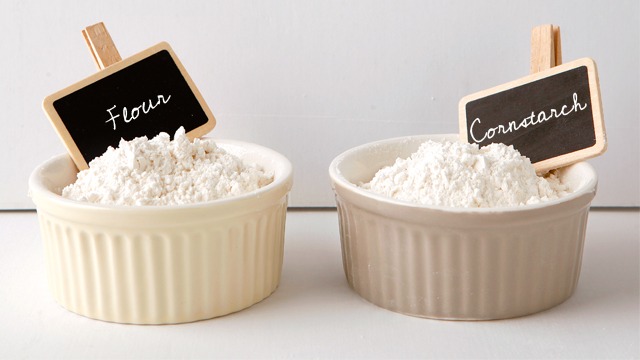 Cornstarch is almost a pure starch. This is also the reason why cornstarch is a great substitute for potato starch and vice versa. Being a starch means that there is no gluten in the ingredient, unlike in all-purpose flour, which can interfere with both the crispness and the browning of your fried chicken when it's added to hot oil. 
When using cornstarch, you will not only get a super crisp coating, but you will also get a more golden brown color faster that is super light. That's because cornstarch will coat your food in a thinner layer than flour would. This is a good thing, especially if you want to taste the chicken more than you do the different spices and seasonings that are added to the flour that many fried chicken recipes call for. 
Want to try using cornstarch in your fried chicken recipe, too? Here's how to do it: just substitute half the all-purpose flour with cornstarch.  
ADVERTISEMENT - CONTINUE READING BELOW
Recommended Videos
Here are a few fried chicken recipes you should try with this easy ingredient swap: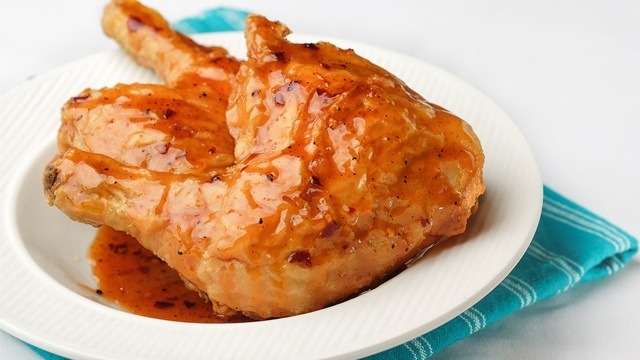 Fried Chicken with Sweet and Spicy Glaze
Posted in:
Recipe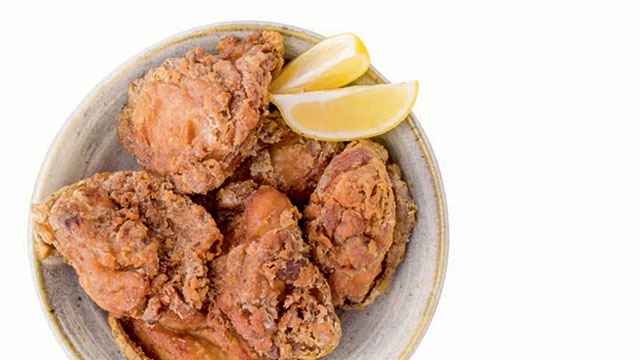 Chicken Karaage Recipe
Posted in:
Recipe
ALSO READ: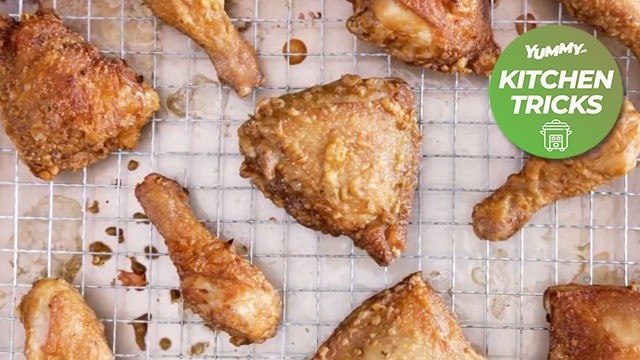 KITCHEN TRICKS: Different Ways You Can Coat Fried Chicken To Make It Extra Crispy
Posted in:
Cooking
***
Thinking about what to cook next? Join our Facebook group, Yummy Pinoy Cooking Club, to get more recipe ideas, share your own dishes, and find out what the rest of the community is making and eating! 
Got your own version of the classic dishes? Pa-share naman! Get your recipe published on Yummy.ph by submitting your recipe here!