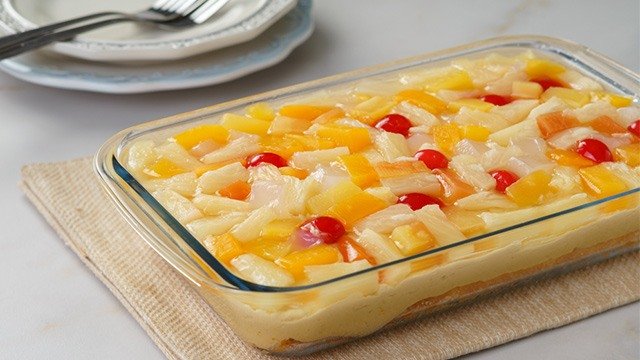 Products recommended on our website are independently selected by editors. If you buy something through our links, Summit may earn an affiliate commission at no extra cost to you.
The holidays is the one time of the year you'll never go hungry! With all the food that is on buffet tables, given as gifts, or part of a big feast, you can get tired of the same food served at these gatherings.
That's why it's a relief to know that you don't have to stick to the same old recipes when you're hosting or bringing something to the potluck party. Get creative in the kitchen and even the most tired fruit salad recipe can be made different and even be better than the original dish with the addition of an ingredient, an ingredient swap, or even a totally new way to put the dish together.
For example, one of the simplest ways to switch up your recipe is by using a different variant of fruit cocktails! Check out these fruit cocktail variants have not-so-ordinary fruit combos. The fruit cocktail in heavy syrup (left) has peaches, grapes, pears, pineapples, and cherries while the tropical fruit cocktail (right) variant has red papaya, nata de coco, pineapples, and cherries.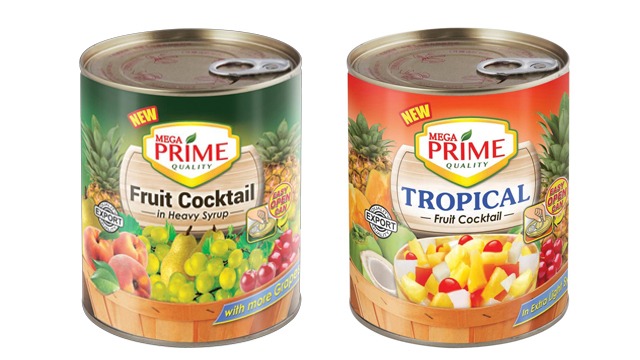 TRY THESE FRUIT COCKTAILS:
Mega Prime Fruit Cocktail in Heavy Syrup, available on Shopee and Lazada.
Mega Prime Tropical Fruit Cocktail is available on Shopee and Lazada.
Here are new and interesting ways to make your average can of fruit cocktail even more interesting for the holiday feasts:
1 Bake the classic "fruit cake" that we all love.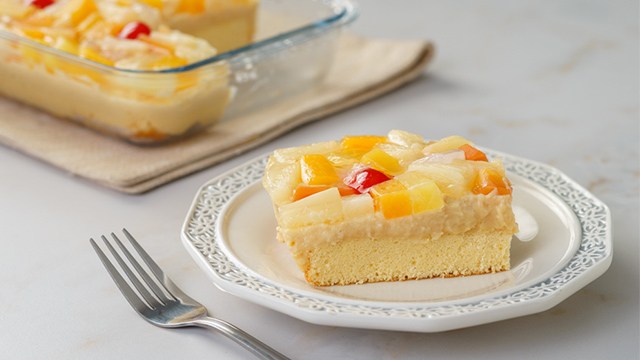 We all know the dessert Crema de Fruta. While you can certainly buy it from a bakery instead of making it, it takes a special type of person to make a homemade version and that's who you should be this season.
You'll love the way you can control exactly what fruits go into your gelatin topping because let's face it: You always want more cherries in your fruit cocktail than it really contains, and this is how to get it the way you want it. No oven? No problem! We also have an easy, no-bake crema de fruta recipe you can try.
ADVERTISEMENT - CONTINUE READING BELOW
Recommended Videos
2 Make a no-bake cake.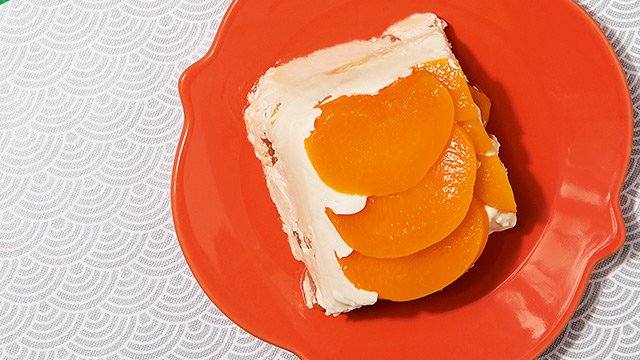 Not everyone has the time to make a celebratory cake, but if you've got room in the refrigerator, you should make one of these refrigerator cakes instead. Try this no-bake fruit cocktail refrigerator cake recipe, which won't have you impatiently waiting for something to rise and cook, or this fruit salad refrigerator cake recipe, which is is made creamier with ice cream. The only thing you'll have to worry about is refraining from digging into the fruity layers with a spoon before it's fully chilled.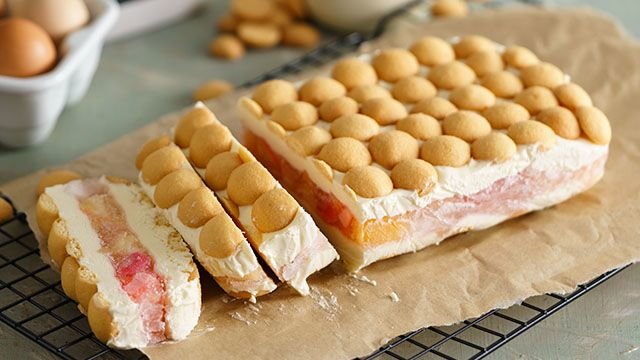 Fruit Salad Refrigerator Cake Recipe
Posted in:
Recipe
3 Make cupcakes sweeter with fruits.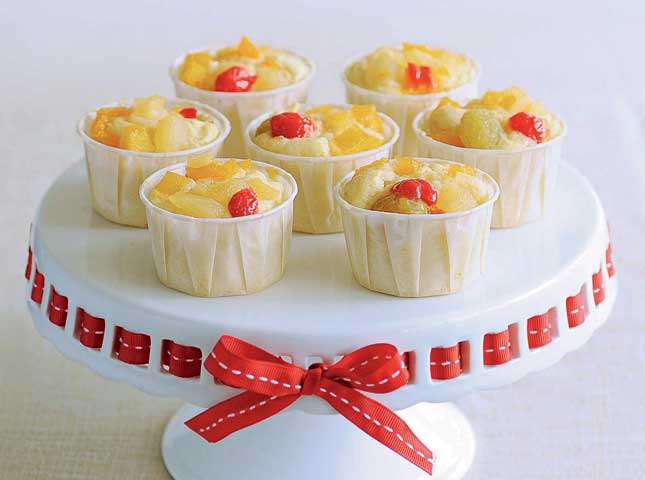 What's fantastic with fruit cocktail is that it's always available (especially during the holidays), it's easy and simple to use, and best of all, it makes anything fruity and delicious. So, why not make cupcake batter and use these already sweetened fruits as the icing on top? Try this genius idea with this fruit cocktail cupcakes recipe!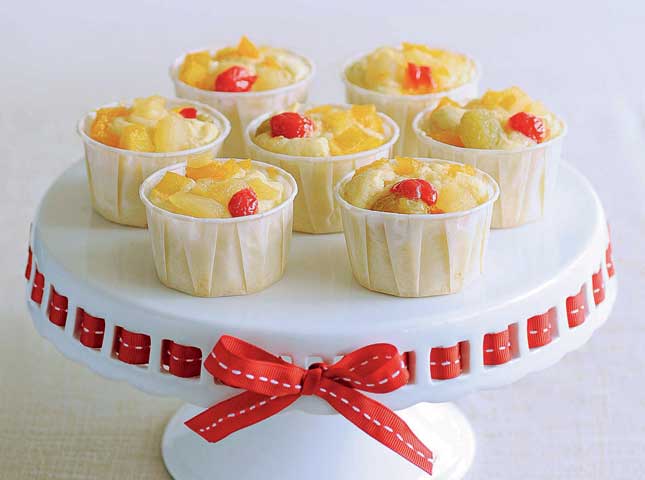 Fruit Cocktail Cupcakes
Posted in:
Recipe
4 Make the dressing different.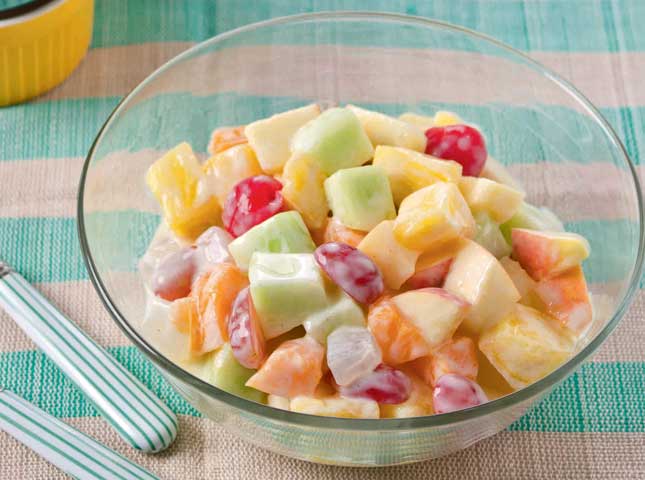 If you're not keen on diverting too far from what's been tried and tested, why not try a different dressing to toss with your fruit salad? Here's a yogurt fruit salad recipe that's easy to put together, and a fresh fruit salad in vanilla-mint honey recipe that's super refreshing. You can also add a Filipino twist to it with this buko pandan fruit salad recipe, or cool yourself off during hot summer months with this ice cream fruit parfait recipe.
5 Pair it with savory.
We think changing the dressing of your fruit salad is one of the simplest ways to rework the flavors in a can of fruit cocktail, but there's something else you can do: mix it up with something savory. For this hot prawn salad and this cold prawn salad recipe, simply swap out the fresh fruits with the pantry staple and play up the sweetness of the fruits by pairing it with something savory like prawns. It would also work in the oriental fruit salad with chicken recipe! What you get is a delicious contrast of tastes and complementary flavors that will delight your tongue.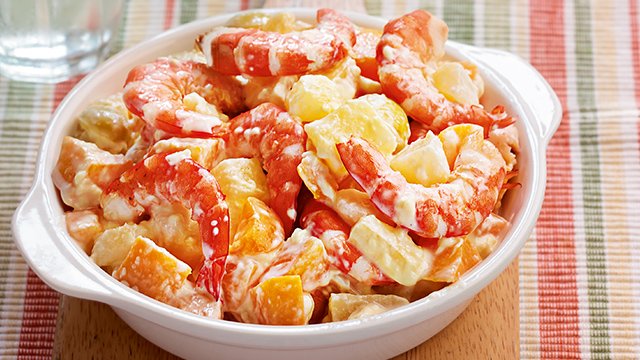 Cold Prawn Salad Recipe
Posted in:
Recipe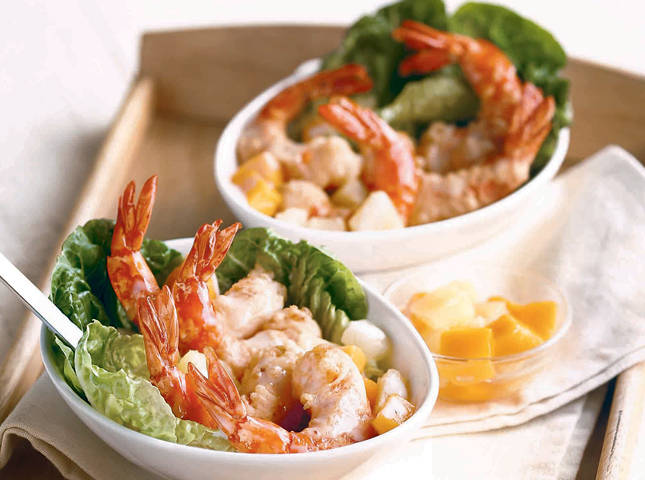 Hot Prawn Salad with Mangoes and Pineapple
Posted in:
Recipe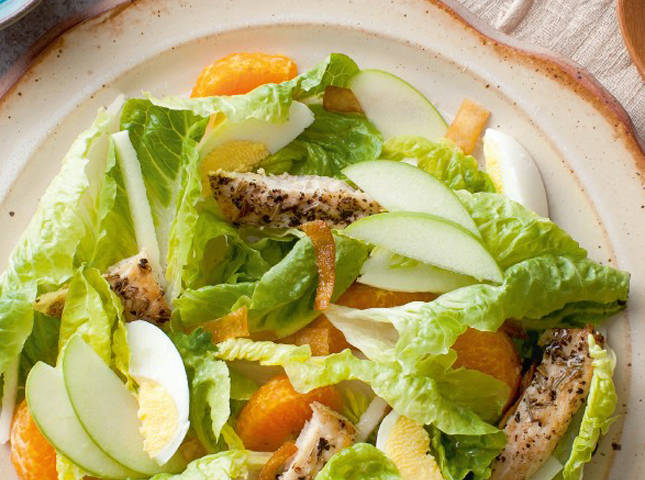 Oriental Fruit Salad with Chicken
Posted in:
Recipe
We think fruit cocktail should be in your pantry all year round and not just because it's the holidays. With a little ingenuity in the kitchen and a playful attitude towards a dish, you too can do something magical that will bring pops of fruity flavors to a dish.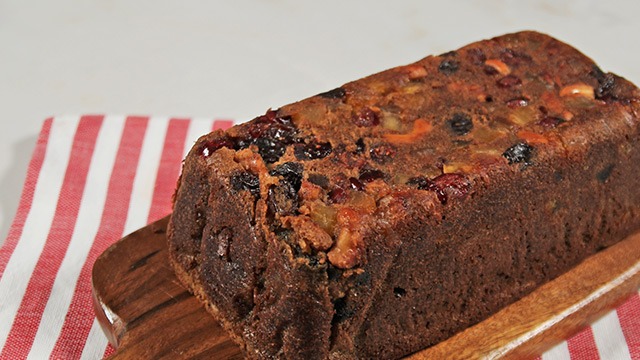 WATCH: How to Make Fruitcake
Posted in:
Baking
Links are updated regularly and as much as possible, but note that products can run out of stock, discounts can expire, and listed prices can change without prior notice.
***