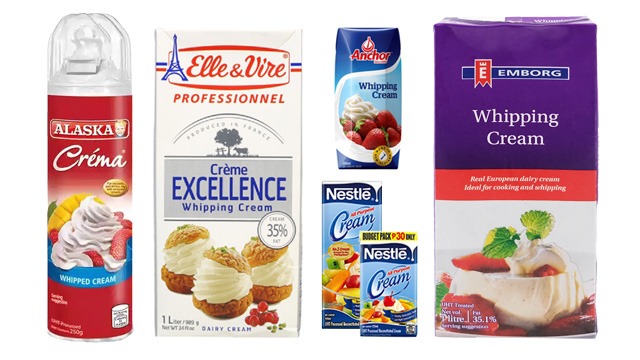 Products recommended on our website are independently selected by editors. If you buy something through our links, Summit may earn an affiliate commission at no extra cost to you.
What is the difference between all-purpose cream and heavy cream? Are these the same and can you substitute heavy cream for all-purpose cream?
The confusion probably lies in the fact that in the Philippines, "heavy cream" is not labeled as heavy cream. It is actually rare to find products labeled as heavy cream. Instead, many of us grew up being familiar with cream as "all-purpose cream". This is a shelf-stable cream, meaning that it has been processed to not spoil quickly and will stay "fresh" even at room temperature for months.
There is another kind of "heavy cream" that you may find more readily now.
In the chilled section of your major supermarket, there are packs labeled as "whipping cream". These packs are as close as we can get to what is known internationally as "heavy cream". The main difference between heavy cream and whipping cream is the amount of butterfat it contains. Whipping cream in general has less butterfat than heavy cream and that's why it whips up better and lighter. Whipping cream will hold air pockets well. It will whip into incredibly light and airy heights.
If these are the characteristics you are looking for in the "heavy cream" in your recipe, you have a few choices to make among the different kinds of cream you will find. You can use all-purpose cream for your dessert or you can choose whipping cream.
This list of brands that are available in stores should help you make your choice easier:
1 All-Purpose Creams = starting P35/110 ml and P65/250ml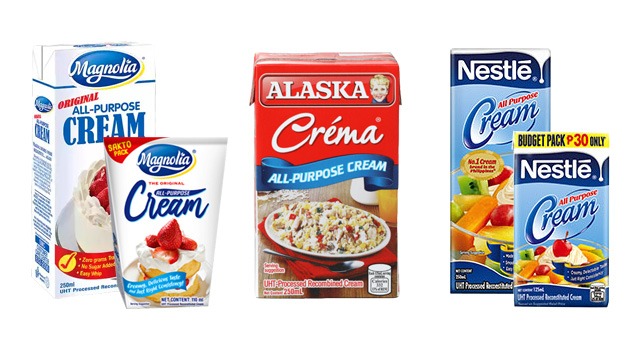 This is the cream that we all grew up with. This is the kitchen staple that saw us through our very first taste of some of our favorite dishes, including the Pinoy-style carbonara and the mango graham float and other refrigerator cakes. All three brands taste rich and creamy to certain degrees. Just note that while these can be chilled and whipped to hold peaks, they will nonetheless taste and feel heavier on your tongue than if you used the fresher whipping cream.
Nestle also has a cream variant in a can but while this is still considered an all-purpose cream, this is best used for culinary applications that do not require whipping. According to Nestle website, both the all-purpose cream and the cream in the can be used for either savory and sweet creations. The canned cream is milkier in taste, but for recipes that require whipping, they advise using their all-purpose cream products.
Magnolia All-purpose cream, starting at P35/110 ml, and P75/250ml, SM Supermarkets and Robinsons Supermarket, Lazada, and Shopee.
Alaska All-purpose cream, starting at P65/250ml, SM Supermarkets and Robinsons Supermarket.
Nestle All-purpose cream, starting at P39/110 ml and P75/250ml, SM Supermarkets and Robinsons Supermarket, Lazada, and Shopee.
2 Anchor Whipping Cream = 200 mL/P106 and 1L/P388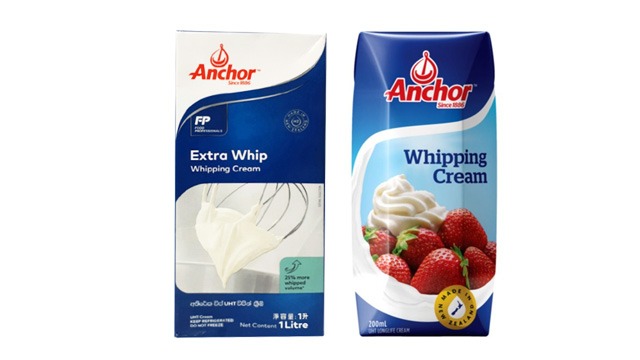 For those who occasionally sell what they bake, this is the cream that many may have started with using. This professional-grade whipping cream is a heavy whipping cream, and it whips into super thick, extremely stable clouds of cream that surprisingly tastes and feels light on the tongue. It's the standard that many bakers started with and many continue to use. Plus, it comes in a smaller, more affordable size that doesn't require breaking already tight budgets.
Anchor Whipping Cream, 200mL, P170, and 1 L, P455, SM Supermarkets
3 Emborg Whipping Cream = P345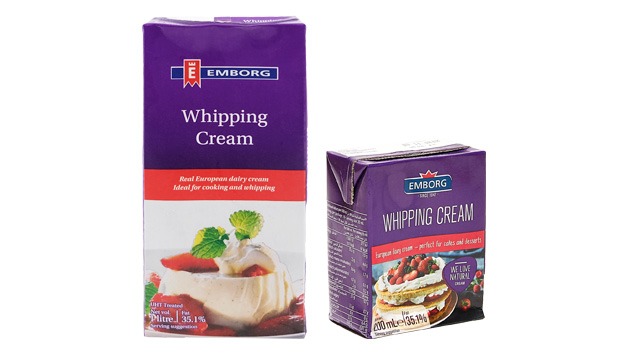 Another supermarket standby, this whipping cream tastes rich and holds a great peak when whisked. It also probably tastes a little sweet. That's not because it is sweetened; it's all about the quality of the cream that's used to make it.
ADVERTISEMENT - CONTINUE READING BELOW
Recommended Videos
Emborg doesn't just have whipping cream. Look harder at the packs, and you might have picked up culinary cream instead of whipping cream. While still cream, this cream will not whip and instead has been optimized to not break when added to hot food, such as sauces and soups.
Emborg UHT Whipping Cream, 1 L, starting at P475, All About Baking
4 Elle and Vire Whipping Cream = P215/1 L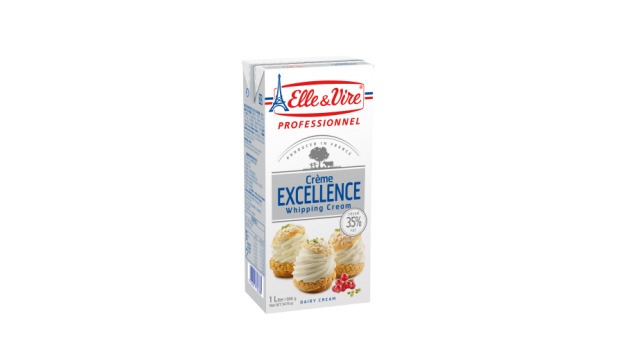 Standards rose high when Elle and Vire made its debut on the baking scene. Labeled as "professional" yet available in your neighborhood supermarkets, this cream is super smooth and when whipped, results in a silky and creamy tasting whipped cream. One of the pricier brands on the market, it is easy to work with since it easily whips up to produce a stable and creamy whipped cream topping for your dessert.
Elle & Vire Whipped Cream, 1L, starting at P215, Rustans Supermarket
5 Non-Dairy Whipping Cream = starting P180/1L
Cream is obviously a dairy product so anyone who is lactose-intolerant or does not consume dairy will be delighted to know there are options out there for them to use. Baking supply stores are your best bet for these specialty whipping cream, and you have at least these three options.
These non-dairy whipping cream are delicious despite being non-dairy. All three whip well and look stunning white compared to regular cream. Just note that all three are already sweetened. Ever-Whip is sweetened with sucralose, an artificial sweetener and sugar substitute, while Bunge and Puratos are sweetened with sugar. Also note that Puratos is labeled as suitable for vegans, so for anyone who is looking for plant-based ingredients, this is one of them.
Ever-Whip Non-Dairy Whipping Cream, 1 L, starting at P228, SM Supermarket, Puratos Ambiante, 1 L, starting at P233, Shopee and Lazada, and Bunge Whipping Cream, 1 L, starting P225, All About Baking and Robinsons Supermarket
6 Canned Whipped Cream = P199/250 grams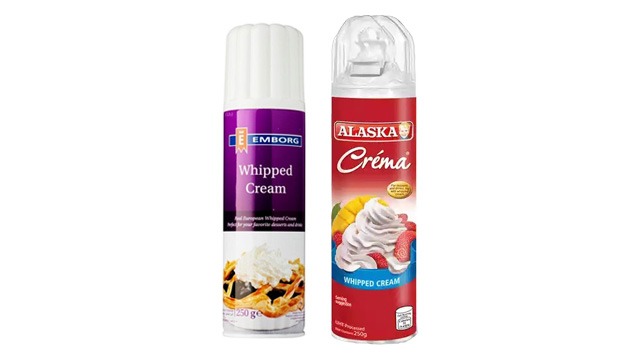 Canned whipped cream may sound like a dream and it actually is. There is no need to whisk anything to stiff peaks and worrying if you over whipped it because as soon as you press on the can, it's instant whipped cream. The only drawback of this dispenser is the lack of control. It has its own nozzle tip and unless it's already sweetened, it cannot be adjusted to taste. However, the convenience of this ready-to-squeeze can is fantastic for anyone who loves convenience ingredients.
Not every kitchen has a professional whipped cream dispenser, so this is the next best thing to wield to get those perfectly airy whipped cream toppings.
Emborg UHT Whip Cream, 1L, P543, Lazada, and Alaska Crema Whipped Cream, 250 grams, P263, Waltermart
You need no longer have to debate about all-purpose cream, heavy cream, and even whipping cream. You have choices to make and the options are all about what you like and how much you're willing to pay to have a great and creamy dessert. Take your pick and discover if your choice for whipped cream dessert is the one for you.
Links are updated regularly and as much as possible, but note that products can run out of stock, discounts can expire, and listed prices can change without prior notice.
***
Thinking about what to cook next? Join our Facebook group, Yummy Pinoy Cooking Club, to get more recipe ideas, share your own dishes, and find out what the rest of the community are making and eating!
Got your own version of the classic dishes? Pa-share naman! Get your recipe published on Yummy.ph by submitting your recipe here.