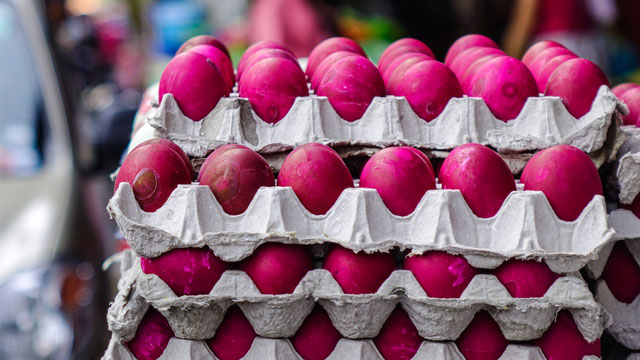 Updated on August 18, 2023 by Camille Georgia Uy.
The frenzy over the salted egg trend has long ended but that doesn't mean that it's gone! Whether or not these eggs are still trendy, these colored eggs are still a common and favorite part of many meals. 
Locally called itlog na maalat, these eggs are also known as itlog na pula because of the brilliant magenta red dye used to color the eggshell. This is commonly done to help differentiate these duck eggs from the balut eggs that the town of Pateros is also known for producing. 
If you love adding salted eggs to your favorite dishes, you might be wondering however how long will these eggs last soon after purchase and how to store them. Knowing how to store salted eggs is important because even though they are preserved, they can still spoil!  
There are three ways of knowing how long your salted eggs purchase will last:
1 Ask your vendor when the eggs were made.
If you get your salted eggs from Pateros directly, you can ask your vendor when the itlog na pula were made. Only they know when the eggs were cooked and you can ask them when the salted eggs will expire and mark that date.
2 Check your recipe if you're making homemade salted eggs.
If you were motivated and made salted eggs at home, the recipe you followed should note how long the salted eggs will be good for. However, if that information is missing, it's safe to assume that once the salted eggs are cooked, they usually last up to one month or 30 days.
3 Check the expiry date if you purchased itlog na pula from the grocery.
Salted eggs from the supermarket should always have an expiry date tagged on the package. You can rely on this to figure out how long your salted eggs' shelf life will be.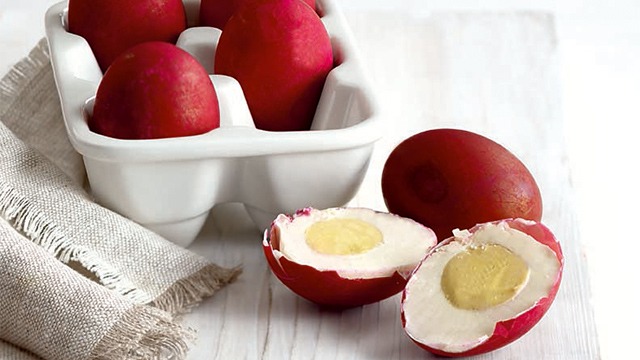 How To Extend The Shelf Life Of Salted Eggs
In general, salted eggs will last up to their expiry date. There are some factors that may lead to the eggs spoiling before the indicated time:
1 Avoid cracking the salted eggs.
Any cracks can signal an instant decline in the freshness of the eggs so this is another factor to consider when buying these eggs. Consume eggs with cracks immediately or before you start on the undamaged ones.  
2 Store salted eggs in the refrigerator.
The 4-week time limit is how long you can safely store salted eggs can last without any refrigeration — and this is if the eggs were cooked recently and were stored properly.
ADVERTISEMENT - CONTINUE READING BELOW
Recommended Videos
However, the problem with buying from the supermarket is that you normally do not know how long the products may have been in storage before it was placed on the shelves. 
That's why we recommend that as soon as you get home with your ilog na maalat, store the salted eggs in the refrigerator just like you would if it were fresh eggs. If refrigerated, salted eggs can last even longer. If you prefer your eggs room temperature or even warm, you can leave the ones you'll consume at room temperature overnight or even a few days before serving.
Ready to make salted egg dishes? Here are recipes with salted egg: