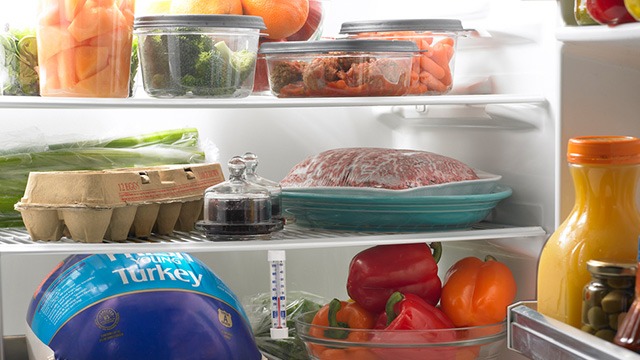 Your freezer is a lifesaver for meal-planning, holiday prep, entertaining, make-ahead portions, and leftovers. While food can physically keep for an indefinite period of time preserved in the freezer, cold temperatures make food prone to deterioration and freezer burn. The longer your keep food frozen, the more likely it is that freezer burn will affect the taste of your food.
Stick to these general guidelines when it comes to freezing food, and you'll be able to preserve the freshness of your favorite meats and veggies as much as possible.
Meat and Seafood
As a general rule, use frozen meat within 3 to 4 months.
Fruits and Vegetables
Use frozen fruits and vegetables within 9 months. For citrus fruits, use within 3 months.
Bread and Desserts
Bread: 3 months
Cakes, unfrosted: 3 months
Cakes, frosted: 1 month
Cookie dough: 3 months
Dairy
Soft and hard cheeses: 6 months
Ice cream: 2 months
Yogurt: 1 month
Broth and Soups
3 to 4 months
Here are a few extra tips when freezing food:
1 Liquids expand when they freeze. If you plan to keep soups, stews, stocks, and broths in the freezer, remember to leave extra space in your container for this.
2 Freeze fruit at its ripest, and meat and vegetables at its freshest points to make them last as long as possible without their tastes and structures deteriorating.
3 If you are using plastic zip-top freezer bags, remember to take out as much air as you possibly can to avoid freezer burn affecting your food.
4 Label your frozen food with tags and dates to keep track of its freshness.
5 Defrost safely. Read these guidelines to master defrosting!
ADVERTISEMENT - CONTINUE READING BELOW
Recommended Videos