Garlic or bawang is a Filipino kitchen staple. From the humble sinangag or garlic fried rice that we enjoy in our silog meals to the garlic-loaded stews such as a chili-garlic pork adobo recipe and a creamy garlic chicken recipe, few local dishes don't include the little cloves starting the cooking process of the recipe.  
Garlic however is not only used in our dishes but also in other cuisines as well, and this means it's a highly sought-after ingredient. That's why when the price of this little bulb skyrockets, you can be sure that the masses will feel it. 
It doesn't hurt to know how to turn to other garlic products when you are trying to stay within a certain budget. While there is no substitute for the flavor of fresh garlic, sometimes, the dried stuff can be just as potent an ingredient as you need it to be if you know how to use them. 
Here are the different kinds of garlic you can use in your dishes if you don't like chopping up fresh cloves for every dish: 
1 Garlic Powder 
This ingredient is a classic one as well as most popular. It's basically dried-up garlic that has been ground to a powder. This can be mixed with other ingredients to prevent it from clumping since garlic tends to absorb moisture and turn into a solid block if you're not careful. 
How do you use garlic powder? It's simple really: just sprinkle as much as you need into your dish. Depending on how potent the garlic powder is, you can use as much as 1/4 teaspoon per garlic clove you need in your dish. 
What's great about garlic powder is that it easily dissolves into dishes and is perfect for recipes where you need to add the garlic to a dry mixture such as spice mixes and rubs.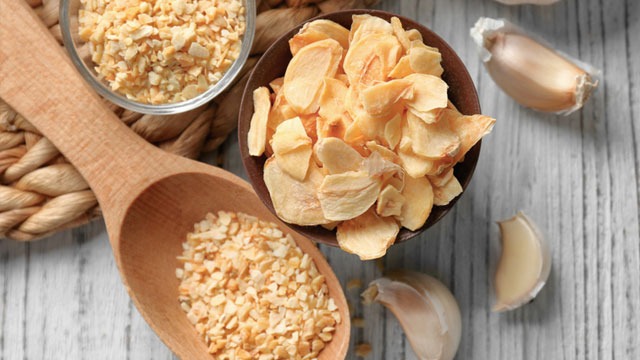 2 Granulated and Minced Dried Garlic 
These two garlic ingredients are basically the same with one key difference: the size of the garlic. Granulated dried garlic is much smaller in size, "granular" or the size of grains, while minced dried garlic is larger in size. Minced dried garlic basically looks like the garlic that you chopped up yourself but has been dried. 
How do you use granulated and minced dried garlic? Since these are garlic bits in different sizes, these are best added to dishes that have liquid in them. The small amount of liquid that is in the dish can rehydrate these little garlic bits and in turn, deliver its garlic flavor to the dish. It's like you added fresh garlic but in a more intense form. Think of dried mushrooms and how potent those are when added to dishes. 
To use, add half as much granulated or minced dried garlic as you need for any dish that calls for fresh garlic. 
3 Garlic Chips and Bits
These are probably the only version of garlic that you will find in the snack section of your supermarket. It's true but yes, garlic sliced thinly and then toasted in oil is considered a delicious snack! (Watch out, vampires!) It's not hard to believe since many people who adore adobo peanuts also love finding these toasted bits of garlic in their mix. 
The good news is that this love affair with toasted garlic goes beyond adobong mani. You will find garlic chips and even bits on top of our bowl of lugaw, beef pares, chicken mami, and yes, even on top of your daily sinangag for those who want even more garlic in their meals. You can even find these garlic bits seasoned with chili to make a spicy version! 
These are super easy to use since you can sprinkle these directly on top of your finished dish at the table to deliver a burst of toasted garlic flavor instantly. No cooking involved!
This kind of garlic may be treated as a condiment but it can also easily be used in cooking as well in place of granulated garlic or even fresh garlic if you find yourself in a pinch. 
***