Cast iron pans are versatile and dependable: they can be used to cook almost anything (like pork chops and cookies!) and if cared for properly, can last you a lifetime. Cast iron skillets and pans are naturally prone to rust and need to be "seasoned" properly both for maintenance and to achieve its non-stick surface.
Here's everything you need to know about seasoning and cleaning your cast iron pan:
Seasoning
1 Clean it. Unless your cast iron comes pre-seasoned, you will need to season or re-season, especially if it's an old pan and has developed rust spots. First, wash the cast iron pan with soap and water to remove any undesirable residues. Scrub off all traces of rust with the wire mesh side of a sponge. Do this to the entire pan, including its underside and handle.
2 Keep it dry. Once clean, wipe dry with paper towel and place on the stove over a flame to boil off all moisture. Cast iron pans are susceptible to rust, so heat until completely dry.
3 Oil it. Once completely dry, brush with oil. Best oil to use is flaxseed oil, but any edible vegetable oil will work. Wipe off any excess oil with a paper towel.
4 Bake it. Preheat your oven on its highest setting. Ideally, temperature should be over 400F because the oil used should be heated beyond its smoking point for it to bond with the iron. (Chemistry!) Place oiled pan in the preheated oven, upside down, and "bake" at least 1 hour. It helps to turn on your exhaust fan and/or range hood as it bakes to help with any smoke. Also, you can place a tray under the pan to catch any excess oil that drips off. If done right, there shouldn't be any excess oil to drip off from the pan.
5 Cool it. Turn off oven then let pan and oven cool. The resulting pan will have a glossy black finish. This finish is what makes cast iron pans as non-stick as a Teflon-coated one, plus this finish will not peel off.
Usage
1 Heat it up. For the non-stick surface to work at its best, only place food items on a seasoned cast iron once it's hot. Let the entire pan heat up before adding oil then your steak or eggs. You'll know it's ready when you place your hand above the pan's surface and it's too hot to keep there for long.
2 Add oil. Or any other fat, like butter or lard. Once hot, add a small amount. Even a teaspoon will do. Plus, it will help maintain the cast iron surface.
3 Let food sear. The food will let you know when it's ready to be flipped; until then, let the pan do its work.
Cleaning and Maintaining
1 Do not use soap, even when food particles have been burned onto its surface. Instead, discard any oil then sprinkle salt over the stuck-on food. Scrub food off with the rough side of a sponge. For particularly stubborn spots, boil water in the cast iron pan until the food particles have softened then scrub off. Rinse.
2 Again, keep it dry. Wipe dry after rinsing then boil off moisture on the stove until completely dry.
3 Maintain the season. Brush on another layer of oil on the pan, and heat until oil is smoking hot. Let cool before storing.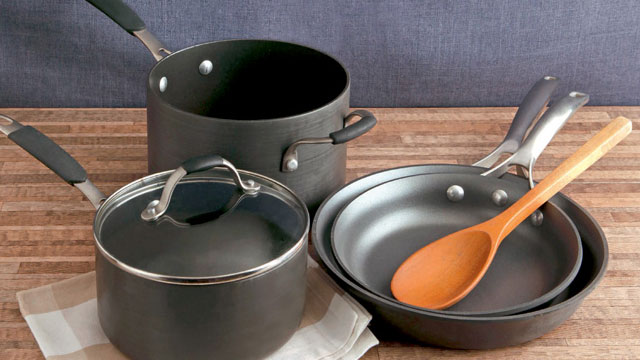 Tip of the Week: Choosing the Right Pans
Posted in:
Cooking
Tips by Roselle Miranda