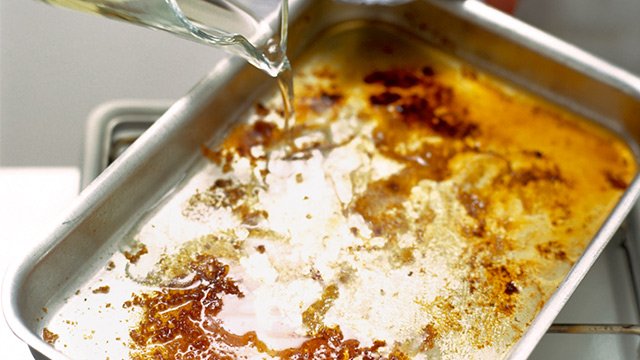 You didn't have time to immediately wash the baking sheet or frying pan you used, and now you're stuck with stubbornly crusty, hard-to-remove stains! What's the best way to get your cookware sparkling clean again? Boil some water! It's the key to removing pesky burnt stains from your stove, baking sheets, and pans.
To clean a baking sheet or pan, pour boiling water over it then let it soak in the sink. After the hardened grease has loosened up a little bit, start scrubbing with a stainless steel scrubber (make sure it's the non-soaped kind). If the stains are still hard to remove, try sprinkling a little baking soda over them and start scrubbing again. You'll get a clean pan in no time.
When trying to clean burnt-on stains on your stove, pour a shallow layer of boiling hot water from a kettle over the stovetop. Let the water sit for about five minutes, then start scrubbing with a soft scrub pad. Finish with a little soap and wipe clean. Voilà!
Article originally published in the May 2014 issue of Yummy magazine. Minor edits have been made by Yummy.ph editors.