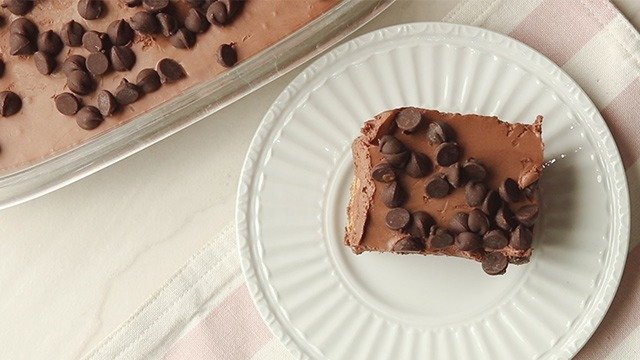 You only need three ingredients to pull off this delicious freezer cake for dessert: heavy cream, graham crackers and chocolate!
3-Ingredient Chocolate Freezer Cake Recipe 
2 cups heavy cream, divided
1 1/2 cups chocolate chips
graham crackers
1 In a bowl, place 1 cup of heavy cream and heat in the microwave for 1 minute.
2 Add chocolate chips heavy cream and mix until the well-combined.
3 In a separate bowl, whip 1 cup of heavy cream into stiff peaks. Add the chocolate mixture and fold until well-combined.
4 To assemble: place alternating layers of graham crackers and the chocolate-cream mixture in a freezer-safe container. Finish with a topping of more chocolate chips. Place in the freezer for 4 hours or overnight.