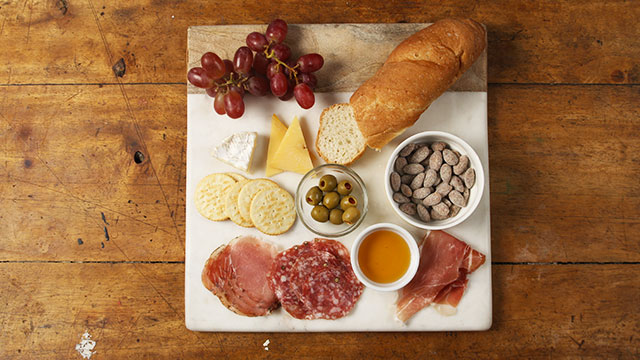 There are no hard rules to follow when putting together a cheese and meat platter. Who doesn't love digging into a feast of cheese, cured meat, and carbs? Choose what goes onto your board based on your own preferences and mix-and-match your favorite flavors. Cheese platters are also perfect for parties, whether you are entertaining or attending one: all you need is a trip to the grocery store.
While everyone has his or her own style of arranging a cheese and meat platter, here are a few guidelines on what to include in your spread.
1 Cheese
Always make cheese the centerpiece of your platter! Choose two to three kinds with different textures and tastes: there are hard cheeses like aged cheddar and manchego and soft cheeses like Brie and Camembert. Feeling adventurous? Throw in a chunk of blue cheese or small bowl of fresh ricotta.
2 Cured meat
Choose a variety of cured meats to go with your cheeses. Crowd favorites are proscuitto, jamon serrano, salami, and pepperoni. Arrange them in neatly folded rows for easy snacking.
3 Sweet spreads
Pepper in a small bottle of jam and several spoonfuls of honey to complement the strong cheeses and salty meats.
4 Dried fruits, nuts, and pickles
These extra ingredients can round out your whole board in terms of flavor and texture. Green olives, dried apricots, almonds add fun crunchy, smooth, and leathery textures to each and every bite.
5 Crackers and bread
Carbs carry your precious cheeses and meats, so present several options. Crusty baguette slices and wheat crackers are no-fail cheese and meat carriers.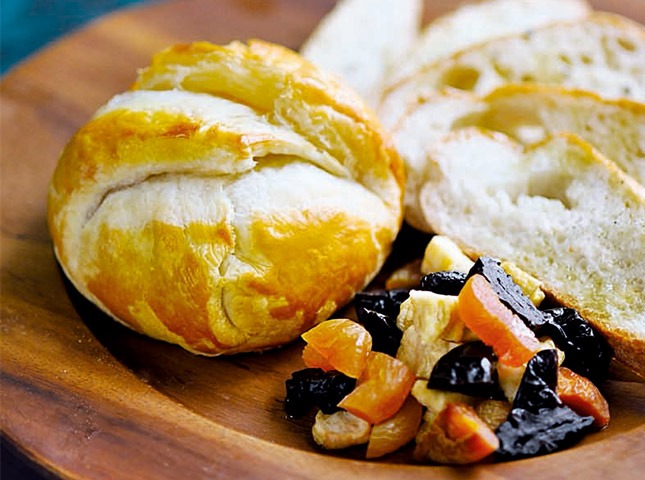 Baked Brie Recipe
Posted in:
Recipe
ADVERTISEMENT - CONTINUE READING BELOW
Recommended Videos