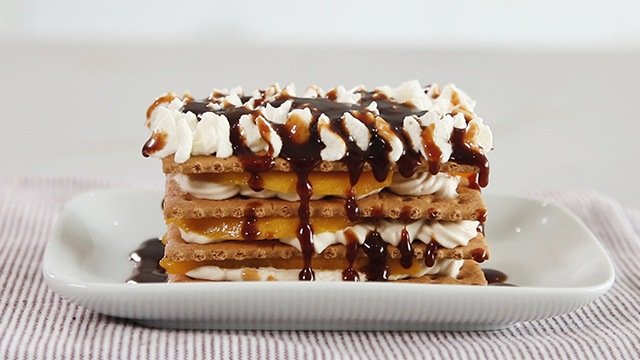 Treat yourself to a fruity and refreshing mango-coconut icebox cake to help you cool down from the summer heat! This no-bake dessert is the easiest dessert you'll ever make: all it needs is a little bit of mixing and a couple of hours in the freezer. Remember to use the sweetest mangoes you can get your hands on to get the best results in making this icebox cake. Dig in!
Makes: 10 mini icebox cakes
1 8-ounce block cream cheese
1/3 cup coconut cream, chilled
1/3 cup coconut sugar
1/3 cup heavy cream, whipped
30 graham crackers
3 mangoes, cheeks only, sliced
For the latik sauce:
1/3 cup coconut milk
1/4 cup coconut sugar
1 Make the filling: whip the cream cheese, coconut cream, and coconut sugar together until well combined. Fold in the heavy cream. Set aside and let rest in the refrigerator.
2 Make the latik sauce: in a small saucepan, let the coconut milk and sugar simmer over medium heat, stirring occasionally, until thick. Reduce to your preferred consistency and set aside to cool completely.
3 Make the icebox cake: set 1 cracker down on a plate. Using a piping bag fitted with a star tip, or using a spoon, spread 1 layer of the coconut cream filling over the cracker. Layer 3 to 4 slices on mango, then top with another cracker. Repeat for one more layer, ending with a cracker. Top with whipped cream and freeze for 1 to 2 hours or until set. Drizzle with latik sauce before serving.
ADVERTISEMENT - CONTINUE READING BELOW
Recommended Videos