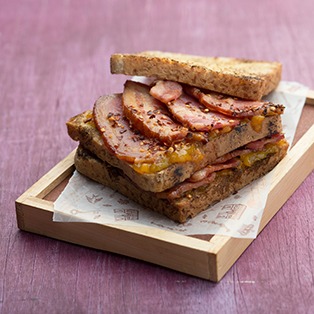 Bread, spread, filling—the formula for a winning sammie seems simple. But the secret to creating this packed-lunch staple lies in achieving a symphony of flavors and textures. Ready to make a great sandwich? We have a few tips.
1 THE BREAD
Pick the right loaf for your sandwich.
Soft fillings call for soft bread; hearty fillings pair well with sturdy bread. You don't want your tuna salad to squish out of a crusty bâtarde as you take a bite.
Saucy fillings need crusty bread as a vessel. Think of the Vietnamese banh mi: juicy filling; chewy, crusty baguette.
Toast lightly. Toasting adds texture, but overdoing it will result in rock-hard bread.
ALSO READ:
TRY THIS RECIPE: Chicken Sandwich with Pesto Mayonnaise
2 THE FILLING
The filling is the focal point of the sandwich. Consider it carefully when you choose the other components.
Sometimes, less is more. Remember, the key to a great sandwich is the balance of flavor and texture. Overstuffing only adds novelty to an otherwise perfect bite.
Spread fillings evenly. Top the entire surface of the bread—not just the middle. This way, you get each component in every bite.
Balance out your flavors. Pair rich components with tart spreads, salty fillings with sweet ingredients.
TRY THIS RECIPE: Grilled Cheesesteak Sandwich
3 THE SPREAD
The key to a luscious bite? A creamy, saucy layer of texture and moisture.
Spreads deliver flavor and bind the fillings together. While mayonnaise and mustard are classics that don't disappoint, don't be afraid to make other choices by taking cues from your fillings. Pesto with roasted chicken, and raspberry jam with ham sound good!
Spreads seal the insides of the bread, preventing your sandwich from getting soggy. Be sure to spread a thin layer evenly across the insides of both the top and bottom halves.
TRY THIS RECIPE: Roast Chicken Salad Sandwich
4 THE CRUNCH
It's not all about the flavor—a texture and temerature contrast is essential, too.
Crunch is king! Slaws, pickled vegetables, chips, and bacon add a fun, crispy twist.
Vegetables are texture drivers that also add freshness. Crunchy cucumbers help cool down spicy fillings; pickles do the same and add a vinegary tartness that cuts into rich components; ripe tomatoes give sandwiches a juicy boost.
TRY THIS RECIPE: Crispy Chicken Burger

Tips were part of a feature which appeared in the June 2014 issue of Yummy magazine
Main image photo by Majoy Siason