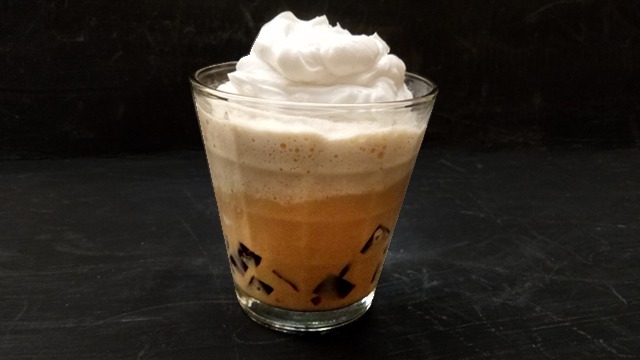 Coffee drinks do not have to be difficult to make. You can be basic with your morning brew but sometimes, it's nice to change things up and grab a drink that's more than just a drink to wake you up. 
Enter the coffee dessert drinks. Coffee dessert drinks are usually coffee-based beverages that involve more than just a shot of coffee and the usual milk and sugar. This is when "more" means anything that can also be passed off as "dessert". You can have a coffee drink that's loaded with cream, blended with ice, and topped with not just whipped cream but also sprinkled with chocolate shavings, dusted with ground cinnamon, and maybe finished with a drizzle of caramel sauce before it can be served. These drinks can even be coffee-free and have an alternative base. Matcha or green tea and chocolate are common non-coffee choices. 
These drinks can literally replace your dessert course. 
That's what the ice blended coffee or frappuccino is, and one of the most popular of these drinks is the coffee jelly frappuccino from Starbucks.
It's easy to make this drink but there are a few steps to make it delicious. We first made coffee ice cubes or kori kohi. This eliminates the need to use too much ice, won't overly dilute the drink either, and makes it fast and easy to make any time you need an icy drink fix. Then we made the coffee jelly. You can use the same coffee jelly that you would in the easy dessert recipe! Finally, we put it all together and topped it with whipped cream. (We think it's just not the same without that creamy topping.) 
Are you craving this coffee drink yet? Here's how we did it: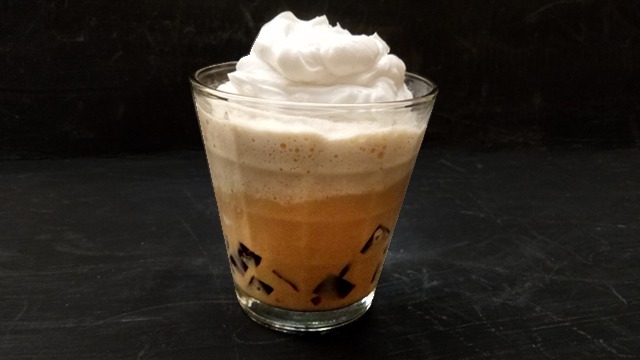 Coffee Jelly Frappuccino Hack Recipe  
Coffee Ice Cubes (Kohi Kori) Recipe
3 tablespoons instant coffee
1 1/2 cups water
Dissolve the instant coffee in the water and pour into ice cube trays. Freeze overnight.
Coffee Jelly Recipe
1 10-gram sachet gelatin
1 cup hot water
1 tablespoon instant coffee
1 tablespoon sugar
Bloom gelatin in 1 tablespoon cold water. Set aside 5 minutes. Dissolve the gelatin, the instant coffee, and sugar in the hot water in a glass container until no granules remain. Cover and let cool and set at least 4 hours. Once set, slice into cubes. Keep chilled.
Ice-Blended Coffee Recipe:
1 1/2 cups coffee ice cubes
1 cup ice
1/2 cup to 1 cup fresh milk, cold
Process ice cubes and half the milk in a blender until finely crushed, shaking the blender jar as needed to completely crush the ice until fine. Add more milk as needed.
To Assemble:
Place coffee jelly onto the bottom of a glass. Pour ice blended coffee over the jelly. Top with whipped cream (if using) before serving immediately.
ALSO READ: