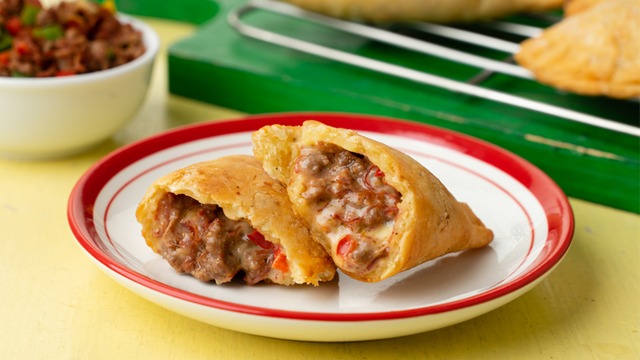 The empanada is a great snack for any time of the day! Whether you're a fan of the classic chicken empanada or want to experience an empanada that is stuffed with another kind of filling, this pocket pie can be easy to make at home. 
READ THESE: MORE ARTICLES ON EMPANADA 
The filling of the empanada can be made from chicken, beef, seafood, or even vegetables but the one thing that doesn't need to change is the dough. The empanada dough recipe is a versatile recipe but you might need some tips to make sure that it is the best empanada dough you make. Here are tips to try: 
1 Mix the butter into the flour right. 
The first step of any pie dough recipe is usually to mix the dry ingredients together and then "cut" the cold butter, margarine, or whatever fat is used. To "cut" the butter into the flour mixture well, you need to do it quickly and to make sure that it is done without melting it and creating a batter than a dough. 
You can use your hands to do this but your body heat can melt the butter. The best way to avoid melting the butter is by using a pastry blender, a food processor, or either of these two everyday tools instead:
You'll need to make slashing motions with either of these two utensils. Do these motions against the cold butter to cut the butter into small pieces and chunks and while you do this in the flour mixture, it will also coat each one in the flour as you do so. These small pieces should become sizes of peas or even monggo. As soon as the butter has been "cut" to size, you'll know it because the flour mixture will look buttery and not so loose.       
2 Add just enough water. 
The next step to making the perfect dough is to add just enough water to make it into a uniform dough ball. You need to add chilled water so the butter won't melt as you work it but you do need to add it by the tablespoon so you don't add too much and make a sticky dough that is hard to handle as you knead.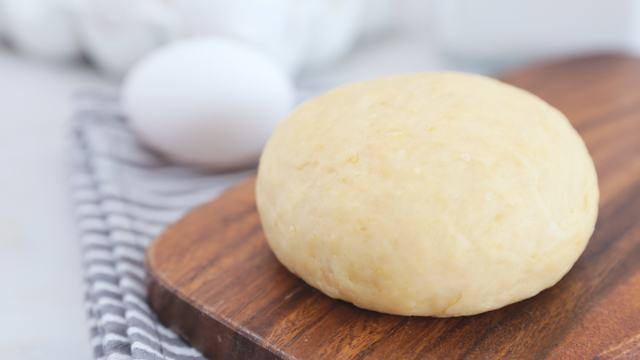 3 Let it rest.  
It can be as little as 30 minutes or overnight, but you need to let the dough rest so the gluten strands that make it elastic will loosen and rest. This rest will make rolling it out easier. It won't snap back into shape but instead, it will spread out beautifully so you can easily roll it thinly and cut out your rounds for the empanada.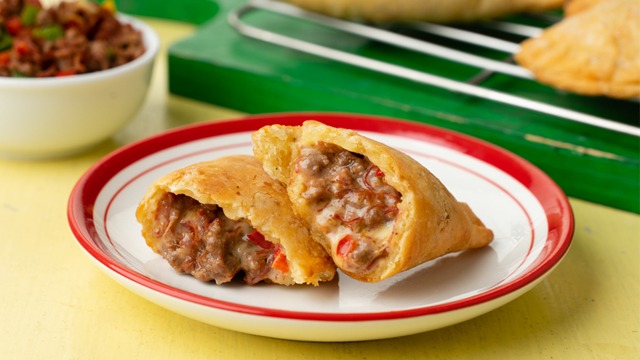 4 Let the filling cool first before using. 
Doesn't this cheesy beef empanada look so irresistible with that melted cheese inside? You can only achieve this if you allow the filling to cool before placing it in the dough you cut out. 
We know how impatient one can get when you're making a dish that you are dying to taste! However, this impatience can be disastrous when making empanadas. When using pie dough, even a simple and easy empanada dough recipe like our classic empanada dough, you still want the butter to create the flakey layers. The only way to do that is to make sure that the dough is cold when you use it so the butter doesn't melt. You can't keep it from melting if the filling is still hot!
There are a few ways to quickly cool your filling but this is the fastest way:
ADVERTISEMENT - CONTINUE READING BELOW
Recommended Videos
1. Lay it out in a single layer on a plate or tray. 
2. Chill it or place it in front of a fan.
3. Toss the mixture to completely cool the filling.   
Only once it's been completely cooled can you use it to stuff your empanada dough circles that you made. 
READ THESE: MORE ARTICLES ON EMPANADA 
Are you ready to make your own empanada dough recipes at home? If you are, make your empanada dough as directed with these handy tips in mind and try any of these delicious recipes using chicken, beef, or even a sweet filling inside.  
ALSO READ: 
***
Thinking about what to cook next? Join our Facebook group, Yummy Pinoy Cooking Club, to get more recipe ideas, share your own dishes, and find out what the rest of the community are making and eating!
Got your own version of the classic dishes? Pa-share naman! Get your recipe published on Yummy.ph by submitting your recipe here!