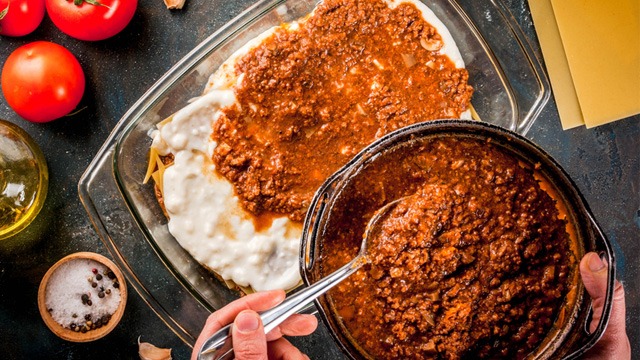 Have you ever made a meaty lasagna for family and friends only to have the gorgeous layers you created fall apart the instant you try to serve a slice?
It happens and more frequently than you think. It can be any number of reasons, including using wet noodles, but the number one reason boils down to the pasta sauce you used. Here are the tips you need to know to ensure that your lasagna layers are as stable as you can make it before slicing and serving: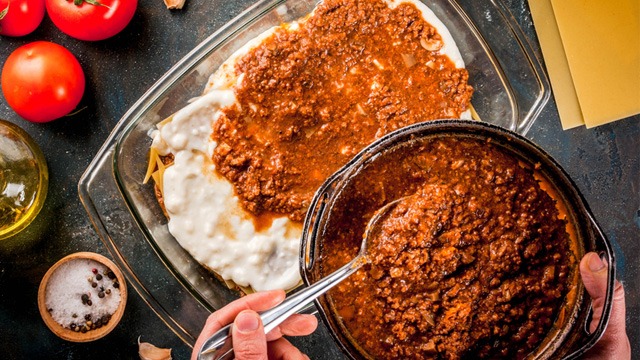 1 Make the sauce super flavorful and chunky. 
The key to any pasta is the pasta sauce. For the lasagna, you want a sauce that is extra flavorful. This is because you can't add more sauce to the pasta if you didn't make it flavorful enough.
The other important step you need to keep mindful of is to keep it chunky. If the meat sauce you are making is too ground up, you can't take a bite of the meat to taste it. Not only that, the chunks of ground meat will absorb the flavors of the sauce, adding to the delicious nature of the sauce. It's the one part of the sauce that won't be overwhelming tomato tasting. 
If you are making a veggie version, keep some vegetable chunks bigger than others so you can maintain that chunkiness that bursts with flavor when you take a bite.   
2 Simmer down the sauce until thickened.
Another important tip is to simmer down the sauce. A wet, thin pasta sauce is not what you want for any pasta. You need the pasta to be able to coat the strands of pasta and this includes the wide lasagna noodles you are going to be using. If you use a pasta sauce that is too liquid in consistency, you'll end up with a soupy lasagna that definitely won't keep its layers intact out of the baking dish.
If you need to, make a mixture of 1 tablespoon each of all-purpose flour and butter (also called a beurre manié) and add this to the pasta sauce to help thicken it if you don't have time to let the sauce reduce and thicken on its own.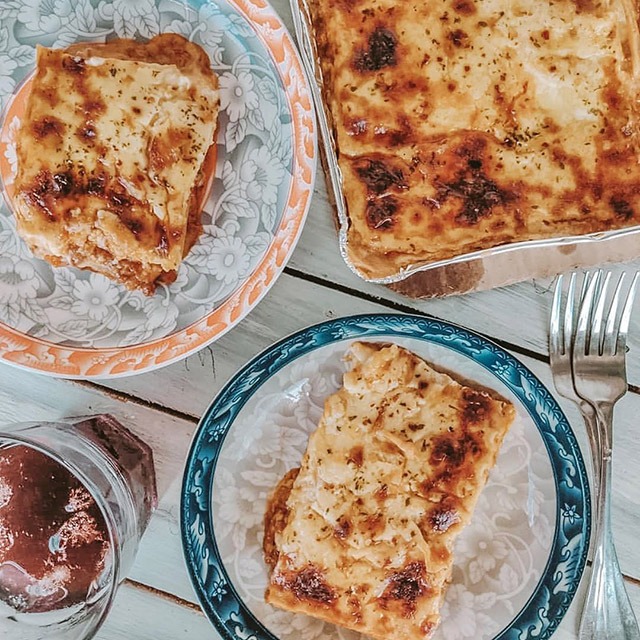 3 Don't add too much sauce. 
When we cook for loved ones, it's normal to want to be generous. Layering lasagna however is not a good time to show your generosity. This is where you need restraint and limit the amount of meaty sauce you spread onto each layer.
This is the layer – the sauce layer – when the slipping and sliding happen the most often. Add too much sauce, and the layers will become too slick to stay together. You need some traction to occur between the two pasta layers to create that sense that it's a slab. To do this, you need to add just enough to make the layer tasty but not too much that the sauce will cause the layer to slip. If you made your pasta sauce thick and flavorful, you should have delicious tasty layers even if it looks like you scrimped on the meaty pasta sauce. 
4 Let it rest. 
Just like steak, you need to allow the lasagna to rest before slicing into it. Resting or letting it cool for a good 10 to 15 minutes at least allows the heat to dissipate, the ingredients to settle from its bubbling state in the oven, and firms up the cheese that you added on top. The wait is worth it when you finally slice into the layers and lift a gorgeous slab of pasta, meat sauce, and creamy cheese layers for someone's plate.      
***