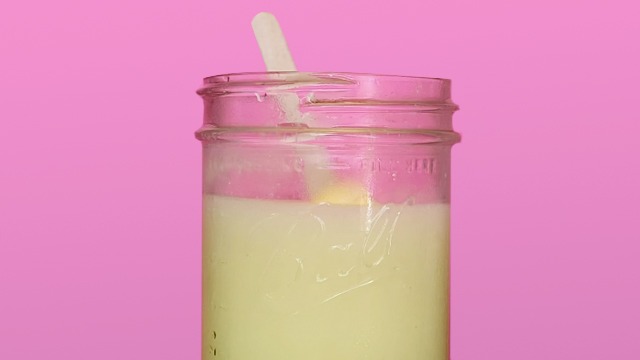 Two of the items people love buying from Korean groceries are bottles of soju and Melona ice cream. While you can pair soju with Yakult and eat Melona on its own, you can combine these two popular Korean items to create a refreshing sweet concoction with just the right amount of buzz. Meet the Melona-ju cocktail.
The Melona-ju cocktail is typically made by combining three ingredients: soju, Melona, and Chilsung Cider (Korea's popular lemon-flavored carbonated drink). While Melona and soju are commonly available in our local supermarkets and convenience stores, the Chilsung Cider is not. But you may use a widely-accessible equivalent which is Sprite ir any lemon-lime soda you prefer. 
The simplest Melona-ju recipe only requires basic skills like measuring, pouring, and mixing. Yes, you don't need to use a blender or any kitchen appliance at all, and you don't even need any bartending skills.
What you'll need to make Melona-ju:
ice
a shot of soju 
half a cup of Sprite
1 Melona ice cream popsicle
How to make Melona-ju in just two simple steps?
1 Add the ice, shot of soju, and the half cup of Sprite to your glass. 
2 Use the Melona popsicle to stir the drink. Let the Melona melt a little bit until the soju-Sprite mix turns into an opaque, milk-like color. The drink will eventually get thicker and it will also have a slight frothiness to it. 
This Melona-ju recipe isn't the only way to mix this cocktail. If you think your drink is missing more soju or, go ahead and add more.
Tip: Since Melona ice cream and soju comes in different flavors, you can mix and match what flavors you want combined. You can try the melon Melona with the classic soju, the banana Melona with peach soju, or even the strawberry Melona with the grape soju. Just have fun with it!
***
Thinking about what to cook next? Join our Facebook group, Yummy Pinoy Cooking Club, to get more recipe ideas, share your own dishes, and find out what the rest of the community are making and eating!
Got your own version of the classic dishes? Pa-share naman! Get your recipe published on Yummy.ph by submitting your recipe here!
ADVERTISEMENT - CONTINUE READING BELOW
Recommended Videos