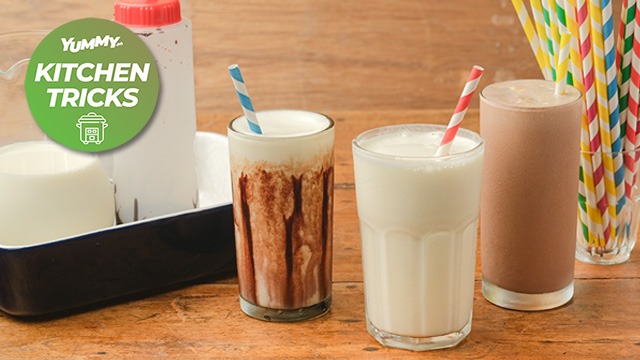 We don't know about you but milkshakes are a part of childhood that you never grow out of! It's the ice cream indulgence that we usually ordered and commonly ate with a burger and fries.
Milkshakes really are a delicious summer treat! It's the shake made, not with fruits and ice, but with decadent ice cream and milk. When you order it, it's the blender that does the quick work of breaking down the thick ice cream and blending it evenly with the added fresh milk to make the thick consistency. Sometimes, extra ice might be added to keep it nice and ice cold. 
If you think that you need a blender to make a thick milkshake, think again! We have a kitchen trick that uses nothing more complicated than an ice cream scoop, a glass, a spoon, and some delicious ice cream, and milk.
Here's how to make a super thick milkshake without a blender: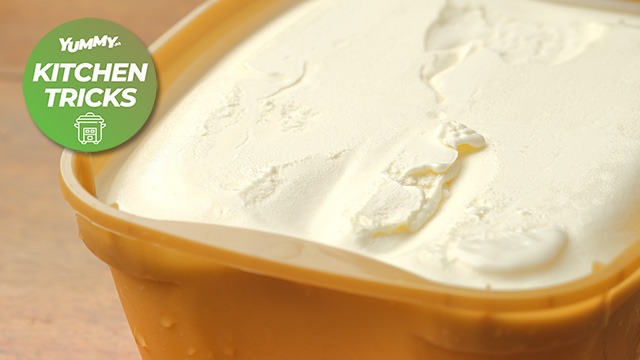 1 Thaw the ice cream. 
There are two easy ways of thawing your ice cream, especially if the tub just came straight from the freezer. One way is to let time and our naturally warm weather do its job and thaw the tub. You'd be amazed that this doesn't take as long you would think! Our 1.5-liter tub took about 1 hour to thaw the entire tub all the way through to the center so it was easy to scoop. 
The second way produces uneven results as it thaws but is much faster. Pop the entire tub into the microwave and on the "Defrost" setting, let it run for around 7 to 10 minutes depending on your oven's capabilities. This way usually starts the melting process from the outside inward. You may find that the ice cream located at the edges tend to be completely melted before the center becomes soft enough to scoop. 
Whichever way you choose to thaw the ice cream, it hardly matters that the ice cream melts since we will melt it anyway.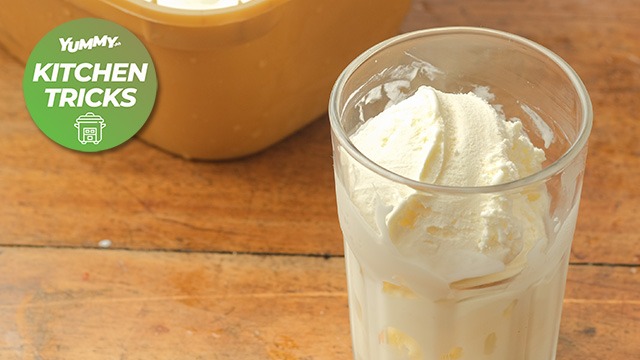 2 Scoop ice cream into a glass. 
Use a spoon, an ice cream scoop, or whatever you may have on hand to add enough ice cream into the glass. You will want to fill up the glass around 3/4 full for a thick milkshake for now. (If you want a super thick milkshake that will challenge your sipping capabilities, use a bowl instead.) 
ADVERTISEMENT - CONTINUE READING BELOW
Recommended Videos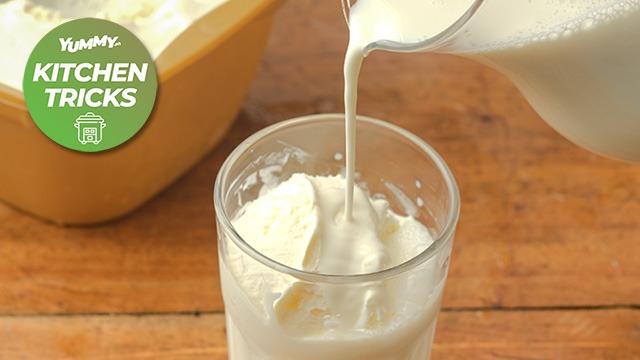 3 Add fresh milk. 
To make your milkshake easier to mix and turn into a milkshake, you need to add a liquid. Even just a little bit of fresh milk will work in transforming the ice cream into a mixture that you can slurp through a straw. You can add as much milk or as little milk as you like, depending on your desired consistency.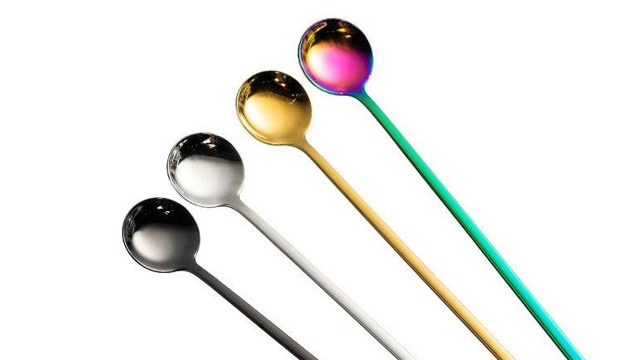 4 Grab a spoon. 
Give your glass of ice cream and milk combination a few minutes to settle into the crevices left by the ice cream then grab a spoon. The best spoon to use for this is a long spoon since its thin handle can get around the thick glob of ice cream better. These gorgeous long-handled spoons (P169.99 each) are perfect for stirring your coffee and for eating desserts like our halo-halo. It's a great excuse to get, plus it's perfect for stirring your ice cream into a milkshake!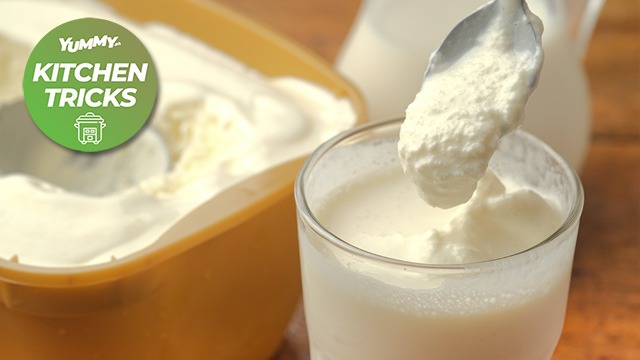 5 Stir, stir, and stir some more.  
The most arduous of tasks is stirring the ice cream and the milk together in the glass. Use gentle stirs and break into the ice cream mounds. It's easy if the ice cream was thawed well and in a minute, you'll find that the ice cream melts and melds with the milk you added. If you want an extra, super thick milkshake that has little to no milk added, this might be easier to do in a big bowl.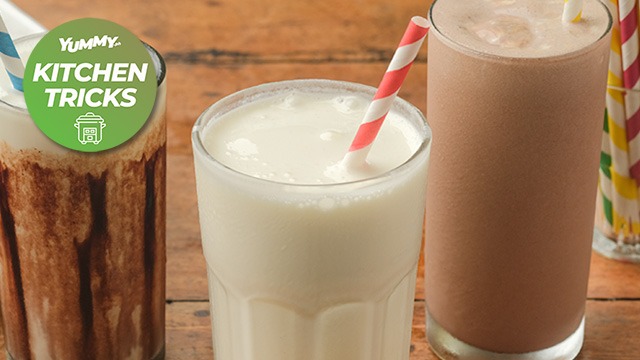 6 Add mix-ins and top it with a straw! 
Time to serve it! You can simply just drop in a straw, but you can also make it into a cookies and cream version by stirring in crushed chocolate cookies, a rocky road milkshake with cashews, chocolate syrup, and tiny marshmallows, or top it off like a sundae with whipped cream, sprinkles, and a cherry on top, too! Make it fruity by stirring your favorite fruit jam instead if fresh fruits aren't available.
The possibilities really are endless now that you know how to make it easily with this kitchen trick. 
Want to make a simple chocolate syrup? Here's how to do it: Mix equal parts pancake syrup or honey with cocoa powder. Stir until well combined. Use as desired. 
There is no need to bring out the blender for this easy milkshake recipe! Sure you could use the blender but if you're not keen on bringing it out and washing all its parts, this easy way of making a milkshake is the easy ticket to relishing a childhood treat again. 
ALSO TRY: