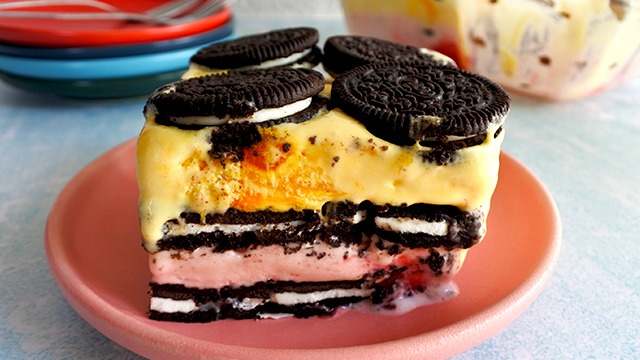 This easy ice cream cake is a glorious layering of mango and strawberry ice cream in between layers of Oreo cookies. The unbearable heat will make you want to indulge in all things ice cream this summer! 
To make this cake, you just need to find the right combination of ice cream flavors that you love and putting it together into a dessert that you can enjoy eating. We used mango and strawberry but other flavors would be just as delicious, too. 
However, the heat is ice cream's enemy. The trick to making ice cream cakes during the summer is planning it. Ice cream will melt quickly even if it's not under direct sunlight, so here are the tips we think you need to do this successfully without having a melted mess on your hands:
• Soften the frozen ice cream pints for only 15 up to 20 minutes. We found 30 minutes at room temperature resulted in ice cream too soft to scoop.  
• Freeze the first ice cream layer before placing the next layer on top.
• Freeze the entire thing overnight for a completely frozen dessert that you can slice.
• If desired, line the glass loaf pan with plastic wrap so you can remove the entire cake from the pan so you can cut it into perfect slices. 
This ice cream cake will keep you refreshed. Here's how we made it: 
Oreo Ice Cream Cake Recipe
Takes 15 minutes plus overnight freezing
Makes  8 servings 
2 133-gram packs Oreos
1 460-ml container strawberry ice cream, softened
1 460-ml container mango ice cream, softened
1 In a 9×5 glass loaf pan, line the bottom with the sandwich cookies.
2 Scoop and then gently spread the softened strawberry ice cream over the Oreo cookie base using an offset spatula. Place another layer of cookies on top. (If needed, cut cookies to fit.)
3 If needed, cover with plastic wrap and place in the freezer for at least 2 hours to set these layers if the ice cream is melting faster than you can add layers.
4 Scoop and spread the mango ice cream over the center cookie layer. Top ice cream with another layer of Oreos.
5 Cover with plastic wrap and freeze overnight until completely firm.
6 When ready to serve, use a sharp knife to slice the cake. Serve immediately.
ADVERTISEMENT - CONTINUE READING BELOW
Recommended Videos