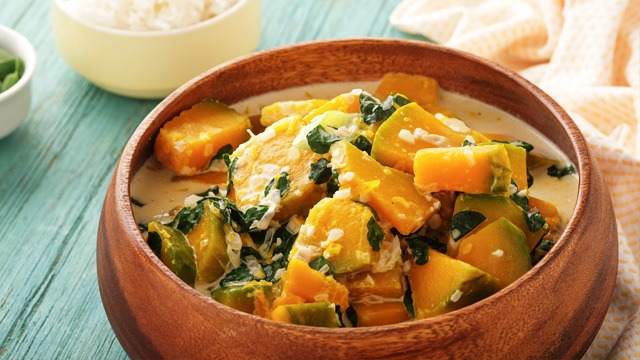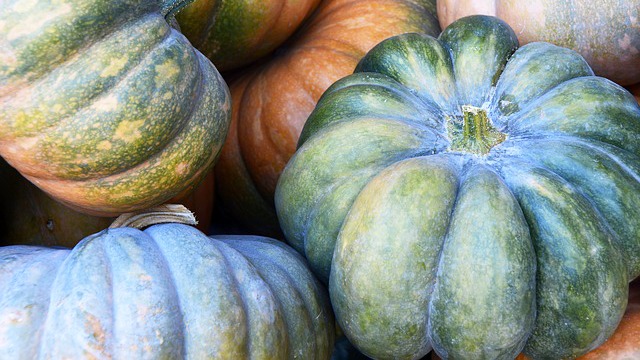 Kalabasa is a local variant of squash that is affordable and plentiful. It's a hearty vegetable that, when cooked, is sweet, tender, and mashes well. 
What can be daunting is the sheer size of the kalabasa. It is big when you find it on the market and can grow to be even bigger. Fortunately, supermarket staff may chop it up for you into quarters or even smaller, so you can have an easier time preparing it when you get home. 
When you get home, however, feel free to be creative because you can do more with your kalabasa! It can be stir fried, steamed, boiled, pureed, chopped, mashed, and even roasted. If you want even better news, they're very versatile and can be cooked in so many ways.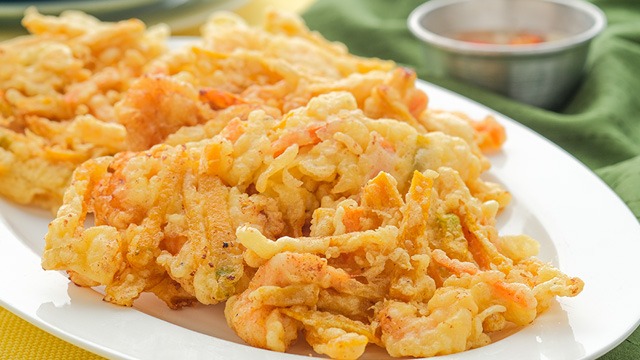 First, you have to prepare it to be ready to be cooked. Did you know that the kalabasa is one of those ingredients that you actually do not have to peel? The kalabasa has a tough outer skin and normally, this is sliced off before cooking. However, this is actually edible and it needs only to be cooked and simmered to become tender. Even the seeds are edible, especially if you roast and then toss them in a little salt and freshly ground black pepper. It makes for a delicious snack! 
However, if you're not ready to do that just yet, here's what you do to prepare the kalabasa: 
1 On a cutting board using a spoon, remove the seeds and the stringy center.
2 Switch to a sharp knife, and trim the rind off, removing only the tough outer layer. Chop the kalabasa in half then into small cubes. Chop into smaller pieces if desired. 
Once prepared, it's just a matter of deciding how to cook it. You can toss it into a wok, add a little water, cover, and gently steam it until tender. Stir fry it after or serve it as is. You can even pan fry kalabasa until tender just like you would cook potatoes or kamote. Just cut into sticks and make them into a great substitute for kamote fries when the tubers aren't available.
You can also steam it in the microwave like potatoes or better yet, roast them in the oven. Just toss lightly in oil and place it in a preheated 375 degrees F/180 degrees C oven for about 15 minutes. Roasted kalabasa is even more delicious and more intense in flavor than if you just boiled it.
Once you have cooked it, it's easy to add to dishes that will benefit from its sweet-savory taste. Here is more info on the kalabasa plus delicious recipes to try: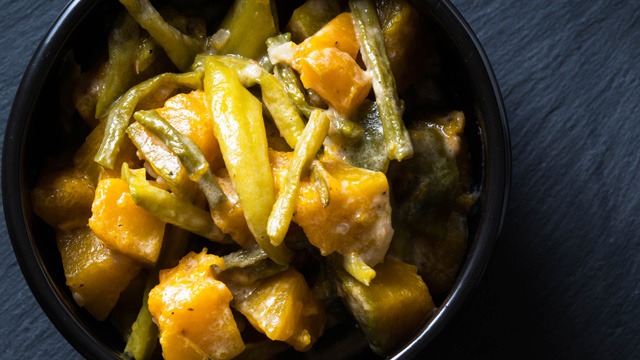 All The Ways You Can Cook Kalabasa
Posted in:
Cooking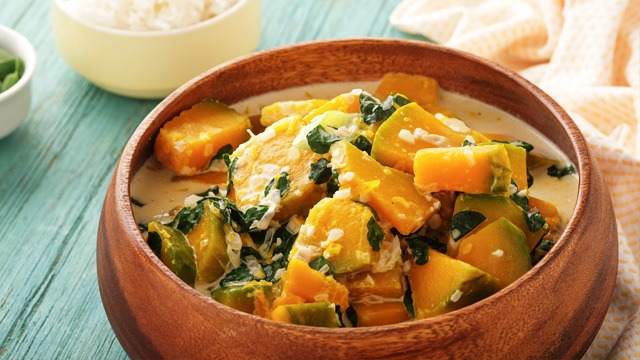 All The Gata + Kalabasa Recipes You Need
Posted in:
Cooking
***