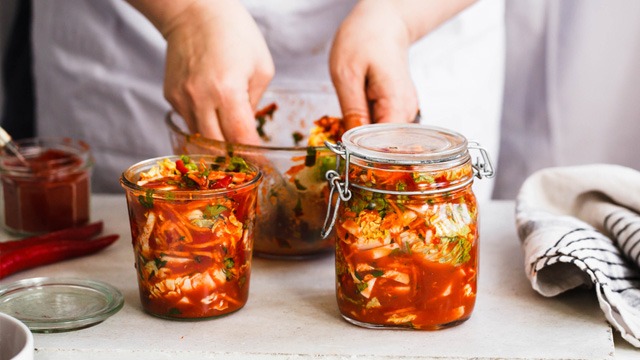 Kimchi or the fermented spicy cabbage of Korean cuisine doesn't go bad easily. This is because kimchi has high acidity that is not beneficial for bacterial growth.
How do you store kimchi properly and safely?  
If the vacuum package has not yet been opened, it's a good idea to store kimchi in the refrigerator to prevent it from fermenting too quickly when warmed to room temperature. Once open, it's best to consume it within a few days up to a week, refrigerated, so the cabbage will stay as crisp as possible and slow down the softening of the cabbage.  
If you made your own kimchi from scratch, remember to always follow jarring protocols: only use properly sterilized jars and equipment to prevent the growth of bacteria that could cause food poisoning. Plus, the cabbage should always be submerged in the kimchi liquid. If not, it can develop mold. If you find that you do not have enough liquid in the kimchi jar to keep the cabbage submerged, either add more of the seasoning mixture or press down on the cabbage. You can also place a clean piece of plastic on to prevent it from becoming exposed to the air and developing mold.
What are the signs that kimchi has gone bad?  
What you do have to look out for is the real enemy of kimchi which is mold. If stored incorrectly, mold can develop in kimchi jars or even on the cabbage itself. This, too, is normal since food will spoil eventually. 
To prevent this, always use a clean utensil when fishing out cabbage in the jar and keep it refrigerated to retard mold growth and further fermentation. Even if left at room temperature, fresh kimchi should last for at least one week once opened. Again, it's all thanks to the fermentation, bacteria, and the general environment that makes this possible.
If you find that your jar of kimchi has developed mold, this is your sign that it's no longer good to eat and toss it out properly.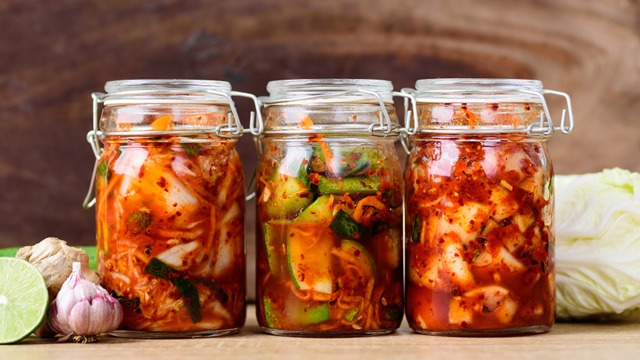 You might notice that your kimchi is giving you signs that might make you fear your precious kimchi has gone bad. Here are what those "signs" mean: 
1 Your kimchi "exploded" when you opened it.
Are you afraid that even while in storage your kimchi went bad because it was harder to open the jar? 
According to Milkimchi, kimchi containers that pop or "explode" is normal. It should pop if you haven't opened the jar or container for the past few days. Even if doesn't pop, the kimchi should still be good to eat as long as it's been stored properly, and there no sign of spoilage. 
ADVERTISEMENT - CONTINUE READING BELOW
Recommended Videos
Your kimchi jar "pops" because kimchi is still fermenting even when placed in the refrigerator. You actually do not stop it but rather slow it down considerably when placed in a colder environment. A warm environment such as our tropical room temperature is perfect for helping kimchi ripen and ferment faster, so just day or two in this environment could be sufficient time for your newly made kimchi to be stored in the refrigerator.     
So, if you find that it's hard to open a jar of kimchi, it hasn't gone bad yet. This is just a sign that the fermenting process is still ongoing and was still happening when you placed it in the refrigerator.  
2 Your kimchi tastes more sour than normal. 
This, too, is not a sign of spoilage but rather is part of the fermentation process. Bubbles develop as your kimchi ripens or ferments over time because of the good bacteria, and it is these that develop lactic acid which is the sourness you might be tasting. 
While this is not a sign of spoilage, kimchi that is too sour is a sign of over fermentation or it has ripened too much. What you can do is use it immediately for recipes that use kimchi.   
3 Your kimchi is mushy instead of crunchy. 
If you find that your kimchi cabbage have softened and become mushy, that's not a sign it's gone bad. It's a sign that the cabbage is getting old which is normal. If you do not like mushy or soft cabbage, you may want to use it up immediately or dispose of it as desired.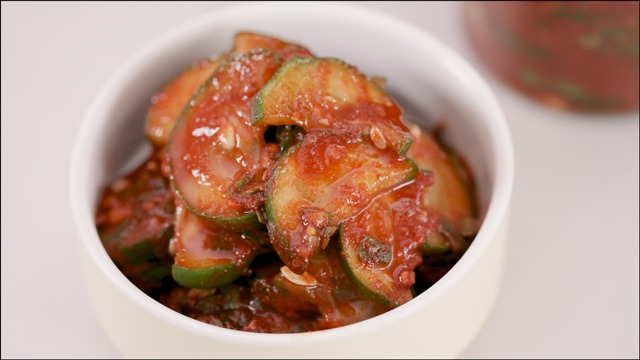 WATCH: How To Make Cucumber Kimchi
Posted in:
Cooking
***
Thinking about what to cook next? Join our Facebook group, Yummy Pinoy Cooking Club, to get more recipe ideas, share your own dishes, and find out what the rest of the community are making and eating!
Got your own version of the classic dishes? Pa-share naman! Get your recipe published on Yummy.ph by submitting your recipe here.