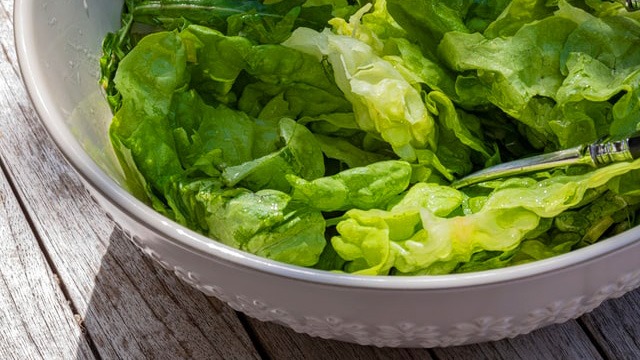 One of the best ways to get the most out of your vegetables is to eat it raw. Many vegetables are more nutritious raw than when cooked so when you have the chance to consume your veggies in its natural state, you're eating better. 
Salads have a bad rep for being just leafy greens but it doesn't have to be just that. Any vegetable can be added to a salad. The easiest vegetable dish to prepare and eat raw is the salad and this may or may not include lettuce leaves.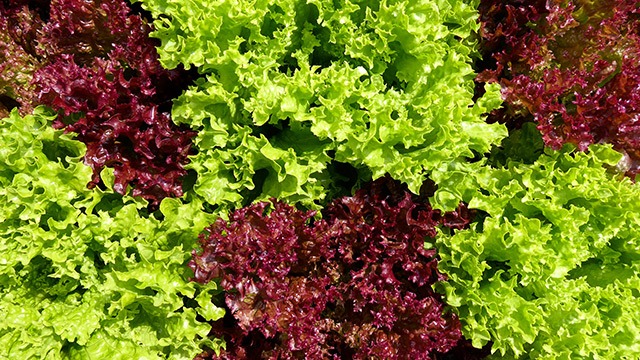 There are many kinds of lettuce in the market. The most common variety of lettuce that you'll find in supermarkets and the palengke is the curly lettuce or the red and green leaf lettuce followed by the hardy Romaine lettuce that you see served with Caesar dressing. The iceberg lettuce looks like a head of cabbage but its translucent leaves mark it as different. It's the mildest in flavor of these lettuce types and is wonderful served sliced as wedges or simply chopped cut straight from the head with some dressing served on the side. 
Lettuce has a special requirement when prepared, and it cannot be wet when ready to serve. Salad dressings make your salad taste better so it's important that this tasty stuff coats your lettuce leaves. This is why it's important for the lettuce leaves themselves to be dried well. (This is one of the reasons why produce is best washed right before preparing.) Drying each leaf by hand is tedious so that is where this useful kitchen gadget comes in: the salad spinner.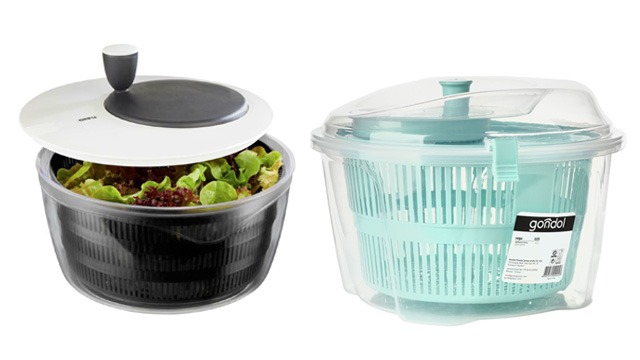 The salad spinner is exactly that: a hand-cranked gadget that spins the food in a main basket, using centrifugal force (from the center out) to literally fling the water against the sides of the container where it is collected. The result is drier and less wet food in the basket and a puddle of water in the container that you can discard. 
This isn't just for lettuce either. Other leafy greens will benefit from being as dry as possible, and this includes herbs which you may have an abundance of and need to store. Whichever lettuce or leafy green is your favorite, the delicate leaves are prone to rot after washing, especially if it has any lingering water droplets on the leaves. That's another reason why the salad spinner is such an important food preparation gadget.
It's easy to use too! Here's what you do: 
1. Use the basket and container of the salad spinner to wash your greens. 
2. Once washed, place the greens in the basket into the empty container. 
3. Place and lock the lid. Pull the crank several times. 
4. Check your greens. 
5. Repeat Step 3 until the leafy greens are as dry as possible.      
Easy! 
The next step is about storing. If you're not consuming your greens immediately, you can store these. If your refrigerator crisper is full, there's another way to store it. The other best way to store freshly washed leafy greens is in a box or any container with layers of paper towels in between the leaves. The paper towels will absorb any excess moisture while keeping the leaves separate. This will also prevent and stave off any premature rot from developing. Keep it away from the heat and it will be as fresh as it was when you washed it. 
If you're storing leafy greens for a longer period of time, such as in a few days, you can still store it this way. Preferably, the container you use can be stored in the refrigerator where it can be stored chilled but you may still have to wet the paper towels slightly with water to prevent wilting. Wilting, in the case of leafy greens, means the greens lack moisture and are drying up but making sure that the paper towels are a little damp can prevent that.  
ADVERTISEMENT - CONTINUE READING BELOW
Recommended Videos
Herbs kept in this way should be wrapped in damp paper towels and stored in storage bags which will help both stay moist without being too dry.    
These lettuce and herb preparing and storing tips should help you get the most out of your veggie haul every grocery and delivery trip. What salads will you be making soon?
The GEFU, Salad Spinner ROTARE, Plastic, P1,950.00 is available in Rustans and the Gondol Vegetable Spinner, P399.75, is available in SM Department Store.   
ALSO READ: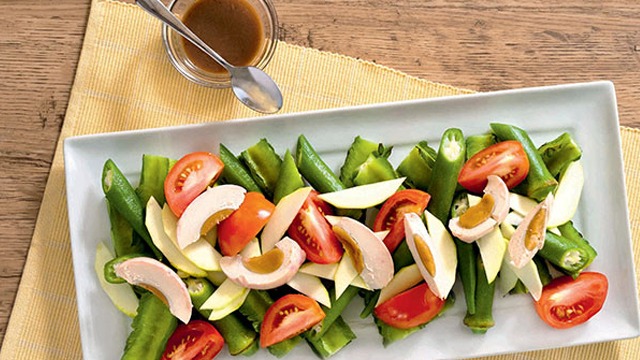 6 Unique + Delicious Salads To Try
Posted in:
Prepping
***
Thinking about what to cook next? Join our Facebook group, Yummy Pinoy Cooking Club, to get more recipe ideas, share your own dishes, and find out what the rest of the community are making and eating!
Got your own version of the classic dishes? Pa-share naman! Get your recipe published on Yummy.ph by submitting your recipe here!