Rice is one of the most hard-working ingredients in your kitchen. For most Pinoy, it's part and parcel of most meals which goes with ulam recipes. It can also be the base of a meal such as a loaded fried rice with everything mixed in already. If you have the ingredients, you can do more than just make steamed and fried rice with it. 
That's why it's smart to always have this kitchen food staple in stock at all times. If you cook rice every day, it's a good idea to have plenty of this. Rice containers can come in all shapes and sizes. It may be made of plastic, glass, or even wood. It can even be a rice dispenser that has a lever, a spout, or even a twisting knob that allows you to measure how much you need with the push of a button!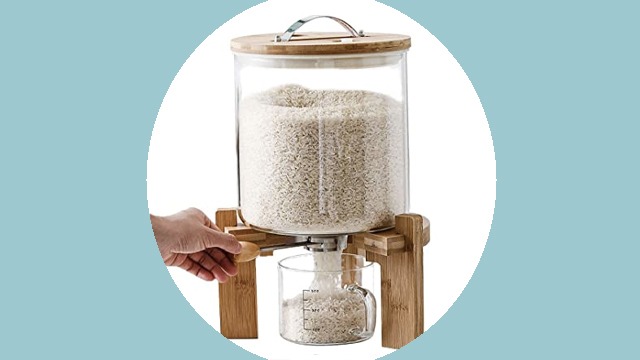 No matter how you like to store your rice, one thing is essential in storing your rice: keeping it from spoiling. It needs to be stored properly so the packaging is not compromised. This is easily done by designating a container for it. This can be small or large, depending on the amount you consume on a weekly or even monthly basis. That's why rice is fantastic to buy and store in bulk since these are generally stored at room temperature. This means you need to avoid these three things:
• mold
• insects
• moisture
These three make dry food such as rice unsafe to consume. Here are ways to avoid these: 
1 Keep the container closed. 
Not only will your rice stay insect-free, but you will avoid contaminating the rice. The lid needs to be one that will lock so that a simple nudge or bump won't leave it open. 
2 Add something to absorb moisture. 
Humidity is a danger for all ingredients that need to be stored. To combat this in the kitchen, some people use silica packets to help absorb excess moisture in their kitchens. This is great to use as long as the packets do not break since these beads are not edible. Some place pieces of charcoal in the rice containers to do the same thing. 
Some people might refrigerate the rice in the hopes that this will keep it for longer but the danger of doing this is that once out of the cold refrigerator, the cool rice will start condensation if not used immediately, and thus, become moist. Moisture can encourage mold and spoiling. 
3 Add a bay leaf or two. 
If you don't mind that your rice has an aroma, add a dried bay leaf to your rice container. Bay leaves are known to repel flies, moths, mice, and even roaches. 
Keep these tips in mind so that you never have rice that is not safe to eat. The good news is that rice is easy to keep fresh and when you do, it will last long periods of time without the need for refrigeration.  
***