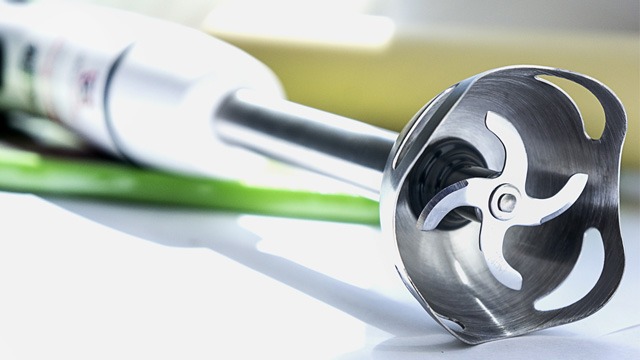 Do you have a hand blender? If you do, you need to know how to use it properly. 
A hand blender is also known as an immersion blender. It's designed to be used in the preparation of food. This can range from aerating liquids such as egg whites to stiff peaks to pureeing softened food such as vegetables. The small appliance also commonly comes with a whisk attachment which would make manually whisking cream and egg whites into foamy creams and meringue easier without needing to pull out the bigger electric or even a stand mixer.  
This version of the blender is less powerful than a full-sized blender but it's still useful. In fact, you might find it more useful because you might not need to transfer the food to a separate jug. You can puree and liquefy ingredients in the pot, your glass if it's big enough, or in the bowl!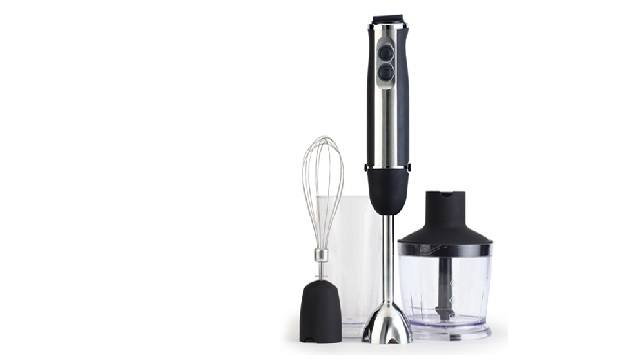 However, just like with many appliances, some do require some practice to use safely. The hand blender can be particularly tricky since the blade is exposed. For your safety, here are safety tips to always remember when using a hand blender:
• Changing between attachments should always be done with the hand blender unplugged.
• Always hold the attachment with the blade head by the shaft, never the head. 
• Ensure that the blade is locked before using.  
• Plug in the hand blender only after checking it is turned off and you are not pressing any buttons.
• Press the "On/Off" button on the blender only when the head of the blender is submerged in the food.
• Release the "On/Off" button on the blender with the head of the blender still submerged in the food before lifting it out.
• Unplug the blender before removing the blade shaft. 
Once you familiarize yourself with these safety tips, here's how to safely use a hand blender: 
1. Check you have enough food to process that it will cover the head of the blender. If needed, transfer the food into another smaller container and do it in batches if necessary. 
2. Place the blender shaft into the food. 
3. Press and hold the "On/Off" button. 
4. Slowly raise the head from the food then down again. Repeat this up and down motion until the food is pureed to your desired consistency. 
5. Stop the blender by releasing the "On/Off" as needed if lifting the head completely from the food you're processing to avoid splattering.
6. If needed, add more water or cooking liquid to the food to help the blender adjust the consistency of the food you will process.  
Are you ready to use your hand blender with confidence? Here are more ways to use it in recipes: 
***
Thinking about what to cook next? Join our Facebook group, Yummy Pinoy Cooking Club, to get more recipe ideas, share your own dishes, and find out what the rest of the community are making and eating!
Got your own version of the classic dishes? Pa-share naman! Get your recipe published on Yummy.ph by submitting your recipe here