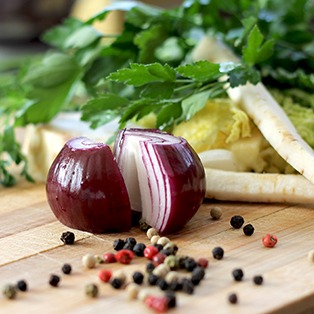 From fruit rinds to veggie trimmings, we've listed down smart, delicious, and sustainable ways to make good use of your excess food. These common leftovers can be transformed into useful ingredients for your next dinner or dessert! Not only will these kitchen practices help you cut down on uneccessary waste, they will also help you save a few pesos.
1 Cake trimmings
To get perfectly rounded cakes, you will sometimes have to trim off domed tops and uneven edges of each layer. Don't let those cake crumbs and trimmings go to waste! Place them in a bowl with a dollop of cake frosting and mix until everything comes together. Roll them up into 1 or 2 inch balls and place them in the refrigerator to firm up. Voila, you have yourself some cake truffles!
RELATED RECIPE: Cake Balls
2 Vanilla bean pods
Vanilla bean pods are extremely fragrant even after their seeds have been scraped off. Place your extra pods in the sugar sitting in your pantry to infuse your sugar with a lovely vanilla scent. You can also do the same with coarse sea salt—it'll be the perfect salt for topping your sweet chocolate chip cookies.
3 Citrus zest
Before you squeeze out the juice of those bright yellow lemons, pull out your grater and save the rinds. They keep well in the freezer for months, making it convenient to take pinches off your citrus rind stash whenever you need to flavor your dishes!
ALSO READ: 5 Ways to Enjoy Citrus Rind
4 Stale bread
Biting into dry, stale bread is not the best breakfast experience. However, there is hope in saving this leftover! To make your own croutons, cut your loaf of bread into 1-inch cubes. Spread over a large roasting pan and toast them in the oven with a pinch of salt, a drizzle of olive oil, and several cloves of garlic. To make your own breadcrumbs, pulse cooled down croutons in a food processor.
ALSO READ: You Can Make Your Own Breadcrumbs at Home!
5 Vegetable peels
Carrot skin, cucumber skin, celery tops, mushroom bottoms, potato skins, and asparagus—these can all be seamlessly boiled into your next vegetable stock! Remember to wash your vegetable trimmings thoroughly.
WATCH: 4 Cooking Hacks You Should Know
Image from Pexel.