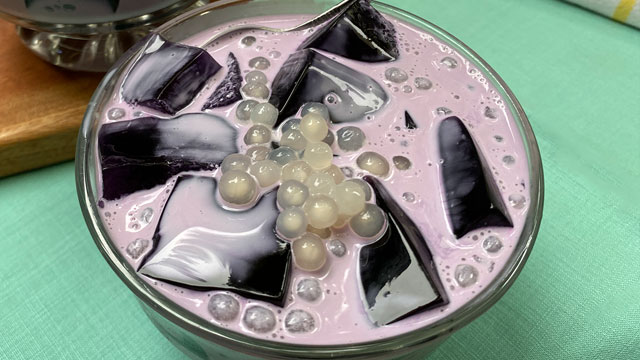 Ube became trendy all over the world with its naturally vibrant purple color. It's no longer just a taste that only Pinoys love! People love seeing gorgeously colored desserts and purple is an uncommon color to find so appetizing. 
What's truly unique about ube is that it can dye the food around it with its color, too. This makes making naturally purple-colored desserts easier if you use ube. 
However, using fresh ube is a challenge. It stains everything it touches! That's why extracts and flavorings are useful substitutes. Baking with ube flavorings still has its problems. This is because the purple color of ube has a tendency to turn blue or even gray when baked! This makes it ideal for no-bake desserts where the color can stay strong and vibrant. It's especially great in gelatins where it won't interfere with its gelling capabilities. 
To use ube in no-bake desserts, whether it's ube halaya, the flavoring, or both, here are five delicious ways you can add ube it to make an ube dessert using gelatin: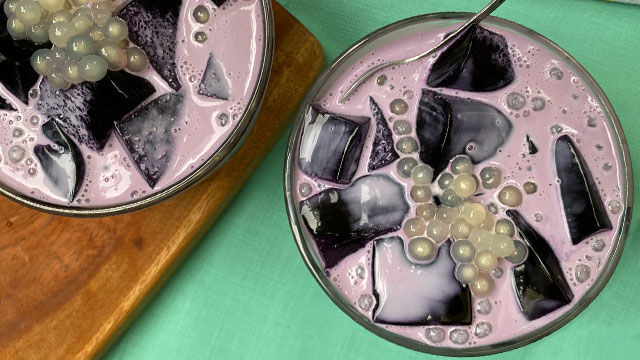 1 Make ube jelly. 
The easiest way to use ube in desserts is in jelly form. This is super easy to make since you just need to add ube flavoring to the gelatin mixture and let it set. Add some already cooked sago pearls, an ube-flavored all-purpose cream, and you've got a simple yet delicious dessert!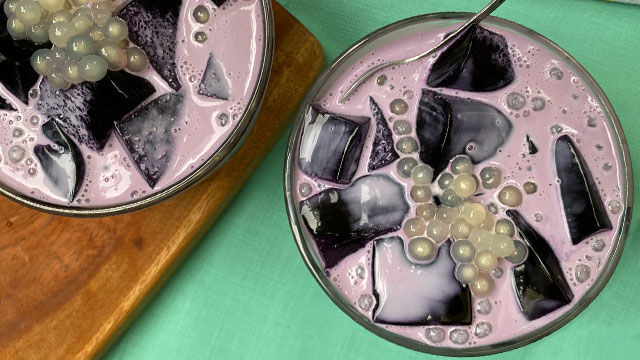 Creamy Ube Jelly Recipe
Posted in:
Recipe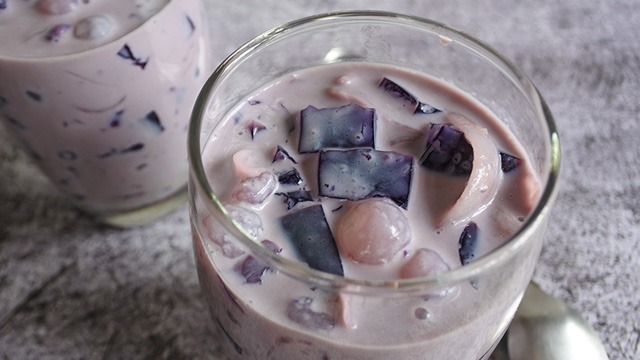 2 Add macapuno. 
It's okay to go above and beyond what a recipe says you should do. In this instance, a simple ube jelly dessert is made even better with more mix-ins! From the basic ube jelly, you can level it up with delicious macapuno or sweetened coconut strips. Want to make it even creamier and tastier? Swap half of the all-purpose cream with coconut cream for a burst of creamy coconut that complements the ube and the macapuno perfectly.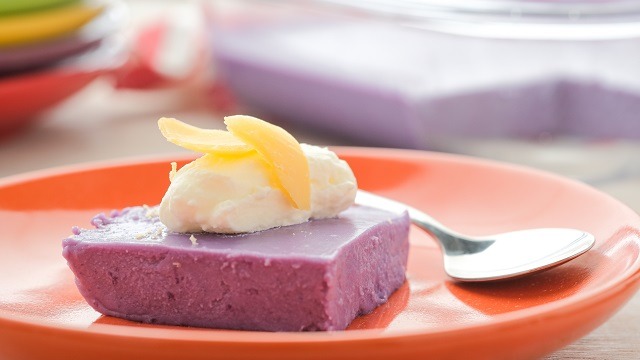 3 Make it extra creamy. 
Ube is known to be creamy but it has never been this creamy before! This recipe makes ube halaya even better by making it into a gelatin dessert all on its own. The creaminess is boosted by not just one but two kinds of milk: coconut milk or gata and even more sweetened condensed milk. Give it an extra burst of purple and flavor with a little ube flavoring and extract so the dessert will be a lovely shade of lavender that isn't diminished with the extra ingredients.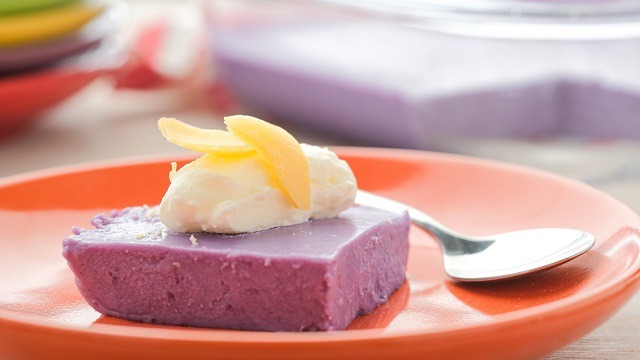 No-Bake Ube Gelatin Recipe
Posted in:
Recipe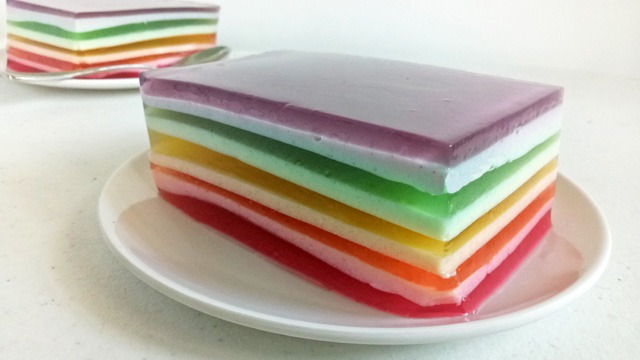 4 Layer it! 
This pretty dessert is made of gulaman using the colors of the rainbow! It takes time to make and requires some effort because you can't immediately pour on the next layer until after the previous layer has been set! Each layer can be flavored, too. Take advantage of the extracts that also include food coloring to make this happen if you use unflavored gelatin or gulaman.
Think of this as the sophisticated version of the cathedral windows that you love eating during the holidays!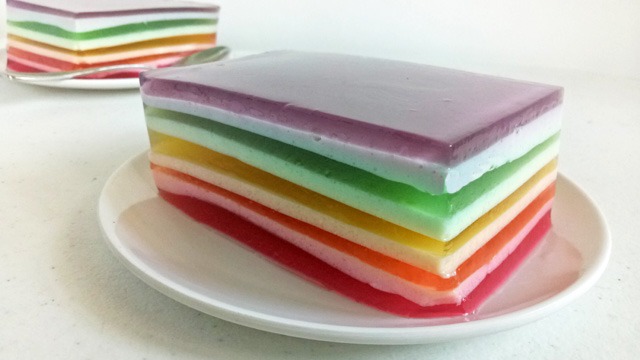 Rainbow Gelatin Recipe
Posted in:
Recipe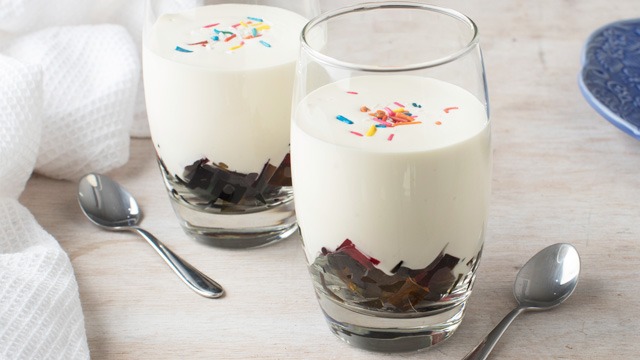 5 Top it with whipped cream. 
If you love colorful desserts, then you'll enjoy this jelly and cream dessert. This rainbow jelly recipe is made with gulaman cubes topped with a sweet and creamy mousse. Just like the layered dessert above, this is flavored gelatin you can easily make using extracts so it's a super easy dessert that's just as sophisticated and just as delicious. 
ADVERTISEMENT - CONTINUE READING BELOW
Recommended Videos
It's like a cathedral windows dessert that doesn't need time to set after you make the rainbow cubes! Plus, it's got a surprise ingredient in the creamy whipped topping that doesn't come from expensive cream cheese: yogurt. 
Want to give it an extra boost of flavor? Stir in some ube halaya instead of yogurt into the whipped topping to give it a lavender cloud on top!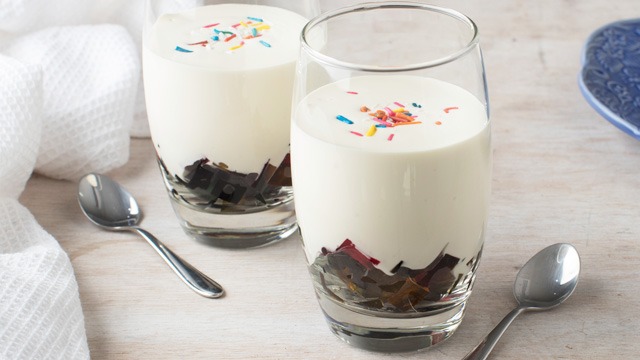 Rainbow Jelly Mousse Recipe
Posted in:
Recipe
If you're looking for ube desserts to order that you don't have time to make, here are options you can order: 
***