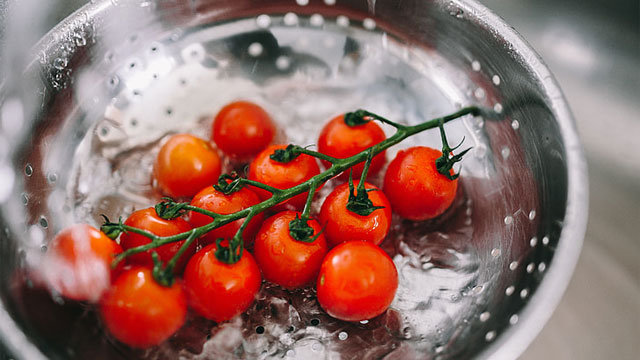 The most effective way of preventing getting infected by the coronavirus or COVID-19 is by following the protocols imposed on us during this quarantine.  
However, not everyone can afford to stay home. If you can't avoid going out to buy food and other supplies, there are other guidelines you should follow that many supermarkets that are still open are implementing. 
If you're worried that fresh food such as fruits and vegetables might be contaminated when you go on your grocery run, here's what you should be doing each time you prepare any type of food:
• Wash your hands for at least 20 seconds before and after touching food. 
• Wash the kitchen counter, its surrounding surfaces, and tools regularly. 

• 

Keep raw and cooked food plates separate.
As an added precaution to this routine, you should also wash your fruits and vegetables, too, and we don't mean rinsing your fruits and vegetables under running water or even in a bowl of water to lightly rid these of surface dirt. Rinsing is just not as effective against viruses and bacteria such as this coronavirus. 
We mean you need to wash fresh food more thoroughly. If you want to wash your fresh fruits and vegetables, this is the way to do it: 
Yes! Soap! Using soap on your fresh fruits and vegetables is just as effective in removing and maybe even killing off any potential bacteria, including this coronavirus, on the surface of your hands. Why?  
You have probably heard the importance of properly washing your hands during this time. This goes for the fresh produce you will eat, too. You can use the same soap you use for your dishwashing or handwashing, although it may be preferable to use soap that doesn't have a strong perfume so it doesn't linger on your food. 
Here's how to wash your fruits and vegetables with soap: 
1. Wet your hands and your fruits and vegetables, and place in a large basin or bowl. 
2. Add soap to your hands and lather up. 
3. Use your hands to rub or wash the outer fruits and vegetables for about 20 seconds each. Use more soap as needed to keep the lather. 
4. Rinse thoroughly. 
While taking this precaution may soothe your conscience, it's also good to note that there is no evidence yet to indicate that the virus can be transmitted through food. In short, this strain of coronavirus cannot grow in food. Only the mishandling of food, such as an infected person coughing, sneezing, or otherwise "spitting" on the food, will the food be contaminated. If you're wary of adding soap to your food, rinse your food thoroughly instead before eating.  
It's for this reason that we do not have to take any chances, and practice being safe and mindful rather than sorry later on.
ALSO READ: 
ADVERTISEMENT - CONTINUE READING BELOW
Recommended Videos