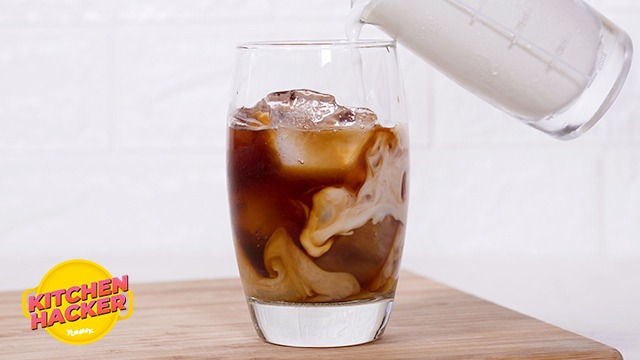 Are you a big coffee drinker who learned how to make coffee at home complete with a coffee station? If you're starting to get tired of your usual caffeinated drink, check out these hacks and recipes to make your daily homemade iced coffee more exciting. 
Shakerato
4 tablespoons freeze-dried instant coffee
4 tablespoons water
Fresh milk
Ice cubes
1 Put the instant coffee and the water inside an empty water bottle. Shake the bottle until the coffee is frothy.
2 In a glass with ice, add milk and top with the frothy coffee.
Soju Latte
Brewed coffee
Fresh milk
Soju (non-flavored)
Ice cubes
1 In a glass with ice, mix the brewed coffee, milk, and soju.
Coffee Cocktail
Sparkling tonic water
Brewed coffee or espresso
Ice cubes
Slice of lemon
1 In a glass with ice, pour sparkling water and then carefully top it off with brewed coffee or a shot of espresso. Garnish with a slice of lemon.
Homemade Cold Brew
3 tablespoons, ground coffee
2 1/2 cups water
Condensed milk
1 Place a coffee filter on the mouth of a mason jar and fill it with coffee grounds.
2 Carefully pour water to fill up the jar making sure the coffee is immersed in the water. Leave it in a cool area to brew for at least 4 hours to overnight.
3 When the cold brew is ready, pour a tablespoon of condensed milk (or more if you prefer it extra milky and sweet) into a glass. Add ice and cold brew. Mix until combined.
Kori Kohi
1 Pour the brewed coffee into an ice tray and allow to freeze.
2 Put the coffee ice cubes in a glass and then add milk.
***
ADVERTISEMENT - CONTINUE READING BELOW
Recommended Videos