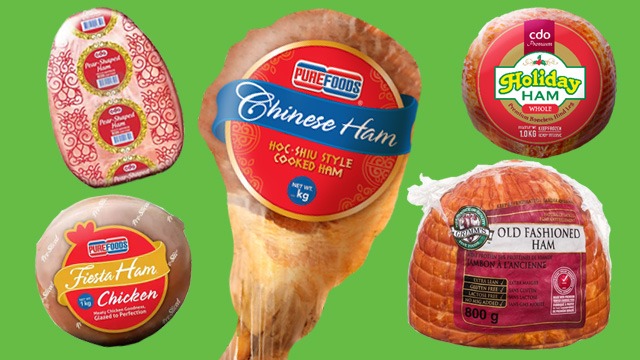 A Pinoy Christmas almost always includes ham on the table. Confused which one to get? To help you make your choice on which ham to choose, here is a quick guide on what to expect. 
From the affordable shaped hams to the impressive bone-in hams, these are the differences between the kinds of ham on the market so you can choose the ham that's right for you and the family: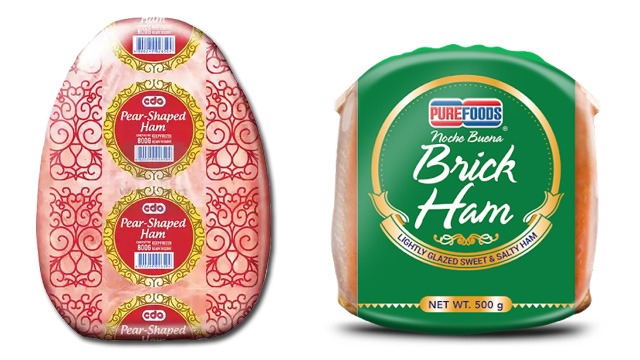 Shaped Hams (P165 and up)
Those on a budget know that this is the ham that will deliver a festive vibe with an affordable price tag. These shaped hams are processed pork, much like luncheon meat is processed, but are more compact with fewer additional ingredients that make up the pork.
These are known to be super tender hams and are basically ready to eat straight from the package. It's the ham that's sweet, glazed, and easy-to-slice that's super affordable.
CDO Pear-Shaped Ham, 800 grams, P233, Waltermart*, and Purefoods Brick Ham, 500 grams, P165, Robinsons Supermarket*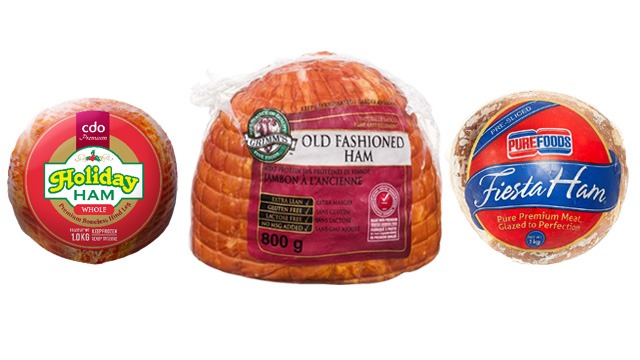 Boneless Ham (P550 and up)
This is one of the most common hams on the market. This round ball of cured meat is commonly a whole boneless cut of pork that's been cured in a sweet glaze. You will commonly find that a layer of fat caps this smoked, sweet ham which gives it classic ham flavors. Since it's cured in a sweet glaze, some hams have a touch of smokiness to give it more depth of flavor.
This boneless ham is the perfect ham to bake with a pineapple glaze and dressed with pineapple slices and cherries on top for that classic ham look. You can find variants that are already presliced so you don't have to worry about making perfect slices at the table.  
CDO Holiday Premium Ham, 1 kilo, P595, Robinsons Supermarket*, Grimm's Old Fashioned Ham, 800 grams, P559.75, Landers*, and Purefoods Fiesta Ham, 1 kilo, P595, SM Markets* 
ADVERTISEMENT - CONTINUE READING BELOW
Recommended Videos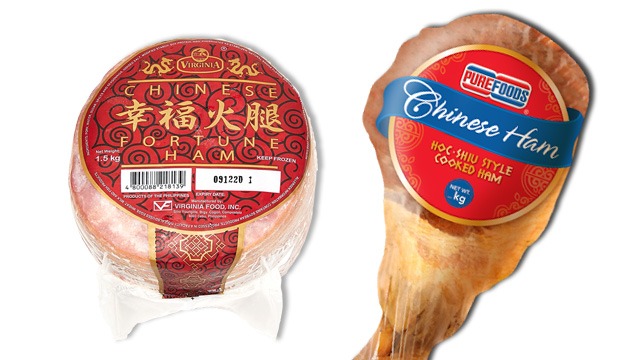 Chinese Ham (P699 and up)
Anyone who grew up in a Chinese household or love Chinese ham may know the flavor that these hams have. The Chinese ham is traditionally smoked, spiced with aromatic ingredients such as star anise, and commonly found bone-in. This ham unlike other hams on the market requires some preparation. That's because this ham is cured and is usually coated in a salty-sweet mixture that needs to be rinsed off or even soaked out overnight. You will usually find the instructions with the ham so you're not lost in the kitchen with this big hunk of cured meat. 
All that work is well worth the effort because the resulting ham is gorgeous. This is also traditionally patted down dry, covered with brown sugar, and torched until caramelized before being placed in the center of the Christmas buffet table. How's that for impressive? 
Virginia Chinese Fortune Ham, 1.5 kilos, P699, Robinsons Supermarket* and Purefoods Chinese Ham (Hoc Shui Style Cooked Ham), 1 kilo, P1,380, Grocer Genie PH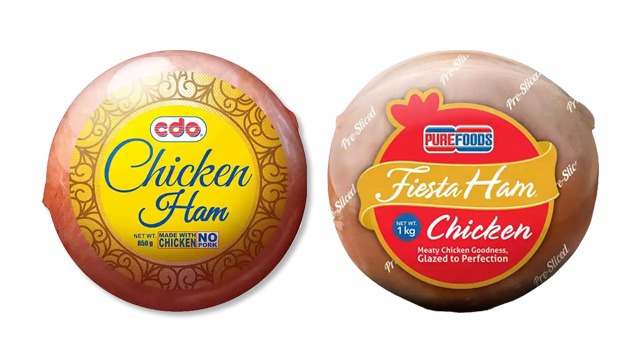 Chicken Ham (P315 and up)
There's another kind of ham for those who want to make a change: chicken ham. For those families who just love chicken in all its delicious forms, this ham is made with chicken instead of the more traditional pork.
The chicken ham is a processed ham, similar to the shaped hams, but instead of a lighter glaze, it's treated just like a more traditional ham. You get the fullness of flavor with regards to the treatment but with the exception that you're eating chicken instead of pork.   
CDO Chicken Ham, 850 grams, P315, Waltermart* and Purefoods Chicken Ham, 1 kilo, P465, Robinsons Supermarket* 
Are you thinking of how to prepare your ham at home? Here is an easy guide on how to do that: 
1 Preheat your oven to 350 degrees F or 180 degrees C.
2 Place ham into a baking pan or dish. Brush ham with the glaze provided or use a jam of your choice. (A fruit jam like mango, pineapple, apricot, or even guava jam will work.) You can also pour pineapple juice with the ham if a glaze is not provided.
3 Coat the ham with brown sugar.
4 Bake the ham uncovered about 15 to 20 minutes or until sugar melts and caramelized. 
5 Rest ham after baking for about 10 minutes before serving and slicing. Place on a plate and garnish.
If you do not have an oven, you can use an oven toaster, a turbo boiler, or even your air fryer with the basket lined with foil as a makeshift baking pan. You can also torch the brown sugar until melted and caramelized if you have a culinary torch. 
Are you becoming excited about the holidays and the feast you'll be preparing? What is on your menu this Christmas? 
*Prices updated as of December 13, 2022
ALSO READ: 
***
Thinking about what to cook next? Join our Facebook group, Yummy Pinoy Cooking Club, to get more recipe ideas, share your own dishes, and find out what the rest of the community are making and eating!
Got your own version of the classic dishes? Pa-share naman! Get your recipe published on Yummy.ph by submitting your recipe here.