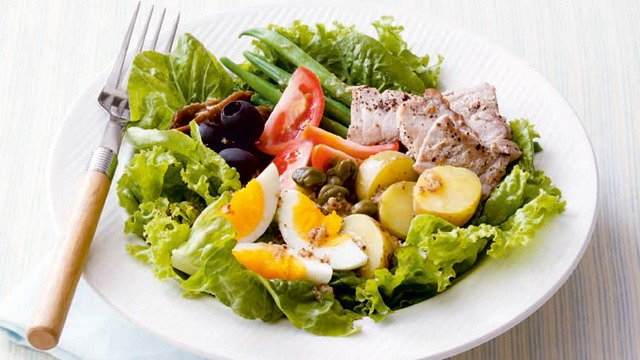 There are tons of different kinds of salad but perhaps the first thing that comes to mind at the word salad are those leafy greens tossed in salad dressing and sprinkled with other delicious toppings. 
This particular kind of leafy salad is extra rich in fiber, calcium, and other vitamins. There are so many ways to make leafy salad recipes as well, as you'll see in our long list. Why just stick to one tired recipe when there are so many ways to enjoy salads?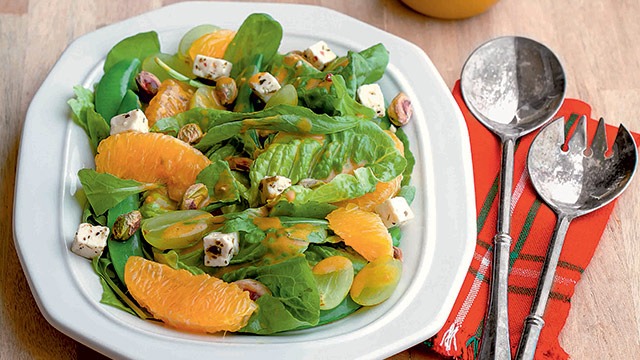 1 Orange and Arugula Salad Recipe 
Bright-flavored oranges and earthy, nutty arugula are a match made in salad heaven. Making it even more scrumptious are salty, crumbly feta cheese, crunchy croutons, juicy green grapes, and a sweet and tangy cumin-spiced vinaigrette. We love a good, fruity salad.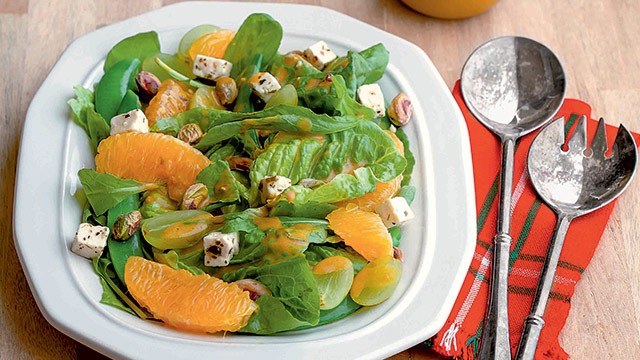 Orange and Arugula Salad
Posted in:
Recipe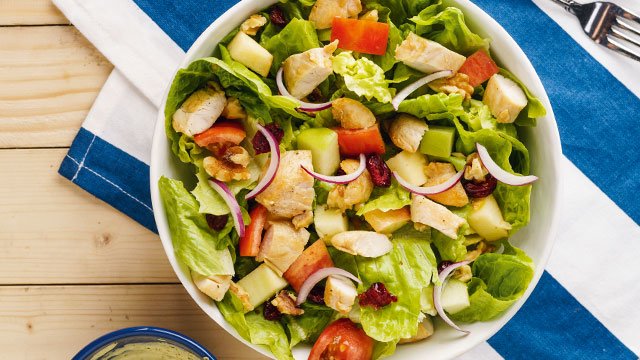 2 Chicken Pesto Salad Recipe
Are you looking for a salad recipe that won't leave you hungry? This recipe is loaded with protein-rich, lean, and healthy chicken breasts to make you feel full for longer. It's also dressed in a creamy pesto that amps up the flavor. It's also dotted with fresh chunks of tomatoes that give it more life.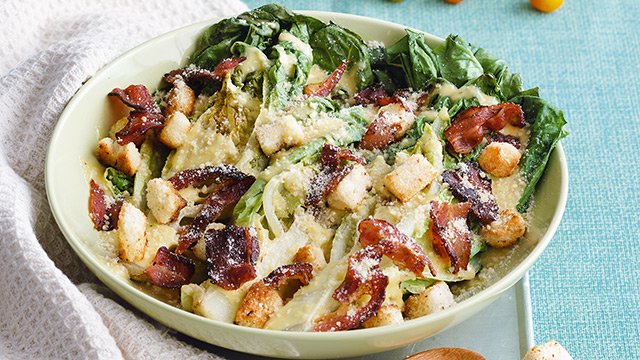 3 Roasted Caesar Salad Recipe
The Caesar salad is a classic for a reason. It is perfectly balanced, flavorful, salty, and creamy dressing tossed with bacon, greens, and cheese makes for one addicting salad concoction. Don't be fooled that there's no way to making this classic salad even better, though. Apply some heat by roasting your greens and you'll find more pronounced flavors in every bite.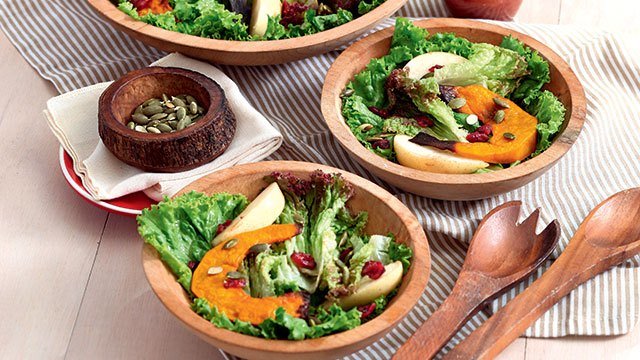 4 Roasted Kalabasa Salad Recipe
Roasting squash brings out the most amazing, sweet flavors that make this salad one of a kind. This 20-minute salad uses a raspberry vinaigrette and sunflower seeds to make you rethink your whole perception of squash and salad. It's so delicious!
ADVERTISEMENT - CONTINUE READING BELOW
Recommended Videos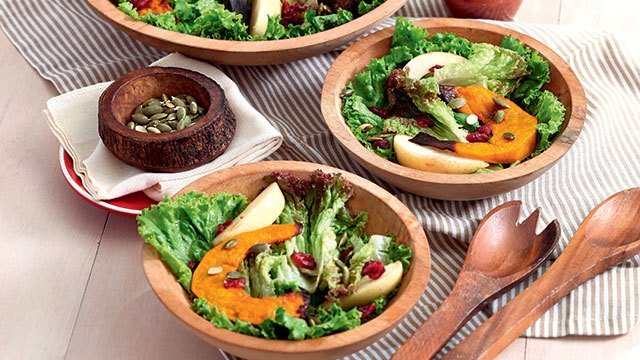 Roasted Kalabasa Salad Recipe
Posted in:
Recipe
5 Chicken Parmesan Salad Recipe
It takes very little to make the chicken and salad combo special. You'll only need ten minutes for this recipe. This recipe uses a simple base with some simple, pantry staples for seasoning, plus some Parmesan cheese, and you've got a filling, hearty, and healthy meal that's big on flavor and textures.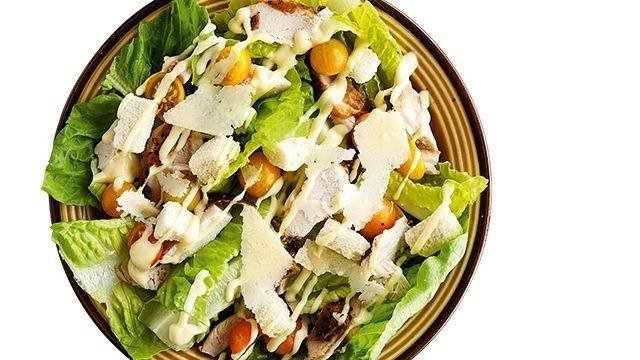 Chicken Parmesan Salad Recipe
Posted in:
Recipe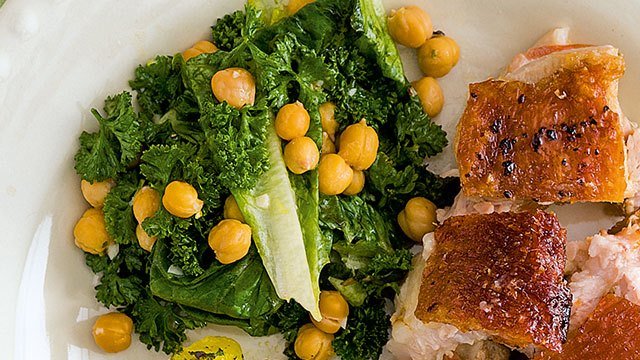 6 Parsley and Chickpea Salad Recipe
Some salads are just meant to be side dishes. This particular recipe does an extra wonderful job as a side dish thanks to a simplicity that supports your main dish. It's made of a white wine vinegar aioli mixed with lettuce, microgreens, parsley, and garbanzos.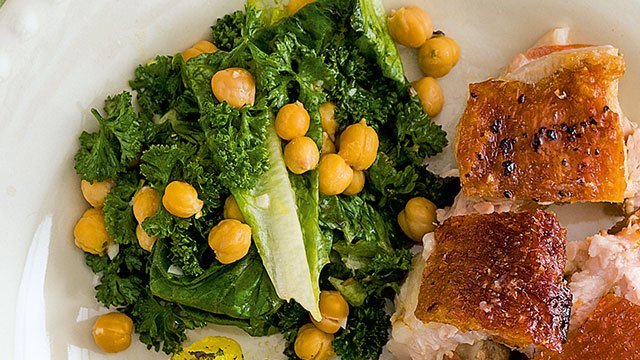 Parsley and Chickpea Salad Recipe
Posted in:
Recipe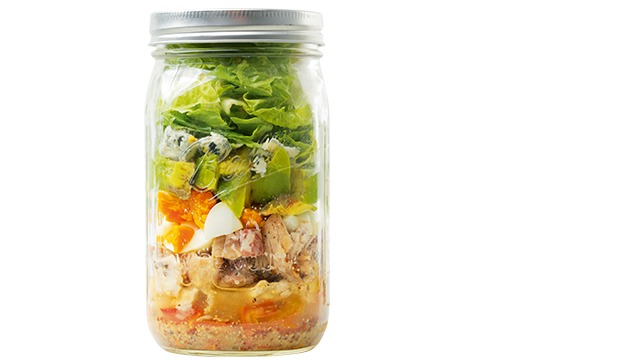 7 Chicken Cobb Salad Recipe
Using a mason jar to pack your salad is 100% amazing. The correct style of layering allows you to put as many delicious meats and vegetables in there for all sorts of textures and tastes. Keeping the dressing at the bottom, away from the lettuce also keeps the leaves from wilting before you're ready to chow down. When you're ready to eat, all you have to do is shake that bottle and voila, perfectly tossed, fresh crispy salad.
In this recipe, you get a basic creamy dressing mixed with roast chicken, bacon, eggs, avocados, and blue cheese.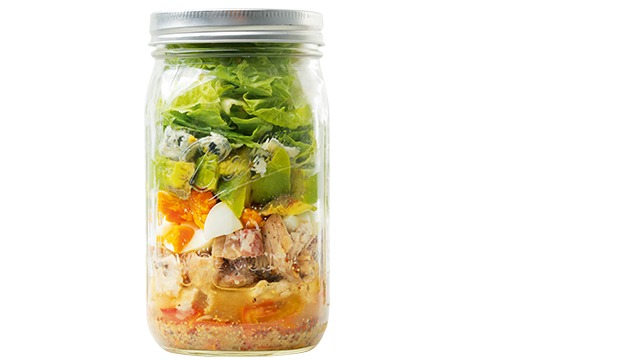 Chicken Cobb Salad Recipe
Posted in:
Recipe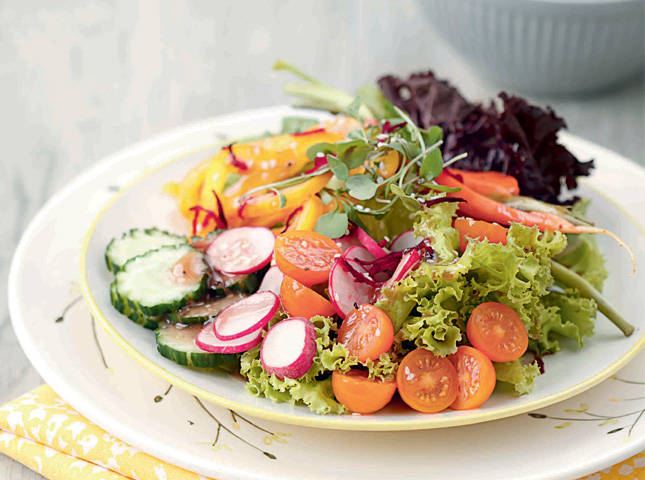 8 Garden Salad with Micro Arugula and Pomegranate Vinaigrette Recipe
Microgreens are a bit hard to find but they can be so delicious. These tiny sprouts are usually packed with flavor and crunch. You can sometimes find them in the chilled section of your favorite major supermarket. In addition to microgreens, this salad is extra delicious because it uses nutty arugula leaves along with its salad greens. Add in sweet baby carrots, slightly bitter, earthy, and thinly sliced radish, cool cucumbers, sweet yellow bell peppers, earthy grated beets, bright, and juicy cherry tomatoes, all tossed in some pomegranate vinaigrette and you've got a big bowl that celebrates fresh vegetables to the max.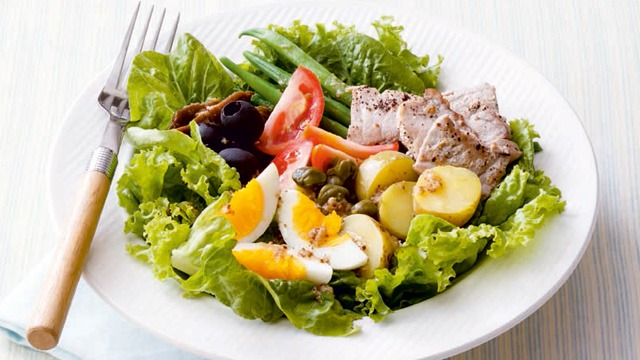 10 Salad Nicoise Recipe
This hearty salad comes from Southern France's Nice. Its flavorful dressing is piquant with lemon juice, vinegar, and mustard, and extra aromatic with the herb tarragon. It's given a bulkiness thanks to boiled potatoes, blanched green beans, hard-boiled eggs, and tuna chunks.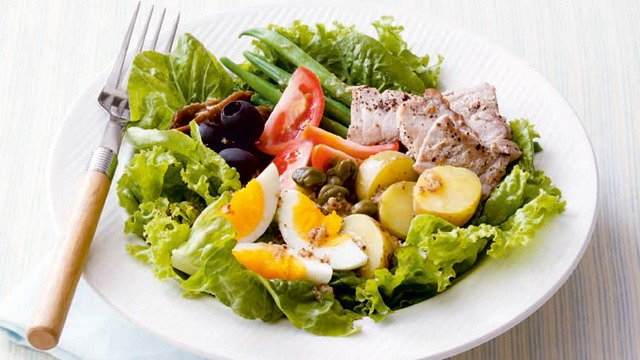 Salad Nicoise Recipe
Posted in:
Recipe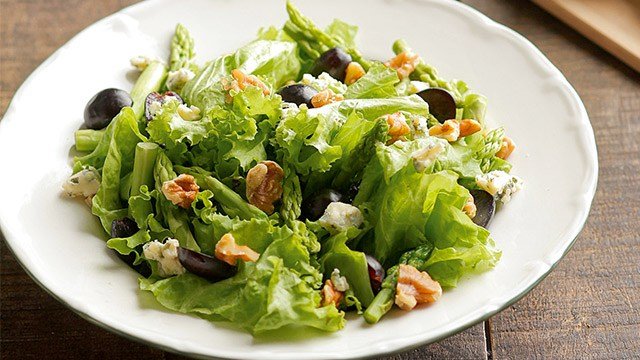 11 Asparagus, Grape, and Walnut Salad Recipe
This recipe uses juicy iceberg lettuce and asparagus as its main greens tossed together with some interesting flavors. If you're looking for an interesting, adventurous take on a salad, this might be it. Aromatic lemon zest, mustard, garlic, and blue cheese are combined with sweet honey and grapes. Taking it all up a notch are crunchy pieces of toasted walnuts.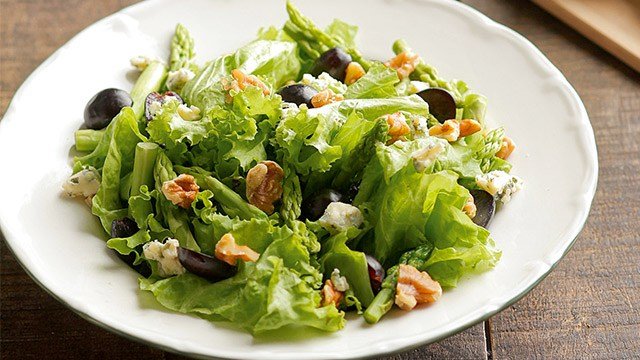 Asparagus, Grape, and Walnut Salad Recipe
Posted in:
Recipe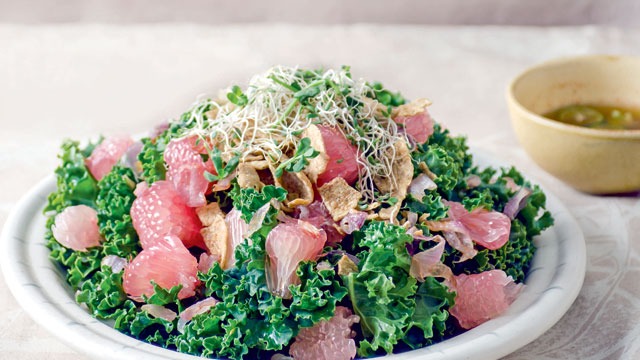 12 Pomelo and Kale Salad Recipe
Looking for a different kind of salad? Why not try using earthy kale which is now widely available at SM Supermarkets? Kale is a superfood that is said to be the most nutrient-dense. In this recipe, it's earthiness is paired with chunks of vibrant, sweet, and juicy pomelos or suha.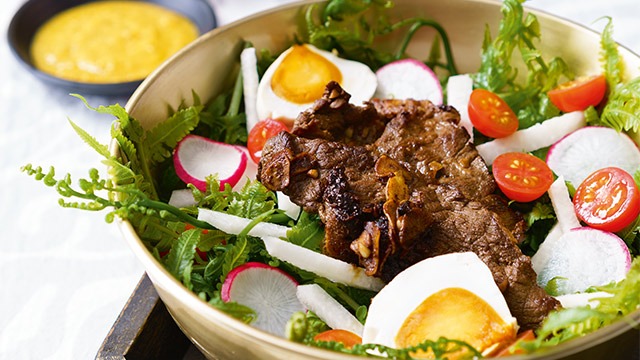 13 Tapa, Pako, and Salted Egg Salad Recipe
Are you getting a little tired of eating romaine or iceberg lettuce all the time? There are other leafy vegetables to choose from which can reignite your love of crispy, leafy salad recipes.
This recipe celebrates local flavors by using citrusy, crunchy pako, or fiddle fern leaves, that just so happen to also be the most interesting looking swirls of green. It comes with other classic Pinoy flavors that perfectly complement it: creamy and savory salted eggs, tangy calamansi juice, crunchy and juicy jicama or singkamas, distinct aromatic cilantro, and sweet and sour atsara.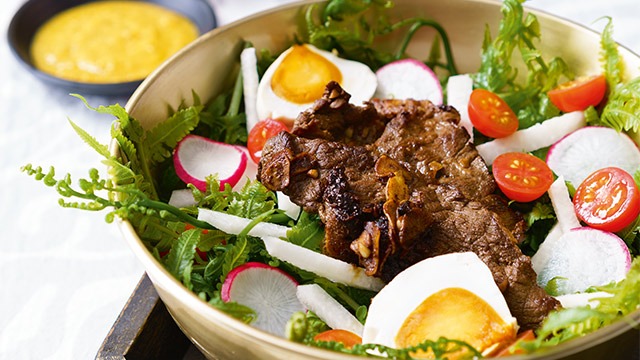 Tapa, Pako, and Salted Egg Salad
Posted in:
Recipe
Having a salad for breakfast, as a packed lunch, for dinner, or as an appetizer now seems like a dream with all these delicious, flavorful ways to have it. As you munch on a cornucopia of flavors and textures present in every kind of salad dish, it gets clearer and clearer to you that you're not just eating it for your health. You're eating it because it's just so delicious!
Which of these salad recipes are you most looking forward to trying?
Make sure to read our other articles below so you can have the best salads ever.