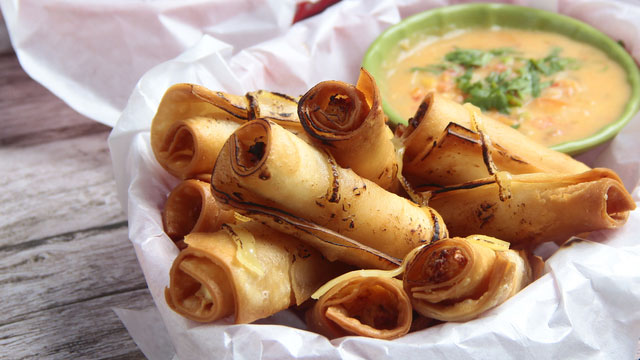 Lumpia will always be an instant hit on any table. There are many ways to make a lumpia recipe but the most famous has to be the lumpiang Shanghai. It's got a classic filling that many love. It's been voted the "Best Filipino Food" and anyone who has bitten into one knows why: the tender ground meat is tasty, the crispy lumpia wrapper is a delightful crunch, and it's always easy to eat. 
However, times change and when the budget is an issue, you may want to swap ingredients that are more affordable, especially with the high price of pork. 
The good news is that you do not have to let go of your craving for lumpia. You can swap out the meat for any number of other ingredients, including gulay, and still have a delicious lumpia!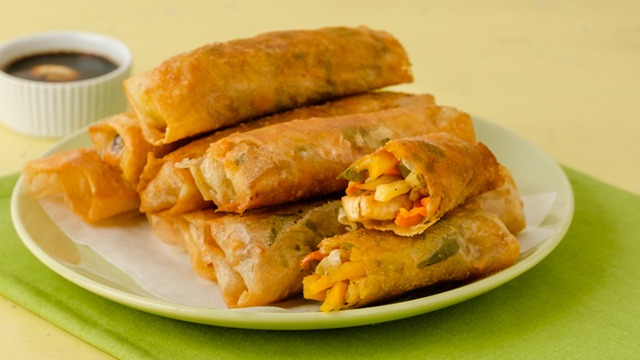 Here are all the ingredients in a vegetable lumpia: 
• Togue or bean sprouts 
• Tokwa or tofu 
• Kamote or sweet potato 
• Sitaw or green beans 
• Carrots 
• Cabbage  
• Singkamas or jicama 
The bad news about making lumpiang gulay is that there is a lot of prep involved. Unlike the lumpiang Shanghai where all the ingredients can be combined and then stuffed into the lumpia wrappers, the lumpiang gulay commonly needs the veggies to be cooked first before it's rolled into the lumpia wrappers. 
Why? Not all vegetables can be eaten raw and when cooked, not all vegetables cook at the same time. This may double your cooking time since you need to cook the vegetables before cooking the rolled lumpia. 
However, this makes cooking the finished rolled lumpiang gulay extra fast and easier than the lumpiang Shanghai. You do not have to worry about the inside of the lumpia as much as you need to worry about the outside turning a beautiful golden brown. That's why lumpiang Shanghai rolls are so thin and tiny! The meat needs to fully cook through at the same time it takes to brown the wrapper. Cook it for too long and the outside may brown too much before the inside is cooked through. You have little time to do this in the hot oil. 
The list of ingredients for the lumpiang gulay doesn't have to be strict either! Want to be adventurous? Try adding buko or coconut strands to the filling (It's a Nueva Ecija-style recipe!). Want to keep it super simple? Use an entire bag of togue for the filling with a few add-ins to make it tasty. Laguna lumpia commonly uses kamote or sweet potatoes in the veggie mix but you can swap this out with potatoes. You can even swap meat in a lumpiang Shanghai recipe and use crumbled tokwa for the filling to keep it both meaty yet more affordable, too. 
ADVERTISEMENT - CONTINUE READING BELOW
Recommended Videos
Need more tips on how to make your lumpia or ideas on how to make lumpia better? Read on: 
***