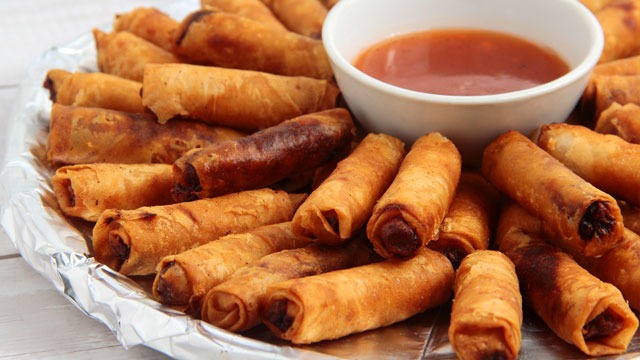 Much has already been said regarding lumpiang Shanghai's origin; how this little finger food from China crossed borders and found its way to Filipino dinner tables. It has become synonymous with birthday parties, reunions, and other get-togethers because who can resist a little nugget of tasty meat in a crispy wrapper? That's why no other dish has become as synonymous with celebration as it.
Millennials believe that more than the taste, lumpiang Shanghai evokes childhood memories. A bite feels like a series of happy snippets played in the background—the taste of comfort, the taste of home.
After all, who can forget the crowded dinner table piled high with an assortment of ingredients? Who hasn't been lovingly coaxed into helping wrap the tiny fingerlings? More than the taste, most associate the humble lumpia to the labor of love Filipino households put into it.
When you bite into a simple lumpiang Shanghai, you're reminded of family parties and social gatherings that most people have missed because of the pandemic. What better homage to missed or returning opportunities but to overload our beloved party staple? Here are the classic lumpiang Shanghai ingredients for the filling that you should keep in stock:
• ground pork
• red onion
• garlic
• carrot
• salt
• ground pepper
• oyster sauce
• soy sauce
• sugar
• eggs
The ingredients are prepared raw so there's no cooking done until after all the ingredients are well combined in a bowl. Keep these tips in mind when prepping lumpia:
• Use caution when using a food processor to help you prepare your ingredients. You can overprocess your ingredients and turn your chopped ingredients beyond fine to puree if you're not careful.
• Be careful as well when using frozen ingredients. Using frozen vegetables and not fully thawed meat can both make the batter wet.
Tips On How To Make Lumpiang Shanghai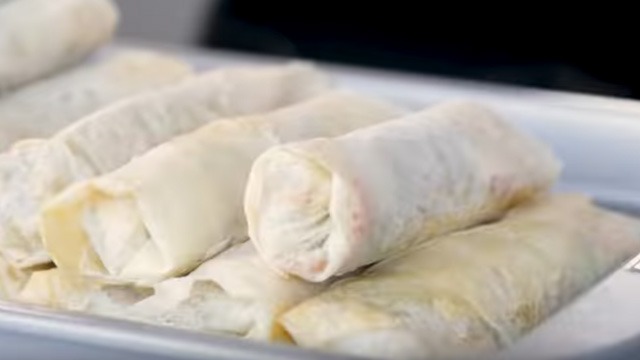 1 Wrapping the lumpia.
Wrapping can be tedious. Start by reserving the dining table (or spacious counter area) and laying out your ingredients. Then, begin by gently separating the store-bought wrappers. Please test the quality of the market-bought wrappers and make sure they are new as day-old ones tend to be brittle. To make cute little wrappers, half the round sheets and trim the corners to resemble a square.
The goal when wrapping lumpia is to secure the meat by doing it snugly. Here are a few things to remember:
• Position your square diagonally on a flat surface; it should look like a diamond.
• Place 1 heaping tablespoon of the cold pork mixture into the lower part of the wrapper. Remember to leave space for folding.
• Fold the bottom edge over, leaving space on the left and right sides.
• Fold the two sides like a triangle.
• Using your finger, brush the edges with egg wash to seal completely. Make sure it is tightly secured. (You can substitute water for the egg wash, but the latter has more sealing power.
Though the wrapping procedure is more time-consuming than merely rolling it, it adds to the enjoyment of the experience, especially when the task is divided among family members. It's also a great way to bond with family members. 
Trust the process; it might be more time-consuming, but the joy you experience when you bite into it will compensate you for the effort.
2. Change up the ingredients: add cheese, kimchi, or a fish and vegetarian filling.
We tackled the basic recipe, but for this holiday season, when more guests are expected, you can try incorporating or substituting other ingredients to create a different flavor. The lumpia's adaptability also makes it easy to accommodate allergies or other preferences.
The tried and tested cheese lumpia or cheese stick is a crowd-pleaser; consider adding kimchi to your mixture for K-Pop fans. On the other hand, Pescatarians can enjoy this dish by using fresh boneless bangus or any white fish fillet as fish lumpia. The options are unlimited; Mediterranean-inspired lumpia can have beef vegetable filling spiced with cumin and cloves similar to a kebab or even taco-flavored meat but wrapped. 
ADVERTISEMENT - CONTINUE READING BELOW
Recommended Videos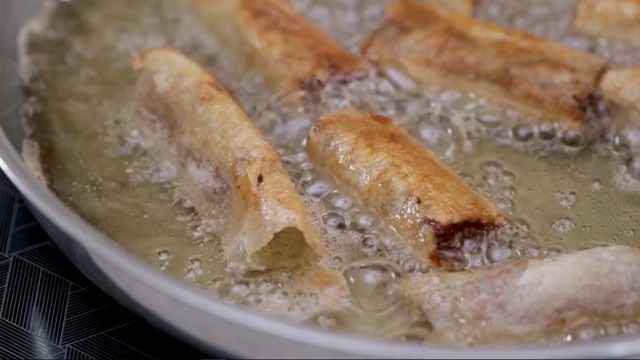 3. Frying the lumpia.
Here's a pro-tip: frying slightly cold to slightly frozen lumpia yields a crispier end product.
Frying these babies can be challenging even if the oil does not splatter. However, some might want to use the air fryer instead of the traditional deep frying. Yes, the air fryer can cook the lumpia, but it will not achieve the golden brown color. If you're an air fryer fan, you can lightly brush or spray oil on the surface of the lumpia to help them crisp better. However, just a note that the filling might be drier.
When cooked, be sure to use a strainer and line your platter with a paper towel to remove extra grease. Before taking that big bite, you can opt to make different dipping sauces. To complement the crunchy outer shell and the inner meat, a sweet and sour sauce that you might prepare for meatballs is often the choice for a dip. Another popular sauce is the sweet chili sauce which comes in a bottle but can also be homemade.
You may opt to use any Pinoy-inspired dips to enjoy with it!
***