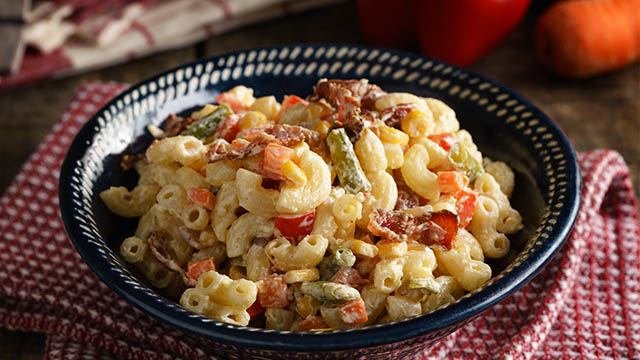 No Pinoy Christmas buffet is without a macaroni salad. It's a timeless side dish that everyone expects to be on the table come dinner time. So for those moments when you don't have time to go all out, take note of these shortcuts so you can fulfill everyone's expectations, and perhaps, create new fans with your take on the classic.
1 Use frozen vegetables.
Grab a bag at the supermarket, and when you're ready to prepare your macaroni salad, toss the contents (No need to thaw!) and the pasta into boiling salted water and let it boil together. Drain, then add it in with the macaroni together with the pineapples, raisins, and dressing, and chill until ready to serve.
2 Boil it all together.
Just like the frozen vegetables, the pasta, chicken, and even the eggs and any vegetables you want in your version can easily be boiled and cooked together. Here's what you do: bring a pot of water to the boil. Drop in 2 chicken bouillon cubes or 2 tablespoons soup stock. (It should be enough to flavor the water like a broth.) Then add your cubed chicken fillets. Simmer until cooked through then scoop out. Bring back to a boil. Add the pasta and your eggs. When your pasta is done, so should your eggs. Plus, the pasta should be incredibly tasty now. Toss it all together with drained canned pineapples, raisins, and your choice of dressing, and voila! A one-pot macaroni salad.
3 Use store-bought or pre-cooked rotisserie chicken.
The best thing about rotisserie chicken is there's one in just about every neighborhood. Plus, it's already tasty without you having to do it. It can be shredded and then tossed in with the rest of the ingredients. Easy!
4 Cook the pasta yesterday.
The great thing with macaroni salad is that it's cold. And because it's cold, you can easily cook your pasta when you have time to spare (like yesterday or the day before). Then, when it's time to assemble, just add it with the dressing and other mix-ins, and you're ready to serve immediately.
5 Use bottled Caesar salad dressing.
Again, this may be a new take on a tried and true classic, but when pressed for time, grab a bottle of a creamy Caesar salad dressing and use that as your macaroni salad dressing. Besides, who doesn't like Caesar salad dressing?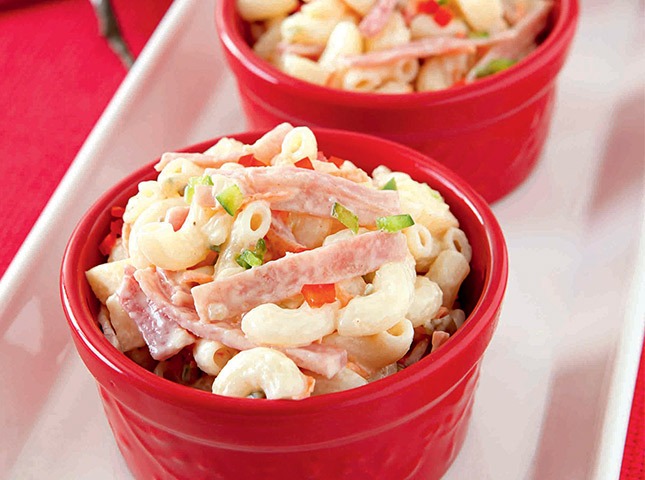 Macaroni Salad Recipe
Posted in:
Recipe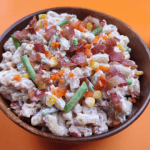 Creamy Macaroni Salad Recipe
Posted in:
Recipe