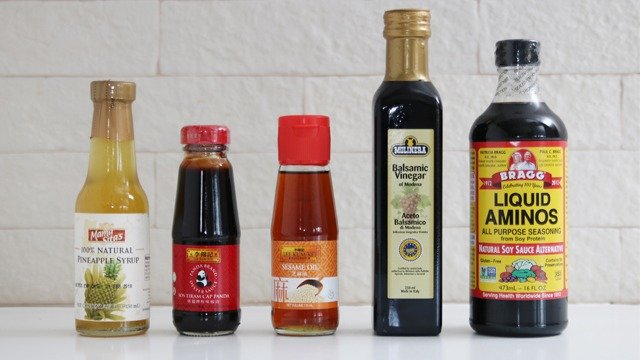 We know that your pantry already holds the basic seasoning sauces and spices: soy sauce, fish sauce, white vinegar, salt, and pepper. Take your home cooking up a notch by introducing new and exciting flavors to your dishes! These grocery picks are just as easy to cook with, but have flavor twists that can make home cooking more fun.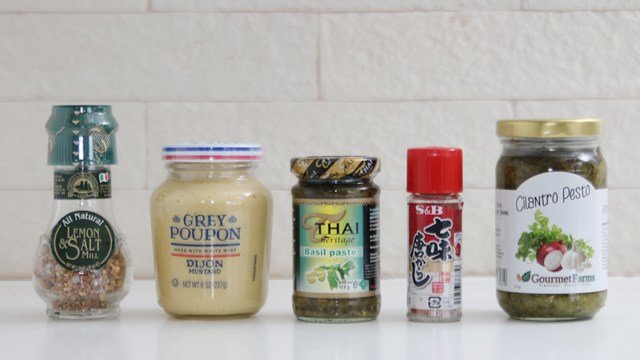 Left to right: lemon salt, dijon mustard, basil paste, powdered chili, cilantro pesto.
1 Lemon Salt
Lemon has a way of lifting your dishes with its tangy juice and zest—this lemon and salt mill is a good option for those who love the fragrance of lemon zest in their dishes. It's a quick fix and can be paired with anything from meats, to vegetables, to pasta sauces.
Available in major supermarkets for P 110.
2 Dijon Mustard
Dijon mustard is totally different from prepared mustard that is often packed in squeeze bottles. Dijon mustard has that wasabi-like heat that adds another layer of flavor to steaks, sandwiches, and even Pinoy favorites like kinilaw!
Grey Poupon Dijon Mustard available in major supermarkets for P 183.50.
3 Basil Paste
This strong, garlicky, heavily fragrant Thai basil paste can make your quick weekday stir-fried dishes more flavorful. You can also add it to curry sauces for a kick of basil flavor!
Thai Heritage basil paste available in major supermarkets for P 88.25.
4 Japanese Powdered Chili
This powdered chili mix also has a touch of black sesame seeds in it. You can choose from "hot" and "extra hot" options, too! Sprinkle it over fried rice and noodles for an umami-filled spicy kick.
S&B powdered chili available in major supermarkets for P104.75.
5 Cilantro Pesto
Tired of the usual bottled basil pesto? This cilantro pesto is bright, tangy, and refreshing! If you're not a fan of post-pesto garlic breath, this bottle is perfect for you. It has the perfect touch of vinegar, jalapeno peppers, and calamansi juice. Have it with pasta, empanadas, toasted bread, and grilled meats.
Gourmet Farms cilantro pesto available in major supermarkets for P 110.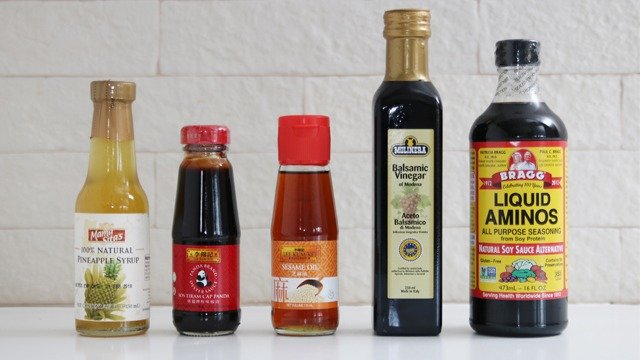 Left to right: pineapple syrup, oyster sauce, sesame oil, balsamic vinegar, liquid aminos.  
6 Pineapple Syrup
Drizzle this tropical syrup over pancakes or ice cream! It's fruity, sweet, and all-natural. It makes for a fun alternative for regular chocolate syrup or maple syrup.
Mama Sita's pineapple syrup available in major supermarkets for P 59.50.
7 Oyster Sauce
Your stir-fried chicken, noodles, and vegetables will be extra tasty with this sauce! It's thick, very salty, lightly sweet, and packed with oyster flavor. Make it a regular in your kitchen pantry.
Lee Kum Kee Panda oyster sauce available in major supermarkets for P 90.
8 Sesame Oil
Sesame oil will surprise you with how much flavor it packs in just 1 teaspoon. Use it in your noodles and meat stir-fries to instantly upgrade their flavor profiles! Just remember to keep seasoning to taste and adding it little by little—it can become overpowering if you use too much of it.
Lee Kum Kee sesame oil available in major supermarkets for P 99.50.
9 Balsamic Vinegar
Balsamic vinegar is strong, dark, vinegar originally made in Italy. It is lightly sweet and has a light tartness to it. It is delicious as a simple dip for toasted bread with olive oil or as a salad dressing. You can cook adobong manok and adobong pusit with this vinegar, too!
Molinera balsamic vinegar available in major supermarkets for P 110.75.
10 Liquid Aminos
Liquid what?! If you've never tried cooking with liquid aminos yet, you're missing out! Liquid aminos is a plant-based protein concentrate often derived from coconuts or soy beans, and stands as a substitute for soy sauce. It contains less sodium and is gluten-free, too!
ADVERTISEMENT - CONTINUE READING BELOW
Recommended Videos
Bragg liquid aminos available in majoy supermarkets for P 259.
ALSO READ: