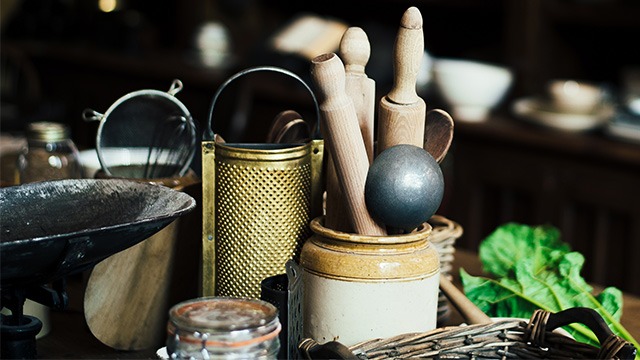 Building up your kitchen gear can cost a lot of money. Know when to spend your hard-earned cash and when to save it!
Splurge
1 Food processor
This heavy-duty item will last you dozens of years if you invest in caring and maintaining it regularly. It makes sense you splurge on this one: it will help you out with everything from prepping vegetables, making purees, and putting desserts together.
2 Stand mixer
You can whip up that fluffy cake batter in a snap with the strength of an electric stand mixer. With different attachments, a stand mixer can handle sturdy bread and pizza doughs.
3 Roasting tins or glassware
When you are placing your meats in high-temperature heat, a heavy-duty roasting tin will work wonders in both retaining and maintaining even heat distribution.
4 Chef's knife
A good knife is the backbone of top-notch prep work. Splurge on a good chef's knife and take good care of it—you will only ever need one great knife!
5 Stainless steel frying pans and saucepots
Your stainless steel cookware will serve you well no matter what dish you decide to whip up. They heat up fast and evenly, which means you'll be able to cook up a delicious meal in only a few minutes.
Save
1 Baking sheets
Light-bottomed baking sheets actually work better than heavy-bottomed ones, so there is no need to splurge on heavy duty baking sheets. Also, parchment paper-lined cookie sheets work much better than non-stick cookie sheets!
2 Woks or kawali
There are perfect for stir-fries and anything deep-fried. Also, you can get them really cheap at any grocery or market and will last for many, many years!
3 Pots
Soups, stocks, and stews will hold well in simple stainless steel pots. Get them in different sizes for all your cooking needs!
4 Mixing bowls
Use these bowls for prep work and for baking needs. Use light stainless steel for easy clean up, too!
5 Wooden spoons
These spoons are perfect for all your sweet and savory mixing needs! Bamboo mixing spoons are a great bang for your buck: they lightweight but tough at the same time.
Main image originally from Pexels.
ADVERTISEMENT - CONTINUE READING BELOW
Recommended Videos