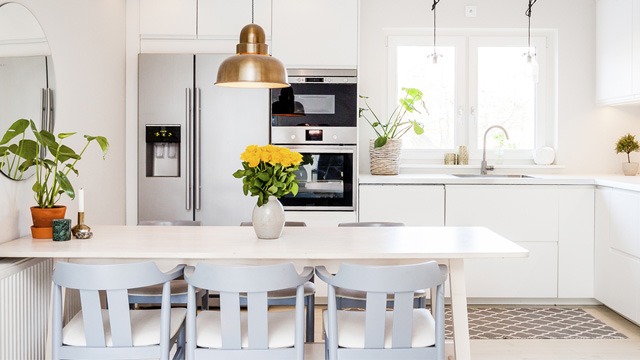 Even the most spotless home kitchens may not be as clean as it should be. 
That's because while you may be cleaning your kitchen regularly and maintain that cleanliness on a daily basis, you should also be taking your cleaning methods one step further. This extra step can prove to make your kitchen not only cleaner but also safer for preparing and eating your dishes.
This extra step is sanitizing. Sanitizing is different from cleaning.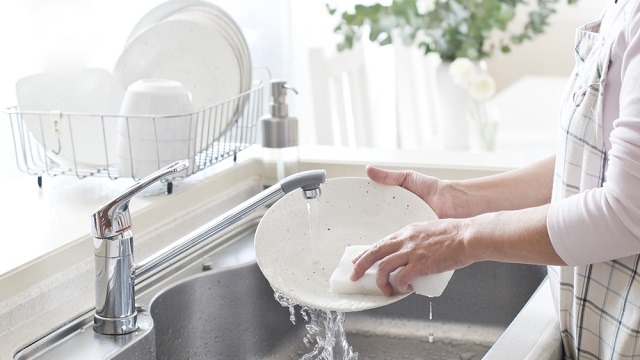 Cleaning is the everyday task that you already do. You wash the dishes and kitchenware, clean up the stove and appliances, and sweep and mop the floor as needed. You collect and remove surface dirt, release the grease and grime coating kitchen tools and appliances, clean up the bits of food that you didn't notice that might have fallen from the table onto the floor, and wipe up spills. 
However, while these surfaces may look clean, on a more microscopic level, your kitchen overall maybe not clean enough to safely prepare your food. That's where sanitizing comes in.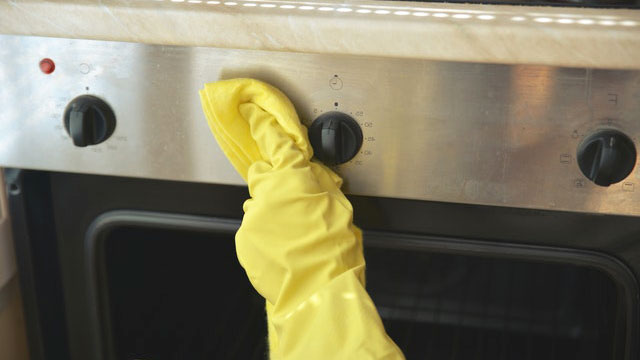 Sanitizing kills bacteria through the use of chemicals and/or natural ingredients so you can minimize foodborne illnesses. This solution is commonly bleach or if using natural ingredients, a strong vinegar solution. To make a sanitizing solution, mix 1 tablespoon bleach or chlorine bleach in about 3 1/2 liters water. 
Sanitizing your kitchen should be done every day for those areas and parts of the kitchen that often used and touched, but at least every week is better than not at all. Before you start, remember these cleaning tips: 
• 

Wear rubber gloves if desired. 

• Have many kitchen towels handy and rotate the cloth you're using so each surface is wiped with the "clean" side. These cloths should be regularly washed or use wipes, multiple ones, if necessary. 

• Wash your hands thoroughly afterward. 
Once you're ready to make the extra effort, here are the basic steps to cleaning and sanitizing your kitchen according to the Food Safety and Inspection Service of the US Department of Agriculture to remember: 
1 Make a soapy mixture of anti-bacterial soap and water in a bucket. Use this to wash kitchen tools and surfaces. This includes refrigerator and cabinet doors and handles that are touched frequently. 
2 Wipe these down with a clean towel. Have multiple clean kitchen towels so once wet, it can be replaced with a dry one. 
3 Once clean, pour or spray your sanitizing solution over the kitchen surface. Use a clean and sanitized kitchen rag to wipe off any excess and let air dry.  
4 If sanitizing kitchen tools, make a sanitizing solution. Dunk the tools in this solution and let sanitize for at least 5 minutes. Remove and let air dry. 
5 If mopping the floor, use a clean and sanitized mop head for sanitizing the floor. Let air dry.  
To keep your kitchen as clean and sanitized, remember that soap and water are still your best cleaning aids against even the coronavirus as well as bleach. However, it's noted that while vinegar and baking soda are fantastic natural cleaning aids, it cannot combat viruses. Know the difference between cleaning and sanitizing, so you know how better to keep your kitchen space spotless and germ-free. Stay safe, and remember to clean as well as sanitize regularly.  
***
Thinking about what to cook next? Join our Facebook group, Yummy Pinoy Cooking Club, to get more recipe ideas, share your own dishes, and find out what the rest of the community are making and eating!
Got your own version of the classic dishes? Pa-share naman! Get your recipe published on Yummy.ph by submitting your recipe here.
ADVERTISEMENT - CONTINUE READING BELOW
Recommended Videos